Washington's Department of Transportation says it has some safety hazards on its hands as people crowd near the shoulders and ramps of Snoqualmie Pass on I-90. The state says its seeing an extraordinary amount of people engaging in winter recreation due to the pandemic. 
"On multiple mountain pass roadways, ramps and interchanges across the state, we're seeing vehicles parking along shoulders when parking lots or other areas fill up. This also means people walking along the highway, often carrying bulky gear that obstructs their view of vehicles around them, or wearing snow gear that may affect their mobility.  This is a tragedy waiting to happen," WSDOT wrote in its online blog.
WSDOT says another danger seen by crews are people using highway interchanges as sledding hills, which are very close to active traffic and areas where crews are clearing snow.
"Vehicles parking along the shoulder also slow down traffic and increase the risk of crashes as passing vehicles have to maneuver through the now-narrowed area."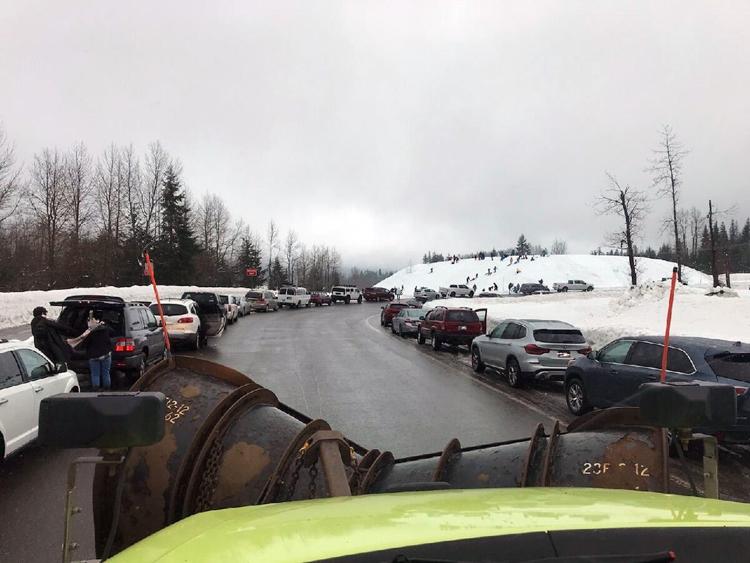 Another observation included difficult navigation by snow plow crews as they try to make their way through narrow roadways occupied by long stretches of vehicles parked along the shoulder.
"On Snoqualmie Pass, plows couldn't make it into storage areas for additional salt and supplies recently due to vehicles parked on shoulders and blocking access. In some cases, there also wasn't enough room to turn around a plow to do their return runs, or barely enough space for large plows to move through roadways that people decided to turn into parking lots. Our partners at the Washington State Patrol ticketed some of those vehicles, but they don't have the staffing for such wide scale parking enforcement."
WSDOT says such obstacles could lead to more closures and delays during and shortly after snow storms.