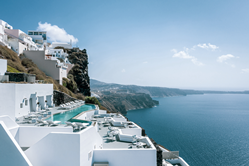 SANTORINI, Greece (PRWEB)
July 13, 2022
Grace Hotel, Auberge Resorts Collection, the luxury boutique hotel located in a quaint village on the island of Santorini overlooking the famed caldera, was recognized with a distinguished accolade on Travel + Leisure's 2022 World's Best Awards list. As decided by the most discerning travelers on the annual survey, the luxury retreat has received the highest honors as the publication's "No. 1 Best Resort Hotel in Greece."
"We are incredibly honored to be named, once again, the best hotel in Greece per the coveted Travel + Leisure list," said George Avgoustis, general manager, Grace Hotel, Auberge Resorts Collection. "It's all about the people behind the place, and this award is a true reflection of our passionate team in Santorini. They enrich the Grace Hotel experience with their genuine, attentive service and provide a lasting impression and relationship with each of our guests."
Grace Hotel, Auberge Resorts Collection is a modern respite that feels worlds away and invites all travelers to uncover the Greek Islands' creativity, cuisine and culture. The 20-room sanctuary is home to modern accommodations—all with views of the Agean and designed in the spirit of the Mediterranean's laidback seaside lifestyle. Its iconic two-bedroom Villa was recently redesigned and is equipped with unique amenities like its own spa with a traditional hammam, full kitchen, swimming pool, wine & cigar cellar and dedicated butler. Grace Hotel also boasts luxurious resort-style amenities and a new experiences program driven by authentic local traditions and secret Santorini spots. Culinary experiences include honey tastings, private sunset picnics, and cooking classes with a Greek yaya (or "grandmother"); artistic classes include Greek sandal making and the art of pottery; and, adventure excursions include jet ski safaris, hidden hikes with a local guide, and scuba diving the crystal clear waters and volcanic reefs. This summer, the property unveiled collaborations with highly-acclaimed Athens chef, Lefteris Lazarou, to bring his Michelin-star Greek cuisine to the island at Varoulko Santorini while Baba Au Rum, one of the World's 50 Best Bars in Athens, has reimagined a new, creative mixology program at the hotel's 363 Bar.
Each year, the readers of Travel + Leisure share their thoughts on destinations, hotels, resorts, spas, cities, airlines, cruise lines, tour operators, rental-car agencies, and more in the annual survey. As the United States' largest travel media brand with a total audience of 35 million across all platforms, the Travel + Leisure World's Best Awards 2022 is an essential, trusted source for inspiration and guidance as travelers once again make plans to set out on trips around the globe.
Grace Hotel, Auberge Resorts Collection's no. 1 award is showcased in the magazine's August 2022 issue and on travelandleisure.com.
For more information, please visit aubergeresorts.com/gracehotel.
About Grace Hotel, Auberge Resorts Collection

A picturesque sanctuary perched above the Aegean Sea, Grace Hotel, Auberge Resorts Collection is a sensational 20-room boutique property located in Santorini's peaceful village of Imerovigli, just 15 minutes from famed Oía. Luxurious accommodations range from Deluxe Studios to spacious Suites, all with ocean views and private terraces and many with private plunge pools and hammam baths. The two-bedroom Villa offers a true home away from home for couples, families or groups of friends with its own spa for in-room treatments, full kitchen, swimming pool, wine & cigar cellar and dedicated butler. Grace Hotel, Auberge Resorts Collection is home to Varoulko Santorini, a Greek-Mediterranean restaurant helmed by Athens' Michelin decorated Chef Lefteris Lazarou, and adjacent 363 Bar featuring awe-worthy views of Santorini's famed sunsets over the caldera vistas. The 22-meter infinity pool is the property's cultural center point, offering around-the-clock poolside culinary service. The hotel's talented team can arrange various wellness treatments and fitness classes, private chef dinners, and immersive local excursions such as wine or honey tastings, pottery or Greek sandal making, guided hikes, sunset picnics, yacht trips and more.
For more information: aubergeresorts.com/gracehotel
Connect on Instagram @GraceHotelAuberge and #AlwaysAuberge
About Auberge Resorts Collection

Auberge Resorts Collection is a portfolio of extraordinary hotels, resorts, residences and private clubs. While each property is unique, all share a crafted approach to luxury and bring the soul of the locale to life through captivating design, exceptional cuisine, innovative spas, and gracious yet unobtrusive service. With 22 one-of-a-kind hotels and resorts, Auberge invites guests to create unforgettable stories in some of the world's most desirable destinations.
For more information: aubergeresorts.com
Connect with Auberge Resorts Collection on FacebookTwitter and Instagram @AubergeResorts and #AlwaysAuberge
About The Friedkin Group

The Friedkin Group is a privately-held consortium of automotive, hospitality, entertainment, sports and adventure companies. These organizations include: Gulf States Toyota, GSFSGroup, US AutoLogistics, Ascent Automotive Group, Auberge Resorts Collection, AS Roma, Imperative Entertainment, 30WEST, NEON, Diamond Creek Golf Club, Congaree and Legendary Expeditions. The Friedkin Group is led by Chairman and CEO Dan Friedkin. For more information, visit http://www.friedkin.com.
Media Contact

Murphy O'Brien PR

mailto:[email protected] [[email protected] __title__ null]

###
Share article on social media or email: