PARK COUNTY • "Whooaa," Jim Barry remarks, as one of his Boy Scouts slips nearly 50 feet up a frozen waterfall.
The teenager is secured, harnessed. The fellow Scout belaying digs his feet into the ground and quickly stops the fall.
"Good catch!" Barry shouts, adding to the applause here about 100 miles from the troop's Highlands Ranch home.
The climber resumes his ascent. And the afternoon of fun continues at this private camp within Eleven Mile Canyon west of Lake George.
RELATED:
Video of ice climbing at Camp Alexander
Happy Trails: Natural arch among little wonders of Colorado Springs park
It's a canyon known for rock climbing, not for ice. But thanks to a long-term partnership between the Boy Scouts and Colorado Springs-based Front Range Climbing Co., a tall and wide and jagged frozen curtain is created over a cliff and managed every winter.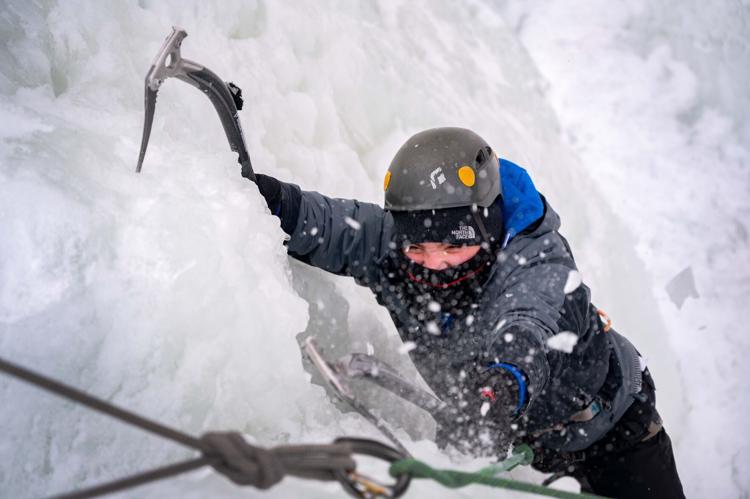 Around Denver, "we don't have anything like this," says Barry, the Scout adviser accompanied by one of Front Range Climbing's guides. "When I saw this was available, I immediately booked as many spots as I could."
So it goes every winter. Between the Scouts and his clients, Front Range Climbing owner Brian Shelton estimates between 60 and 80 beginners to the sport show up here every weekend — spread out in a way that's increasingly tough to achieve across Colorado's increasingly precious ice.
"There are more climbers overall, and we have a limited amount of resources," says Stewart Green, a partner of Shelton who has similarly climbed in Colorado all of his life. "When I say limited, I mean very, very limited."
Take their home, Colorado Springs, for example.
Shelton and Green, founders of advocate nonprofit Pikes Peak Climbers Alliance, are looked upon by the city to tend to bolted routes in craggy parks and open spaces. By Shelton's count, there might be 400 or 500 known rock climbs around the city.
"But only two ice climbs," he says.
The two are not secrets, though some hesitate to name and call attention to them, for fear of attracting even more people to already squeezed quarters. The waterfalls freeze, and those in the know flock to their slim bases, waiting in the cold for their turn to climb. The situation can be tense — ice chunks from above threatening heads below, the atmosphere not always friendly between the devoted and the uninitiated.
The scene is similar across the state, with avalanche danger adding to complications elsewhere. These are no places for guide companies, Shelton says.
Thus the safe, controlled venue here in Eleven Mile Canyon.
Among clients who park in view of the giant, bluish drape of daggers and overhangs, "it's always kind of a jaw-dropping thing," says guide Jameson Fleck. "And they've always got a pocketful of questions. 'How is it here? What's this all about?'"
Ice farming is the explanation. Wintry, sun-blocked corners across the country have followed the lead of the world-famous Ouray Ice Park in western Colorado: cultivating vertical worlds by way of water-diverting pipes, hoses and shower heads.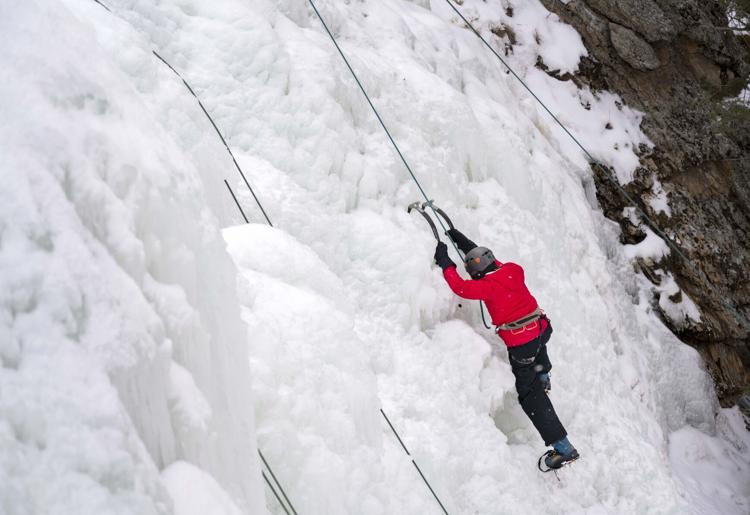 As soon as temperatures dip between 18 and 25 degrees — much colder or much warmer and the result is too brittle or too firm for axes and crampons — Shelton and his crew arrive at the mountainous Boy Scouts camp. They're guided by headlamps in these midnight hours, hoping to elude the area mountain lion. Atop the cliff, water is pumped from the well-fed swimming pool and sprayed in misty form.
Two or three weeks later, the product is in place, the ice spanning close to 50 feet high and 100 feet across. There's commonly room for a dozen routes.
"By far this is the most lines you can have set up in the Springs area," Shelton says.
But the possibilities are there in the city, he says. "The terrain is definitely there. It's just getting past the bureaucracy of it."
Bureaucracy reared its head in 2013. Years prior, enthusiasts had quietly fashioned a creek-fed irrigation system around a waterfall in North Cheyenne Cañon Park. This was to lengthen ice, to grant more room. But previously unaware officials put an end to it, banishing the equipment and citing concerns over liability and water rights.
The prospect has enticed other communities. In response to photos of Front Range Climbing's "private ice climbing paradise" Green posted on Facebook, Gunnison County's top commissioner wrote: "I can't believe no one has figured out an ice farming opportunity here in Gunnison!"
He can look south to Lake City, the hamlet that added another wall to its ice park this winter. Measuring about 100 feet tall and 600 feet wide, it's about twice the size of the first one along Henson Creek.
"There's probably $25,000-plus invested in the new wall," says Ben Hake, Lake City's recreation director.
And the little town finds that plenty worthwhile, he says, along with the liability costs.
"We do it for the economic development, that's the biggest reason. But it's also just a good recreation activity for people who live here and people who come from everywhere. We see a lot of that, from extra stays in hotel rooms and restaurants. We've definitely seen more tax revenue since it's been going on."
Such has been the observation in Ouray. In winters of the early 1980s, the town "was essentially Rip Van Winkle-Ville," reads an account on the ice park's website. "Driving through town on our way to skiing the backcountry, some mornings there wasn't a single car on Main Street, no human form stirring in the frosty air."
That changed after a group of locals banded together over the sight glistening through the darkness of the gorge at the end of the road: frozen formations from a leaking water pipe.
The group got to work. "Everyone thought we were mental," one recalls in the online history. "They said it would never make any money and it was the stupidest thing ever."
Now Main Street businesses have the ice park to thank for their winter survival. Now hundreds of climbers and spectators from around the globe travel for the annual festival near the end of January. (This year's occasion is set for this weekend, but due to COVID-19, spectators won't be allowed at competitions. Virtual broadcasts have been arranged.)
No man-made counterpart compares to Ouray Ice Park — certainly not this one in Eleven Mile Canyon.
Still, it inspires its creator to keep dreaming. A very particular set of circumstances is required, Shelton says, but "we would buy property if we had this kind of ability."
Climbers leave satisfied, including first-time teenagers on this day.
"Confidence," their adult chaperone, Barry, says as to what they've gained. "Huge confidence. Self-esteem. That they did it, it's one of those things they'll always remember."