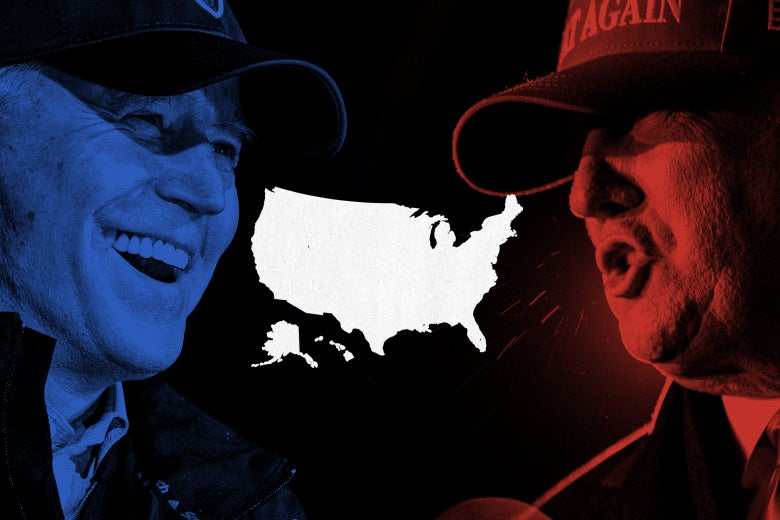 And here we go! After a day much of the Internet spent anxiously attempting to interpret Florida turnout figures , states around the country are closing their polls, which means we can start talking about actual results. We here at Slate will be blogging all night (and Wednesday day and Wednesday night, and possibly beyond) nervously but judiciously evaluating each new piece of information that becomes available about America's referendum on Donald Trump.
The Electoral College Count
Biden 122 (Colorado 9, Connecticut 7, Delaware 3, Washington D.C. 3, Illinois 20, Maryland 10, Massachusetts 11, New Jersey 14, New Mexico 5, New York 29, Rhode Island 4, Vermont 3, Virginia 13) vs. Trump 92 (Alabama 9, Arkansas 6, Indiana 11, Kentucky 8, Louisiana 8, Mississippi 6, Nebraska 2, Nebraska (3) 1, North Dakota 3, Oklahoma 7, South Carolina 9, South Dakota 3, Tennessee 11, West Virginia 5, Wyoming 3). And 356 outstanding. Time: 9:45 p.m.
9:30 p.m.: Nevada Supreme Court Protects the Vote Count in Late Ruling
The Nevada Supreme Court just issued an important opinion denying an emergency stay request from the Nevada Republican Party and Donald Trump to stop the count of mail-in ballots in critical Clark County until it can "meaningfully observe" the signature verification process and prohibit the county from using artificial intelligence to verify signatures.
"It is unclear from the motion how appellants are being prevented from observing the process or that the use of the [AI] machine is prohibited under [state law]," the seven-judge court ruled. The court left the door open to further challenges, but it is critical that the court will allow these votes to be counted under the procedures the state has chosen. Hillary Clinton won Nevada's six electoral college votes in 2016 and Joe Biden led in polls headed into Election Day, but Trump has made a strong play for the state. Signature verification disproportionately invalidates votes from minority and younger voters, two of Biden's core constituencies. "This is not a surprise," University of California–Irvine School of Law and Slate contributor Richard L. Hasen told me. "Courts are not going to look favorably on these last-minute attempts to change the rules about the ballot count."
The effort to block the counting of these votes would likely have been detrimental to the Biden campaign in a state where more than 575,000 people voted early by mail. The court said it would continue to hear arguments in the case and the Trump campaign could appeal to the federal judiciary, but it would be a heavy lift if it eventually went up to the Ninth Circuit of Appeals. This is a good one for voting rights advocates and for supporters of a fair and full vote count.
– Jeremy Stahl
9:20 p.m.: What's the Deal With North Carolina, Man?
Who's projected to win in North Carolina? Depends who you ask! The New York Times Upshot's needle says Trump has a 81 percent chance of winning the state given current results. But HuffPost's Matt Fuller thinks Biden's "strong where he needs to be strong" there. New York Times reporter Jeremy Peters says that he's "not hearing much relief" from Republican sources regarding the party's chances in the state and that "It's still tighter than they'd like it to be." FiveThirtyEight's Geoffrey Skelley says Biden is doing better than Hillary Clinton there, "at least for the moment." And Fox's own projection needle—which, to be clear, we cannot vouch for at all—thinks Biden is going to win.
I guess we'll find out soon (maybe)!
–Ben Mathis-Lilley
9:01 p.m.: Fox News Let Tucker Carlson on the Air
"Boy, Fox News has done a pretty good job keeping the dopes off the air tonight." That was me, 45 minutes ago, and I should have realized my optimism wouldn't stand. Soon after, Fox called upon Tucker Carlson to help analyze the early returns from the key state of Florida. Predictably, Carlson extrapolated those early returns—which, especially in Miami-Dade County, have been running in Trump's favor—into an indictment of the Democrats' alleged "attempt to racialize everything, to make Trump the greatest racist in world history." For the past year, on his nightly Fox News opinion program, Carlson has certainly done his part to argue that the act of calling out racism and racially insensitive behavior is a greater sin than racism itself. Leave it to Carlson to use this early, inconclusive data as an opportunity to observe that "the BLM message" is "clearly very unappealing to a lot of nonwhite voters. Who expected that?"
Carlson's other great theme this year has been American Carnage. In his telling, the country is on fire; leftist agitators have lit the match and the Democratic Party has fanned the flames. This story is not accurate, but it is nevertheless one of Carlson's favorites, which is why he tells it over and over again. Tonight, he couched his slanted narrative of Democratic thuggery and sedition in mournful tones. "This is a great and free country full of courageous and decent people. Why for a second would we put up with the assumption we need to hunker down and protect ourselves from violence on an Election Day? It's very distressing and it's not a partisan point at all," said Carlson. His disavowal of partisan motives is pretty rich, given that he has done as much as anybody this year to spin isolated incidents of looting and vandalism into a spurious narrative of a nation besieged by antifa thugs.
"Violence is never an acceptable or legitimate form of political expression, ever," Carlson said. "And I don't care what they say on Twitter, I don't care what they suggest from the podium, that is totally wrong and we should never put up with it. For real." A fair point, actually! Who would disagree with this fair point?
For the counter-argument, I present one Tucker Carlson, who back in August went on the air to lionize a teenage vigilante who has been charged with killing two men and wounding a third with an AR-15-style rifle:
On Fox News, the dopes win again.
—Justin Peters
8:53 p.m. If Biden Won Every State Where Ludacris Claimed to Have … Female Friends
One of Tuesday's most amusing distractions from, lol, everything came in the form of an electoral map that visualized what would happen if Joe Biden carried every state where Ludacris, in his seminal 2001 hit, "Area Codes," claimed to have hos. Ludacris himself approved; he posted the map on his Instagram. As we wait to see more of how the real electoral map shakes out, we caught up with Torii MacAdams, the 30-year-old Angeleno behind the map (feat. Nate Dog).
Heather Schwedel: How long have you been waiting to make/post this map?
Torii MacAdams: Like most of my tweets, this went from "very stupid idea" to "very stupid tweet" in about five minutes.
Do you feel like you became an expert in area codes, or the Electoral College?
Fortunately for me, others had already done the painstaking research of mapping each area code in which Ludacris claimed to have hos. I'm no more an expert on the Electoral College than I was before, which is to say I still staunchly oppose it and think it should be abolished. One ho, one vote.
It looks like you used the very-hot-right-now 270towin.com to make it.
Correct. The interface is quite easy––easy enough for some jerk to create a map in which Ludacris wins Joe Biden the presidency, for example.
What's your relationship to Ludacris, are you a big fan?
His album Word of Mouf was a middle school favorite––I think a friend who occasionally ate dog biscuits for fun burned me a copy after downloading it on Napster––but in the past decade, I've probably spent more time watching Luda in the Fast & Furious films than I have listening to his music.
The song is from 2001, and it seems like some area code redistricting might have happened since then. Did you take this into consideration?
I did not consider that.
Did anything surprise you about Ludacris's coalition and how it corresponds to actual red states/blue states?
Ludacris' ho-alition is concentrated in the South, unsurprising considering his Atlanta roots. Were Black voters properly enfranchised, I'm guessing the electoral map would more closely resemble the Ludacris ho-alition map than it does at present. That said, I find it shocking, if not downright unbelievable, that he wouldn't have hos in Boston, the Twin Cities, or Portland.
—Heather Schwedel
8:40 p.m.: The QAnon Candidate Is Projected to Win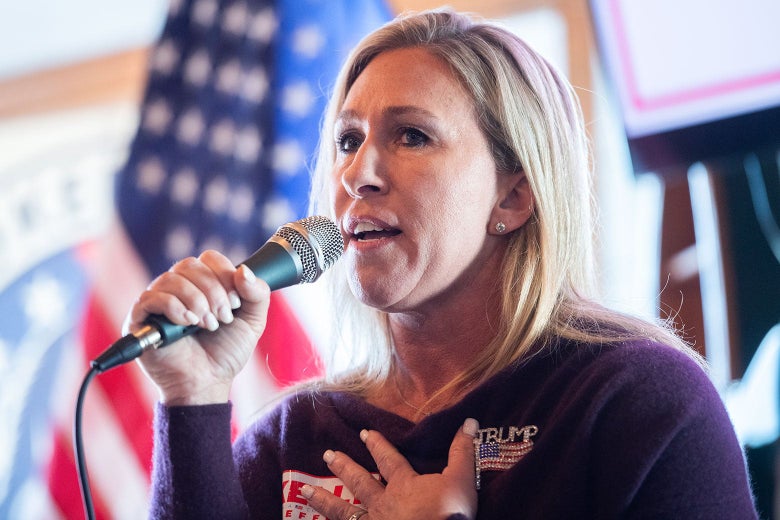 We knew it would happen, but it's jarring all the same: A known QAnon supporter appears to be headed to Congress, CNN and others project. Marjorie Taylor Greene of Georgia's heavily Republican 14th District now distances herself from the conspriacy alleging that Donald Trump is secretly fighting a cabal of Democratic satanist pedophiles—here's a rundown of her relevant history there—but she did post a threatening image in which she declared herself the "worst nightmare" of Congress' progressive "Squad" while holding a very large firearm. Take that as an early indicator of how less sane the next House Republican caucus will be than the already deep state-obsessed current one is.
Greene was essentially unchallenged; her Democratic opponent dropped out amid personal problems and the frightening pressures of a race against someone whose supporters think the left is a vampiric murder cult. It's a sad story; if you could use some more despondency tonight, read it.
—Jonathan L. Fischer
8:10 p.m.: Glimpsing an Early Lead on Fox News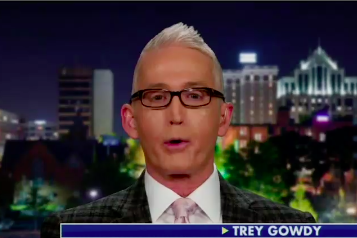 Though the polls have not yet closed, early indications are that former Republican Rep. Trey Gowdy's fauxhawk will run away with the Fox News Sartorial College. I'll keep everyone posted with further updates.
—Justin Peters
7:52 p.m.: USPS Defies a Federal Judge Over Finding Those Missing Ballots
Another update on what's going on with mail-in ballots: The U.S. Postal service declined to abide by U.S. District Judge Emmet G. Sullivan's order to have inspectors sweep select postal facilities in 15 states for undelivered ballots by 3 p.m. Lawyers for USPS said the agency could not meet the deadline and would instead follow its own schedule. Sullivan said that USPS "shall be prepared to discuss the apparent lack of compliance with the Court's order" during a conference set for Wednesday. Sullivan had originally made the order after USPS submitted data showing that its tracking system was unable to trace roughly 300,000 ballots. As Vice notes, however, USPS has been having ballots bypass the tracking scans in order to deliver them more quickly, which could account for the missing ballots.
Anyway, if the election is tight, this may not be the last you hear about the mail: President Trump has said he's sent in lawyers to battleground states to possibly challenge results, which would likely have to do with mail-in ballots.
—Aaron Mak
7:46 p.m.: We Now Know Things About Florida
Florida has begun reporting its results, and Joe Biden appears to be facing some significant challenges. In Miami-Dade County, the state's key Democratic stronghold, Biden only leads by 54 percent to 45 percent. By comparison, Hillary Clinton won the county by almost 30 percentage points. Trump is also expected to perform stronger on the same-day vote. Biden does seem to have cut into Trump's 2016 numbers in a number of whiter regions of the state, but Trump is coming close to his previous performance along the Gulf Coast as well. As Nate Cohn of the Upshot tweets: "Trump opens as a clear favorite in Florida, especially after the Miami-Dade early vote."
In the days leading to the election, many warned that Trump seemed to be making significant inroads with Miami's traditionally conservative Cuban community, which was wary of him last cycle, but has warmed to the president over the past four years.
—Jordan Weissmann
6:53 p.m.: Fox News Now Insisting Trump Supporters Don't Get That Worked Up Over Politics
I am on record as stating that The Five is my favorite show on Fox News. It is a terrible show, to be clear, but the five hosts have good chemistry and sometimes they make me laugh. The weirdest host on the show is unfiltered libertarian and occasional stand-up comic Greg Gutfeld, who always seems like he's honing his tight five for the open mic on the next National Review cruise. Gutfeld has had a memorable show today. He called former Clinton administration official Robert Reich, who is 4' 11", "this economist Keebler elf." He announced that today was the first time he had voted in at least 20 years. (He voted for Trump.) And, channeling fellow hack Kedzie Matthews , he riffed on what he saw as the main difference between conservatives and liberals.
"The Trump voter and the Trump supporters tend to be pretty happy, and the Biden supporters and Biden voters seem really anxious. Is that because of the election, or is that just who they are?" asked Gutfeld. "And I think that there's this interesting thing where, for Republicans and conservatives, politics isn't a lifestyle."
"Nope," echoed co-host Dana Perino, who clearly has not seen a flagged-out pickup truck over the past few months.
"If they lose this election, including Trump, if he loses, they just get on with their lives," Gutfeld continued. "But it's not like that with the Democrats. This [election] is a big deal because they politicize every single part of your life."
Over the past couple of days I've noticed a concerted effort at Fox to portray Trump supporters as a level-headed, cheery bunch of folks who would never, ever wear T-shirts saying stuff like "Trump 2020: Because fuck you again," or attempt to run a Biden campaign bus off the road, or, say, plot to kidnap the governor of Michigan. This risible portrayal, like so much else that you see on Fox News, is so factually inaccurate that it did not initially make any sense. Why bother to make this ridiculous argument in the first place? What's Fox's point?
"Is election chaos coming?" asked co-host Jesse Watters as he transitioned to a commercial break—the subtext being Will those wretched liberals reduce our cities to rubble this week? Oh. That's Fox's point.
—Justin Peters
6:39 pm: Looking for Shy Trump Voters
MANHEIM TOWNSHIP, PENNSYLVANIA—I've always been skeptical of the notion of the "shy Trump voter," just because it seems as though I meet so many outspoken Trump voters in the wild. Certainly at polling places here in Manheim Township, a collection of suburbs north of Lancaster, it's the Trump supporters who have the most to say about their choice. Meanwhile, many voters who stop at the Manheim Township Democrats table on the way into the polling places politely decline to talk about their vote on the way out.
Like many counties in Pennsylvania, Lancaster County has gotten plenty of attention from both campaigns in 2020. In the past week, Donald Trump, Melania Trump, and Ivanka Trump all hosted campaign events here, and on Monday Douglas Emhoff, Kamala Harris' husband, met veterans at a local landmark, the "Biden Barn"—a barn painted with a huge Biden campaign logo. Many districts in Manheim were narrow wins for Trump in 2016, and he'll likely need to improve that edge in suburbs like this to hold the state.
Ellie Stock isn't shy. "I'm not embarrassed to vote for Trump," she said outside her polling place, a church on Lititz Pike. "I'm embarrassed for the people in this country who loot and steal even though they already get everything for free. I've worked since I was 8. And I'll work until I can't anymore. I don't take handouts, not like those people." Asked what she does for a living, Stock said, "I'm unemployed. I work at Manheim Auto Auction, but it's closed because of COVID. Thank God my husband's still got his job."
Howard Rhinier isn't shy. Leaving the polling place with his wife, Sheri, and wearing a Punisher mask, Rhinier, an officer in his Teamsters local, explained that he voted for Obama twice but he could never vote for a Democrat now. "I can't stand this woke correctness," he said. "They hate you if you don't believe the same thing they do. You and me may not agree, but I don't hate you because of your beliefs." Asked if he thinks Manheim Township will remain Trump country, he frowned. "Probably a toss-up," he said. "Lotta liberal losers that's moved here."
 —Dan Kois
6:32 p.m.: Election Day Seems to Have, So Far, Gone Surprisingly Smoothly and Boringly
Election Day is winding down, and it has been just the way I like it: kind of boring. There have been sporadic reports of long lines, machine breakdowns, and other minor snafus. But considering this is an election with tremendous interest and voter turnout, things have gone pretty smoothly on Election Day even during a pandemic.
That of course is because election administrators stepped up and in most places made early mail-in and in-person voting possible. With more than 100 million votes cast before Election Day, we flattened the curve.
This doesn't mean that the election was perfect. Voters have been disenfranchised, and the post office has potentially failed to deliver up to 300,000 ballots nationwide. There will be postelection lawsuits and shenanigans to come if the margin is razor thin and it comes down to Pennsylvania. But given fears of everything from a cyberattack knocking out power to Detroit, to a deepfake showing Biden or Trump having a health emergency, Election Day itself could have been a lot worse.
—Richard L. Hasen
6:16 p.m.: Trump Supporters Really Didn't Vote Early
We're still a tiny while away from having truly useful information about the outcome of this election, but at this point, one thing can be said for sure: Donald Trump did a pretty good job making sure his supporters did not vote by mail.
Just take a look at the early voting gap in the Keystone State (which couldn't be more aptly named for this election). Based on public data gathered by TargetSmart, a Democratic political consulting firm, Republicans had a 7.2 percentage point advantage in early voting numbers in 2016. This year, Democrats have a whopping 42 percentage point advantage.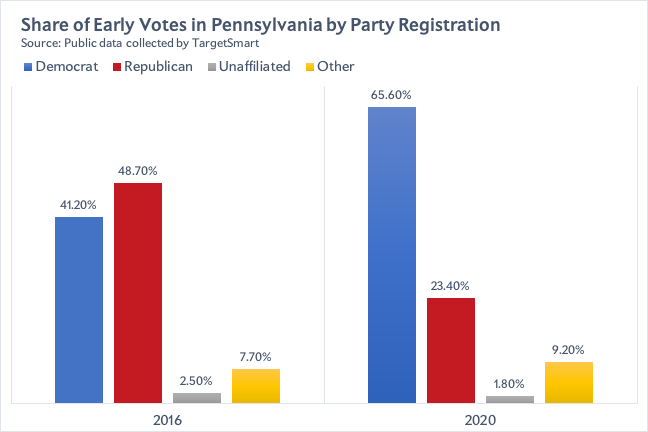 In Florida, the early voting divide by party was much, much smaller; Democrats had just a 2.5 percentage point edge. That may have something to do with the fact that Florida had regular in-person early voting, which Republicans seem to have been comfy with, while Pennsylvania relied on the mail (technically, you could drop off your mail ballot in person), which Republicans decidedly were not.
Not every state released party registration data for its early voters. But you can see how Trump likely depressed early turnout among his backers by looking at demographics. The graph below, which I've borrowed from TargetSmart's CEO Tom Bonier, shows early voters in battleground states by race and ethnicity, as a share of each group's total turnout in the 2016 race, including on Election Day. Notice that noncollege whites, Trump's key base, are well below every other major group, which all made sure to get to the polls early.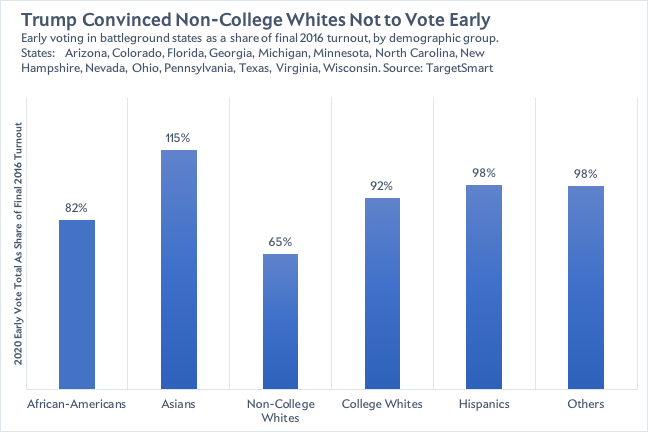 Telling his supporters not to vote early may backfire on Trump if he can't make up for it with Election Day turnout. But by segregating his voters, he's creating an avenue to win the race in court, by challenging large batches of mail-in ballots. It's a plan. We just have no idea if it was a good one.
—Jordan Weissmann
6 p.m.: Checking In With Black Voters in Milwaukee
MILWAUKEE—In 2016, Donald Trump won Wisconsin by around 23,000 votes. One factor: turnout in Milwaukee was down by about 41,000 as compared with the 2012 election. As Ari Berman argued persuasively in Mother Jones, voter suppression—in particular the implementation of strict voter ID laws—played a major role in that decline, particularly in predominantly Black parts of the city.
Given the high rate of early voting in Milwaukee this year, it seems likely that turnout will be up this time around. I talked with Black voters at three different polling locations today, where lines were short, and voters were pleased to cast their ballots without any difficulty.
At Benjamin Franklin School on the North Side:
• "It went perfect."
• "Fast and easy."
• "Went pretty well. No lines."
At Washington High School on the North Side:
• "I've never went into a poll and came out in one minute. For real, I came in, went around, and came out. 1, 2 ,3."
• "It was amazing and exhilarating to be honest. I was like nervous out of my mind for some reason. But we gotta have a change for every single solitary soul."
• "I haven't voted in a long time. … I'm happy I did it."
At my last stop, Maryland Avenue Montessori School on the East Side, I spoke to three voters who registered today. (Wisconsin is one of 19 states, plus D.C., where you can register to vote on Election Day.) One of those new registrants, Ariyonna Calvin, said that "even though both of the parties aren't ideal for people, it still matters. … Having the right to vote, especially as a minority woman, matters a lot to me."
—Rosemary Belson
5:20 p.m.: Snack Time
It's Election Day, heading into election night. Most people have already voted. Nothing is happening right now. Nothing is going to happen for quite a while still. Perhaps, like the rest of America, you are filling the time by rapidly refreshing several news sites (like this one!). You are probably also stress eating.
A Mayo Clinic post on "emotional eating" begins: "Sometimes the strongest food cravings hit when you're at your weakest point emotionally. You may turn to food for comfort—consciously or unconsciously—when facing a difficult problem, feeling stressed or even feeling bored."
America is at a pretty weak point, emotionally. We've been living in a pandemic for months and anticipating this election for longer. Our collective cortisol—the stress hormone that can make you feel hungry—is likely at an unprecedented level. We have hours to go before we rest, or learn anything useful. The evolutionary answer is to stress eat. Last night, I had a cheese plate before having grilled cheese for dinner. There is no pride anymore. Here are some other recommendations from my colleagues: Just let yourself eat buttered pasta for dinner, or for a snack. Make a box cake, then eat it with marshmallow fluff and also icing. Peanut butter out of the jar. Oscillate between stroopwafels and wasabi peas. Make nachos using whatever you have in the fridge (and some of your beans). Eat a whole sleeve of saltines! Make yourself diner toast (fry thick slices of bread in plenty of butter) and top it with various things. Gummy bears. Sour candy. Any colored candy, honestly, eating one color at a time is fun and distracting. Halloween candy, obviously. Order Dominos early, make sure you get cheesy bread and those weird lava cakes. Cheez-Its, of any variety. Cheez-Its of multiple varieties. Gouda. We've returned to cheese, which is always correct.
If you are too late for elaborate cooking projects, pass the time by making ridiculous snacks. Take a break to go to the store, if there is anything left to buy there. Now is the time to indulge.
—Susan Matthews
5:09 p.m.: The Amish Vote
INTERCOURSE, Pennsylvania—Only 7 percent of eligible Amish voted in the 2016 election, according to an Elizabethtown College professor who spoke last week to the York Daily Record. Ninety percent of those Amish who do vote are registered Republican; only 1 percent are Democrats. But at least one PAC is making a concerted effort to grow the Amish vote, and here in the heart of Pennsylvania Dutch country, horse-drawn buggies parked alongside SUVs while a steady stream of Amish voters entered the Leacock Township municipal building to cast their ballots.
Outside the polling place, Marcus Stoltzfus and his wife, Sharon, leaned against a wall, catching the last of the afternoon sun while they waited for other family members to finish voting inside. They both voted for Donald Trump. "We value his values," said Marcus, who owns a fencing company. "Regarding abortion, and how he handled the pandemic." Sharon said she's voted all her life—"it's always been important to me"—but this was Marcus' first time. "It was a great experience," he said. "I think it's important to keep it in prayer and to vote. They're two different things, and you can do both."
A local roving election official who wouldn't give his name—"I can't even say if I'm a Republican, independent, whatever"—told me he'd seen far more Amish voters today than he'd ever seen before. "They're worried about abortion. They're worried about socialism. People are leaving weddings and crossing fields to come vote." (Tuesdays in November are prime wedding dates.) "Women are voting," he said. "I never see that."
—Dan Kois
4:20 p.m.: Democracy out of Context
A quick break from the news: I imagine that "no context" Twitter accounts, which post screengrabs from TV shows, movies, games, and more, have been saving up their best stuff for months in anticipation of Election Day, and the results do not disappoint. Some of the posts are explicitly political—Parks and Rec obviously has plenty of scenes to choose from, and Community lucked out by having an entire episode premised on the idea that then–Vice President Joe Biden would be coming to visit the school. But among the many fictional characters expressing trepidation, despair, or hope across these accounts, no one quite sums up my feelings today as well as Worf can:
—Marissa Martinelli
4 p.m.: Sweeping for Lost Mail-in Ballots
An update on the mail: Emmet G. Sullivan, the federal judge who's been putting the screws to the U.S. Postal Service, ordered USPS inspectors on Tuesday morning to sweep postal facilities for ballots in areas where the agency has been struggling to deliver mail on time. Data that the agency handed over this morning showed that roughly 300,000 ballots had entered the postal system but had no corresponding scan showing they'd been delivered. Yikes. The sweeps will take place in Philadelphia, central Pennsylvania, Atlanta, Detroit, and elsewhere. Any ballots that have been found will be sent out immediately for delivery. Good luck, wayward ballots!
—Aaron Mak
3:10 p.m.: We May Need to Wait a Few Days to Know if Susan Collins Lost
LEWISTON, Maine—Maine is making history today, as it becomes the first state ever to use ranked-choice voting in a presidential election. The ranked-choice system is also in play in Maine's tight U.S. Senate race, where incumbent Republican Sen. Susan Collins faces challenges from two independent candidates in addition to Democrat Sara Gideon.
Under Maine's rules, if no candidate is able to secure 50 percent of the first-choice votes, the second-choice votes must then be tabulated. While the first-round results can be reported by each town's clerk, the second-round tabulations will be conducted and reported by the secretary of state's office in Augusta. If a second-round count is needed, all of the ballots, from every town, will have to be delivered by hand to the State House. That could take some time, perhaps a day or two.
Recent polls suggest that neither Collins nor Gideon—who's a very slight favorite—is likely to get to 50 percent in the first round. Only a handful of polls have asked voters about independent candidates Lisa Savage and Max Linn, or about voters' secondary choices. As Savage told me this morning, she's explicitly run her campaign with an eye toward ranked-choice voting, urging third-party-curious Mainers to put her first with Democrat Gideon second. If Savage has her way, we'll need to wait to find out whether Collins or Gideon will be the next senator from Maine—and, potentially, which party controls the U.S. Senate.
—Jeff Friedrich
1:55 p.m.: A New Pennsylvania Lawsuit That Could Preview Trump's Postelection Strategy
Election expert and University of California, Irvine School of Law professor Richard L. Hasen will be guest-blogging in this space throughout the day. Hasen just published this piece taking a look at a new lawsuit in Montgomery County, Pennsylvania, from a Republican congressional candidate who is trying to stop the county from informing voters and allowing them to "cure" ballots with mismatched signatures. As Hasen writes, the claims in the case are incredibly weak but could portend what awaits Pennsylvania if there's a prolonged series of court fights over the potentially election-tipping vote count in that state:
To say the claim is weak doesn't mean that courts will necessarily reject it; we have seen some crazy court rulings these last few weeks. And perhaps the real endgame, should we be unfortunate enough for this to all come down to Pennsylvania, is not to get the courts to save Trump but instead to give the Pennsylvania legislature an excuse to call the election failed and to try to appoint its own Trump slate of presidential electors.
—Jeremy Stahl
1:30 p.m.: This Pennsylvania Election Judge Is Extremely Excited to Be a Pennsylvania Election Judge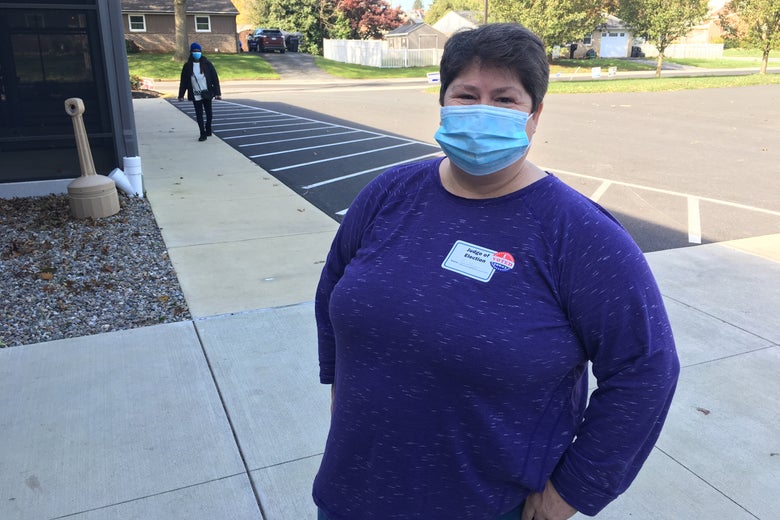 COLUMBIA, Pennsylvania—Two years ago, software analyst Heather Zink was voting at her local polling place and saw that no one was on the ballot to be her ward's election judge. She felt bad, so she wrote in her own name. A few weeks later she got a registered letter in the mail. She'd won by a single write-in vote—her own. Oh, my gosh, she thought, what do I do now?
Zink had never held any position of authority, but she threw herself into her new role. In Pennsylvania, an election judge "is the person in charge at the polling place." Zink attended a training session and watched videos about voting procedures online. She called the ward volunteers and confirmed they'd be back for the presidential election. And she watched "voter fraud" become a hot topic of discussion.
At 10 a.m., Zink stepped into the parking lot outside the same polling place where she'd voted for herself in 2018—an animal shelter southeast of downtown—and pulled down her mask for some fresh air. "Beautiful day!" I said. Zink pointed at her nametag reading "Judge of Election" and said, "Well, I'll be the judge of that!"
Zink spoke enthusiastically about her unexpected role in the most important state in this most important election. "I love it!" she said. She's a born volunteer, ready to spring into action and excited to greet everyone who walks through the door. "I live in this ward, this is my ward," she said. "It's given me the opportunity to meet so many neighbors I've never met before. That's pretty great."
She continued: "I set up last night, made sure everything's ready. I make sure everyone's got everything they need today. And I have to take the votes to the warehouse at the end of the night tonight. That's exciting."
I asked if there had been much of an emphasis on voter fraud in her preparation. "They teach us everything we need to know," she said. "The county has a lot of training videos for all the correct procedures. Plus, there's a number to call if there's any kind of problem. And we've got plenty of volunteers to take care of everything—people were really enthusiastic about volunteering this time around."
Inspired by her thrilling electoral victory in 2018, Zink decided to run for Columbia's Borough Council in 2019.
"How'd that go?" I asked.
"Great!" Zink replied. "I'm council president now!"
A volunteer stuck her head out of the door and said, "Heather, we need you."
"Here I come!" said election judge Heather Zink, as she strapped her mask back on and headed back into the fray.
—Dan Kois
12:20 p.m.: Lisa Savage, an Independent Candidate in the Maine Senate Race, Thinks She'll Help Oust Susan Collins
LEWISTON, Maine—I'm in Lewiston, where voters could help determine who runs the Senate and who sits in the White House. Democrat Sara Gideon is a slight favorite to unseat incumbent Republican Sen. Susan Collins in a race the Dems need to get control of the Senate. And Maine's 2nd Congressional District, where Lewiston is located, is truly up for grabs. The winner here will get 1 electoral vote, a prize that could be crucial if, say, Donald Trump were to win Pennsylvania.
At the polls this morning, I ran into Lisa Savage, who's running against Collins and Gideon in the Senate race. The 64-year-old Savage is on the ballot as an independent but identifies as a member of the Green Party. In our conversation, she told me that Maine's ranked-choice voting system, which allows voters to select multiple candidates and rank them by preference, makes it more likely that Collins will lose. The interview has been condensed and lightly edited.
—Jeff Friedrich
Jeff Friedrich: I'm guessing you have already voted. How was your voting experience?
Lisa Savage: I voted absentee. I voted in my pajamas. I made a little video—it's on my campaign YouTube.
I live in Solon, where there is not enough internet to conduct a U.S. Senate campaign—you really can't Zoom where I live in the 2nd District, so I've been staying in Bath with friends. My husband comes down on the weekends, and he brought me my absentee ballot from our town clerk. I voted in my pajamas and handed it back to him, and then he hand-carried it back to the clerk.
Hypothetically, if there wasn't a ranked-ballot option in Maine, how would you have voted?
It's a good question. I have voted Green before. I have voted Democrat before. I certainly wouldn't vote for the incumbent.
How did you vote [for president] in 2016?
I voted for Jill Stein.
How do you feel about that vote, in retrospect?
Great. Again, I live in Maine. We have a whopping 4 electoral votes. Now, granted, 2nd District, where I live, did go to the incumbent. But nobody ever lost a presidential election before on Maine's electoral votes. But it's been really interesting—we've been in the Washington Post, the New York Times, and the Wall Street Journal this week because Susan Collins is such a key senator. Ranked-choice voting, and my presence on the ballot, makes it more likely that we can unseat a conservative incumbent.
This is your first time running as a candidate?
It is, yeah. I was vice president and chief negotiator for the local bargaining unit, so I have held that elected office before. But yeah, this is my first time.
Would you do it again?
Under ranked-choice voting I probably would, yeah. I would not have done this were it not for ranked-choice voting, because there wouldn't have been the opportunity to tell people, "I'm not a threat to unseating Susan Collins. My presence in the race increases the chance of unseating Susan Collins."
How do you think it increases the chances?
It brings out voters who otherwise wouldn't vote. I've certainly heard from many people, generally young people, who say, you know, "I can't vote for either of the two two-party candidates, but I can vote for you." We want Democrats to not consider us the enemy, but to consider us allies in the effort to retire Susan Collins. We say, "Rank Lisa first and then vote blue No. 2."
11:56 a.m.: Looking for "Oomph" in a Pennsylvania Swing Town
COLUMBIA, Pennsylvania—Once a manufacturing center, now trying to reinvent itself as an outdoor recreation destination on the Susquehanna River, the town of Columbia has been a bellwether in recent presidential elections. While surrounding Lancaster County has been a Republican stronghold for decades, George W. Bush won Columbia in 2004, Barack Obama won it in 2008 and 2012, and Donald Trump—narrowly—won here in 2016.
Julie Resch works in the Columbia school system most years, but hasn't picked up hours in 2020 because "there aren't enough kids." She's a volunteer inspector at her local polling place, an animal shelter on the south side of town. Resch said about 30 people were in line when it opened this morning, and that 190 voters out of 817 had cast ballots as of 10:30 a.m. "I think Trump's going to lose this time," Resch said. She voted as soon as the polls opened. "He's a big bully. I can't stand him."
Most of the voters who came out of the animal shelter, though, had cast votes for Donald Trump. One, who wouldn't give his name, spoke darkly of a Kamala Harris tweet, which he believed presaged the rise of socialism and Marxism. (It's a short video defining the difference between "equality" and "equity.") Another, a plumber and Army vet named Joe Hinkle, said he voted Republican "straight down the ballot, because I like my rights." His German shepherd, Marshall, wandered back into the animal shelter while he spoke in the parking lot. "Hey, get back here!" he called. "You're not old enough to vote yet!"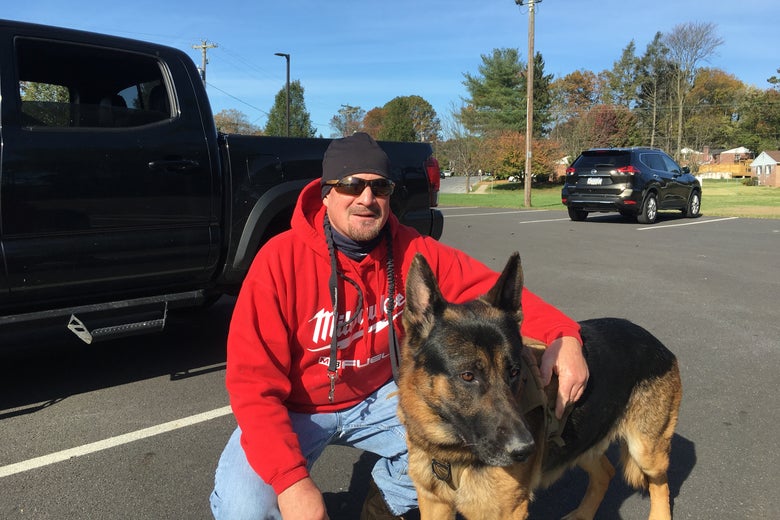 Everyone agreed that Pennsylvania was the place to be. "I wish the votes counted as much everywhere," said William Thomas, a retired Marine, who along with his wife voted for Trump. "But it's really important here."
Hinkle brought up the mail-in ballot deadline and the battles fought in court to extend it. "If you haven't voted by now, you're not taking it seriously," he said. But others, Republicans and Democrats alike, said they felt it was important to count every vote, even if it took a little while.
Downtown at another polling place, an Episcopal church, a voter in a Trump hat fixed a Trump/Pence sign that had blown over in the morning wind. Tom Parker, an industrial machinist, said he was determined to vote in person. "I think the voting by mail is going to be fraud-laden," he said. "I'm old-school."
Two residents of the nearby St. John's retirement home came together to the animal shelter to cast their ballots, one for Biden, one for Trump. "I think Trump has more oomph to him," said George Greiner. "I just think he's better." Asked why she voted for Biden, Helen Kemp said, "The same reason as him."
"I guess we canceled each other out," Greiner said. "But you gotta participate."
—Dan Kois
11:32 a.m.: Yep, There Are Still Problems With Mailing Ballots
This—new data from the U.S. Postal Service showing that ballot deliveries are still seeing delays in several battleground states—sure doesn't look good:
Let's break it down. Right now, USPS is being sued by voting rights groups over its service, which has been degraded since this summer, and a federal judge is forcing the agency to give daily updates. Time is almost out to get any mail-in ballots delivered to election officials across the country, and according to the almost real-time data we're getting, election mail in some key states doesn't look great right now.
According to the update that USPS submitted to the court on Tuesday, the delivery rate for ballots reaching election offices on time in Atlanta ranged from 39.67 percent to 94.96 percent in the time period between Oct. 24 and Nov. 2. (It was 61.04 percent on Nov. 2.) Delivery rates for Philadelphia, a Democratic stronghold in crucial Pennsylvania, in that same time span ranged from 77.53 percent to 96.70 percent. (It was 79.26 percent on Nov. 2.) Rates in central Pennsylvania were even worse, ranging from 52.57 percent to 83.27 percent. (It was 69.06 percent on Nov. 2.) Rates in Detroit ranged from 48.67 percent to 78.92 percent. (It was 77.66 percent on Nov. 2.) Now, some of these states will have a few more days to keep counting mail-in ballots, assuming a court challenge doesn't stop them. But Michigan ballots have to arrive by 8 p.m. on Election Day to be valid.
Voter advocates have characterized rates under 90 percent as being particularly concerning, so technically these numbers are … utterly abysmal. USPS has claimed that these daily statistics can be misleading, partly because they only look at the middle stage of a ballot's journey, and don't take into account the first and last miles of the trip. We'll know more about USPS election mail service soon … but it may be too late.
—Aaron Mak
11:20 a.m.: Melania Trump, Not Wearing a Mask, Has Voted
According to official press pool coverage, Melania Trump cast her vote this morning at the Morton and Barbara Mandel Recreation Center in West Palm Beach, Florida. The first lady reportedly wore a "beige sleeveless dress" and "was the only person not wearing a mask."
Having already contracted the coronavirus in the aftermath of the White House superspreader event celebrating Amy Coney Barrett's nomination to the Supreme Court, Melania Trump is presumably at low personal risk of transmitting the virus or suffering a reinfection. Still, with the pandemic spreading out of control around the nation, wearing a mask would serve as a simple, visible demonstration of collective commitment to public health.
The pool also reports, "Asked why she did not vote with her husband last week, she said, 'It's Election Day, so I wanted to come here to vote today for the election.' "
—Tom Scocca
10:30 a.m.: More Slate Election Content to Satisfy Your Brain Cravings
Our site has all sorts of informative and possibly soothing material for you this morning:
• The Surge's Jim Newell on seven themes and possibilities to keep an eye on when the results begin arriving.
• The results from Dixville Notch, that place in New Hampshire that votes first.
• Legal correspondent Mark Joseph Stern on when and how 10 battleground states plan to count their votes (and how Republican litigiousness might interfere with that).
• History genius Rebecca Onion on why we expect results on election night in the first place.
• And, summing it all up, Jordan Weissmann on the fact that every single part of what's happening in the U.S. right now is completely and totally insane.
—Ben Mathis-Lilley
10:10 a.m.: What Is Donald Trump Jr. Even Talking About Here?
I'm probably devoting more attention to the Don Jr. tweet above than I should, but hey, it's going to be a long day. The younger Trump apparently believes that the entire world is supporting his father with the exceptions of California, New York, Mexico, China, India, Sri Lanka, Cuba, and, um, Liberia.
What's striking here isn't just that this is delusional, it's that it's not even consistent with Trump World's usual delusions. Why isn't Iran blue, for instance? Are undecided voters in Florida aware that socialist Venezuela is now, apparently, good? As for India, maybe that's a racist gibe about Kamala Harris' ancestry, but Trump Jr. should know that his father has a strong Hindu nationalist fan base. And how did Liberia get dragged into this?
Russia's interesting. Trump Sr. has claimed at times—contradicting U.S. intelligence agencies—that Russia would prefer Biden win the election because "nobody's been tougher to Russia than me". But at other times he's said that Putin, along with China's Xi Jinping and North Korea's Kim Jong-un, "don't want to deal with Sleepy Joe." Just to be clear, he means that as a bad thing.
If the world could actually vote, the map would look pretty different than this. Trump is overwhelmingly unpopular around the world, but he does have pockets of support. A Pew survey this year suggested he could realistically win Israel, Poland, Hungary, the Philippines and—a little more surprisingly—Nigeria and Kenya.
Polling on Antarctica's been a little sparse.
—Joshua Keating
9 a.m.: A Last Look at Our Good Friends, the Polls
FiveThirtyEight gives Joe Biden a 90 out of 100 chance of winning the election and estimates a 349–189 Electoral College victory. The Economist, whose polling guru G. Elliott Morris has been feuding with FiveThirtyEight's Nate Silver for some time, gives Biden a 96 percent chance and estimates a 350–188 electoral margin. The New York Times' Upshot polling department isn't doing a forecast (cowardice!) but says Biden has a "commanding lead" and that Trump will need "a polling error much bigger than 2016's" to win. The Cook Political Report says Trump would have to win all seven of its "toss-up" states or districts (Florida, Georgia, Iowa, Maine's 2nd Congressional District1, North Carolina, Ohio, and Texas) as well as two of its seven "lean democratic" states (Arizona, Michigan, Minnesota, Nevada, New Hampshire, Wisconsin, and Pennsylvania) to retake the presidency. FiveThirtyEight also gives Democrats a 75 out of 100 chance of controlling 50 Senate seats in the next term; Dems would need to win two of the Cook Report's seven toss-up races (Iowa, Maine, Montana, North Carolina, South Carolina, and both seats in Georgia) to reach that number.
1Maine and Nebraska each assign one electoral vote to each congressional district and two to the statewide winner. In every other state the statewide winner gets all the votes.
—Ben Mathis-Lilley
Here's When the Voting Will Be Done and When the Lawsuits Will Be Filed
The Times has a list of poll closing times by state and estimates of when counts will be updated and finished; the long and short of it is that Florida and North Carolina will likely be the first East Coast swing states to close their polls and issue almost all their unofficial tally data, with crucial Arizona also expected to report relatively promptly after polls close at 7 p.m. Mountain time (9 p.m. Eastern). Official counts won't be ready for days or weeks, but these states and others that likely won't be as competitive are expected to be able to release enough unofficial data that news outlets may feel comfortable "calling" them as Tuesday turns into Wednesday. Biden leads in the polling averages in Arizona, Florida, and North Carolina, but not by more than 3 points in any of them.
Although Trump has promised to file lawsuits demanding that vote counts be shut down after election night, his campaign has yet to actually make any legal challenges that would invalidate tens or hundreds of thousands of ballots at once, and it's possible that the Electoral College will have been all but decided before dawn on Wednesday. The chaos scenario will take place if Trump sweeps the Sun Belt, which would mean that Michigan and Pennsylvania, which do not expect to have their counts done by Wednesday, become critical. (Republican legislatures in those two states have blocked efforts to change election rules so that administrators can preprocess ballots that have already been submitted. Preprocessing is what is already happening in numerous other states, like Florida, that had the good fortune to lock in reasonable election laws before "counting all the votes promptly" became a fully partisan issue. Republicans believe, based on past evidence and current polling, that ballots that are mailed or dropped off early are more likely to be cast for Democrats.)
—Ben Mathis-Lilley
Do You Guys Remember 2016? 2004?
Boy, I sure do. That feeling of optimism and imminent relief gradually, excruciatingly giving way to disbelief and despair? Ha ha, hope that feeling doesn't gradually and excruciatingly creep over my body and mind again! Ha ha!
—Ben Mathis-Lilley
Slate is covering the election issues that matter to you. Support our work with a Slate Plus membership. You'll also get a suite of great benefits.
Join Slate Plus
');
}
function tryGetCriteoFastBid() {
try {
var fastBidStorageKey = "criteo_fast_bid",
hashPrefix = "// Hash: ",
fastBidFromStorage = storage.getDataFromLocalStorage(fastBidStorageKey),
firstLineEndPosition,
firstLine,
publisherTagHash,
publisherTag;
null !== fastBidFromStorage && (firstLineEndPosition = fastBidFromStorage.indexOf("n"), firstLine = fastBidFromStorage.substr(0, firstLineEndPosition).trim(), firstLine.substr(0, hashPrefix.length) !== hashPrefix ? (__WEBPACK_IMPORTED_MODULE_4__src_utils_js__.logWarn("No hash found in FastBid"), storage.removeDataFromLocalStorage(fastBidStorageKey)) : (publisherTagHash = firstLine.substr(hashPrefix.length), publisherTag = fastBidFromStorage.substr(firstLineEndPosition + 1), Object(__WEBPACK_IMPORTED_MODULE_6_criteo_direct_rsa_validate_build_verify_js__.verify)(publisherTag, publisherTagHash, FAST_BID_PUBKEY_N, FAST_BID_PUBKEY_E) ? (__WEBPACK_IMPORTED_MODULE_4__src_utils_js__.logInfo("Using Criteo FastBid"), eval(publisherTag)) : (__WEBPACK_IMPORTED_MODULE_4__src_utils_js__.logWarn("Invalid Criteo FastBid found"), storage.removeDataFromLocalStorage(fastBidStorageKey))));
} catch (t) {}
}
Object(__WEBPACK_IMPORTED_MODULE_1__src_adapters_bidderFactory_js__.registerBidder)(spec);
},
377: function _(t, e, r) {
"use strict";
Object.defineProperty(e, "__esModule", {
value: !0
});
var a = r(378),
n = r(379);
e.verify = function (t, e, r, i) {
var s = new a.BigInteger(a.b64toHex(e)),
o = new a.BigInteger(a.b64toHex(r)),
_ = s.modPowInt(i, o);
return a.removeExtraSymbols(_.toHexString()) === n.Sha256.hash(t);
};
},
378: function _(t, e, r) {
"use strict";
var i;
Object.defineProperty(e, "__esModule", {
value: !0
});
var s = (T.prototype.toHexString = function () {
if (this.s < 0) return "-" + this.negate().toHexString(); var t, e = !1, r = "", i = this.t, s = this.DB - i * this.DB % 4; if (0 < i--) for (s < this.DB && 0 < (t = this[i] >> s) && (e = !0, r = c(t)); 0 <= i;) { s < 4 ? (t = (this[i] & (1 << s) - 1) << 4 - s, t |= this[--i] >> (s += this.DB - 4)) : (t = this[i] >> (s -= 4) & 15, s <= 0 && (s += this.DB, --i)), 0 < t && (e = !0), e && (r += c(t)); } return e ? r : "0"; }, T.prototype.fromHexString = function (t) { if (null !== t) { this.t = 0, this.s = 0; for (var e = t.length, r = !1, i = 0; 0 <= --e;) { var s = n(t, e); s < 0 ? "-" == t.charAt(e) && (r = !0) : (r = !1, 0 == i ? this[this.t++] = s : i + 4 > this.DB ? (this[this.t - 1] |= (s & (1 << this.DB - i) - 1) << i, this[this.t++] = s >> this.DB - i) : this[this.t - 1] |= s << i, (i += 4) >= this.DB && (i -= this.DB));
}
this.clamp(), r && T.ZERO.subTo(this, this);
}
}, T.prototype.negate = function () {
var t = b();
return T.ZERO.subTo(this, t), t;
}, T.prototype.abs = function () {
return this.s < 0 ? this.negate() : this; }, T.prototype.mod = function (t) { var e = b(); return this.abs().divRemTo(t, null, e), this.s < 0 && 0 < e.compareTo(T.ZERO) && t.subTo(e, e), e; }, T.prototype.copyTo = function (t) { for (var e = this.t - 1; 0 <= e; --e) { t[e] = this[e]; } t.t = this.t, t.s = this.s; }, T.prototype.lShiftTo = function (t, e) { for (var r = t % this.DB, i = this.DB - r, s = (1 << i) - 1, o = Math.floor(t / this.DB), _ = this.s << r & this.DM, a = this.t - 1; 0 <= a; --a) { e[a + o + 1] = this[a] >> i | _, _ = (this[a] & s) << r; } for (a = o - 1; 0 <= a; --a) { e[a] = 0; } e[o] = _, e.t = this.t + o + 1, e.s = this.s, e.clamp(); }, T.prototype.invDigit = function () { if (this.t < 1) return 0; var t = this[0]; if (0 == (1 & t)) return 0; var e = 3 & t; return 0 < (e = (e = (e = (e = e * (2 - (15 & t) * e) & 15) * (2 - (255 & t) * e) & 255) * (2 - ((65535 & t) * e & 65535)) & 65535) * (2 - t * e % this.DV) % this.DV) ? this.DV - e : -e; }, T.prototype.dlShiftTo = function (t, e) { for (var r = this.t - 1; 0 <= r; --r) { e[r + t] = this[r]; } for (r = t - 1; 0 <= r; --r) { e[r] = 0; } e.t = this.t + t, e.s = this.s; }, T.prototype.squareTo = function (t) { for (var e = this.abs(), r = t.t = 2 * e.t; 0 <= --r;) { t[r] = 0; } for (r = 0; r < e.t - 1; ++r) { var i = e.am(r, e[r], t, 2 * r, 0, 1); (t[r + e.t] += e.am(r + 1, 2 * e[r], t, 2 * r + 1, i, e.t - r - 1)) >= e.DV && (t[r + e.t] -= e.DV, t[r + e.t + 1] = 1);
}
0 < t.t && (t[t.t - 1] += e.am(r, e[r], t, 2 * r, 0, 1)), t.s = 0, t.clamp(); }, T.prototype.multiplyTo = function (t, e) { var r = this.abs(), i = t.abs(), s = r.t; for (e.t = s + i.t; 0 <= --s;) { e[s] = 0; } for (s = 0; s < i.t; ++s) { e[s + r.t] = r.am(0, i[s], e, s, 0, r.t); } e.s = 0, e.clamp(), this.s != t.s && T.ZERO.subTo(e, e); }, T.prototype.divRemTo = function (t, e, r) { var i = t.abs(); if (!(i.t <= 0)) { var s = this.abs(); if (s.t < i.t) return null != e && e.fromHexString("0"), void (null != r && this.copyTo(r)); null == r && (r = b()); var o = b(), _ = this.s, a = t.s, n = this.DB - D(i[i.t - 1]); 0 < n ? (i.lShiftTo(n, o), s.lShiftTo(n, r)) : (i.copyTo(o), s.copyTo(r)); var p = o.t, c = o[p - 1]; if (0 != c) { var d = c * (1 << this.F1) + (1 < p ? o[p - 2] >> this.F2 : 0),
u = this.FV / d,
h = (1 << this.F1) / d, l = 1 << this.F2, f = r.t, E = f - p, v = null == e ? b() : e; for (o.dlShiftTo(E, v), 0 <= r.compareTo(v) && (r[r.t++] = 1, r.subTo(v, r)), T.ONE.dlShiftTo(p, v), v.subTo(o, o); o.t < p;) { o[o.t++] = 0; } for (; 0 <= --E;) { var m = r[--f] == c ? this.DM : Math.floor(r[f] * u + (r[f - 1] + l) * h); if ((r[f] += o.am(0, m, r, E, 0, p)) < m) for (o.dlShiftTo(E, v), r.subTo(v, r); r[f] < --m;) { r.subTo(v, r); } } null != e && (r.drShiftTo(p, e), _ != a && T.ZERO.subTo(e, e)), r.t = p, r.clamp(), 0 < n && r.rShiftTo(n, r), _ < 0 && T.ZERO.subTo(r, r); } } }, T.prototype.rShiftTo = function (t, e) { e.s = this.s; var r = Math.floor(t / this.DB); if (r >= this.t) e.t = 0;else {
var i = t % this.DB,
s = this.DB - i,
o = (1 << i) - 1; e[0] = this[r] >> i;
for (var _ = r + 1; _ < this.t; ++_) { e[_ - r - 1] |= (this[_] & o) << s, e[_ - r] = this[_] >> i;
}
0 < i && (e[this.t - r - 1] |= (this.s & o) << s), e.t = this.t - r, e.clamp(); } }, T.prototype.drShiftTo = function (t, e) { for (var r = t; r < this.t; ++r) { e[r - t] = this[r]; } e.t = Math.max(this.t - t, 0), e.s = this.s; }, T.prototype.subTo = function (t, e) { for (var r = 0, i = 0, s = Math.min(t.t, this.t); r < s;) { i += this[r] - t[r], e[r++] = i & this.DM, i >>= this.DB;
}
if (t.t < this.t) { for (i -= t.s; r < this.t;) { i += this[r], e[r++] = i & this.DM, i >>= this.DB;
}
i += this.s;
} else {
for (i += this.s; r < t.t;) { i -= t[r], e[r++] = i & this.DM, i >>= this.DB;
}
i -= t.s;
}
e.s = i < 0 ? -1 : 0, i < -1 ? e[r++] = this.DV + i : 0 < i && (e[r++] = i), e.t = r, e.clamp(); }, T.prototype.clamp = function () { for (var t = this.s & this.DM; 0 < this.t && this[this.t - 1] == t;) { --this.t; } }, T.prototype.modPowInt = function (t, e) { var r = new (t < 256 || e.isEven() ? d : h)(e); return this.exp(t, r); }, T.prototype.exp = function (t, e) { if (4294967295 < t || t < 1) return T.ONE; var r, i = b(), s = b(), o = e.convert(this), _ = D(t) - 1; for (o.copyTo(i); 0 <= --_;) { e.sqrTo(i, s), 0 < (t & 1 << _) ? e.mulTo(s, o, i) : (r = i, i = s, s = r); } return e.revert(i); }, T.prototype.isEven = function () { return 0 == (0 < this.t ? 1 & this[0] : this.s); }, T.prototype.compareTo = function (t) { var e = this.s - t.s; if (0 != e) return e; var r = this.t; if (0 != (e = r - t.t)) return this.s < 0 ? -e : e; for (; 0 <= --r;) { if (0 != (e = this[r] - t[r])) return e; } return 0; }, T.prototype.am1 = function (t, e, r, i, s, o) { for (; 0 <= --o;) { var _ = e * this[t++] + r[i] + s; s = Math.floor(_ / 67108864), r[i++] = 67108863 & _; } return s; }, T.prototype.am2 = function (t, e, r, i, s, o) { for (var _ = 32767 & e, a = e >> 15; 0 <= --o;) { var n = 32767 & this[t], p = this[t++] >> 15,
c = a * n + p * _;
s = ((n = _ * n + ((32767 & c) << 15) + r[i] + (1073741823 & s)) >>> 30) + (c >>> 15) + a * p + (s >>> 30), r[i++] = 1073741823 & n;
}
return s;
}, T.prototype.am3 = function (t, e, r, i, s, o) {
for (var _ = 16383 & e, a = e >> 14; 0 <= --o;) { var n = 16383 & this[t], p = this[t++] >> 14,
c = a * n + p * _;
s = ((n = _ * n + ((16383 & c) << 14) + r[i] + s) >> 28) + (c >> 14) + a * p, r[i++] = 268435455 & n;
}
return s;
}, T);
function T(t) {
null !== t && this.fromHexString(t);
}
function b() {
return new s(null);
}
function D(t) {
var e,
r = 1;
return 0 != (e = t >>> 16) && (t = e, r += 16), 0 != (e = t >> 8) && (t = e, r += 8), 0 != (e = t >> 4) && (t = e, r += 4), 0 != (e = t >> 2) && (t = e, r += 2), 0 != (e = t >> 1) && (t = e, r += 1), r;
}
e.BigInteger = s, e.nbi = b, e.nbits = D;
for (var o = [], _ = "0".charCodeAt(0), a = 0; a <= 9; ++a) { o[_++] = a; } for (_ = "a".charCodeAt(0), a = 10; a < 36; ++a) { o[_++] = a; } for (_ = "A".charCodeAt(0), a = 10; a < 36; ++a) { o[_++] = a; } function n(t, e) { var r = o[t.charCodeAt(e)]; return null == r ? -1 : r; } e.intAt = n; var p = "0123456789abcdefghijklmnopqrstuvwxyz"; function c(t) { return p.charAt(t); } e.int2char = c; e.b64toHex = function (t) { for (var e = "", r = 0, i = 0, s = 0; s < t.length && "=" != t.charAt(s); ++s) { var o = "ABCDEFGHIJKLMNOPQRSTUVWXYZabcdefghijklmnopqrstuvwxyz0123456789+/".indexOf(t.charAt(s)); o < 0 || (r = 0 == r ? (e += c(o >> 2), i = 3 & o, 1) : 1 == r ? (e += c(i << 2 | o >> 4), i = 15 & o, 2) : 2 == r ? (e += c(i), e += c(o >> 2), i = 3 & o, 3) : (e += c(i << 2 | o >> 4), e += c(15 & o), 0));
}
return 1 == r && (e += c(i << 2)), e; }, e.removeExtraSymbols = function (t) { return t.replace(/^1f+00/, "").replace("3031300d060960864801650304020105000420"https://r.search.yahoo.com/,""); }; var d = (u.prototype.convert = function (t) { return t.s < 0 || 0 <= t.compareTo(this.m) ? t.mod(this.m) : t; }, u.prototype.revert = function (t) { return t; }, u.prototype.reduce = function (t) { t.divRemTo(this.m, null, t); }, u.prototype.mulTo = function (t, e, r) { t.multiplyTo(e, r), this.reduce(r); }, u.prototype.sqrTo = function (t, e) { t.squareTo(e), this.reduce(e); }, u); function u(t) { this.m = t; } var h = (l.prototype.convert = function (t) { var e = b(); return t.abs().dlShiftTo(this.m.t, e), e.divRemTo(this.m, null, e), t.s < 0 && 0 < e.compareTo(s.ZERO) && this.m.subTo(e, e), e; }, l.prototype.revert = function (t) { var e = b(); return t.copyTo(e), this.reduce(e), e; }, l.prototype.reduce = function (t) { for (; t.t <= this.mt2;) { t[t.t++] = 0; } for (var e = 0; e < this.m.t; ++e) { var r = 32767 & t[e], i = r * this.mpl + ((r * this.mph + (t[e] >> 15) * this.mpl & this.um) << 15) & t.DM; for (t[r = e + this.m.t] += this.m.am(0, i, t, e, 0, this.m.t); t[r] >= t.DV;) {
t[r] -= t.DV, t[++r]++;
}
}
t.clamp(), t.drShiftTo(this.m.t, t), 0 <= t.compareTo(this.m) && t.subTo(this.m, t); }, l.prototype.mulTo = function (t, e, r) { t.multiplyTo(e, r), this.reduce(r); }, l.prototype.sqrTo = function (t, e) { t.squareTo(e), this.reduce(e); }, l); function l(t) { this.m = t, this.mp = t.invDigit(), this.mpl = 32767 & this.mp, this.mph = this.mp >> 15, this.um = (1 << t.DB - 15) - 1, this.mt2 = 2 * t.t; } function f(t) { var e = b(); return e.fromHexString(t.toString()), e; } e.nbv = f, s.ZERO = f(0), s.ONE = f(1), i = "Microsoft Internet Explorer" == navigator.appName ? (s.prototype.am = s.prototype.am2, 30) : "Netscape" != navigator.appName ? (s.prototype.am = s.prototype.am1, 26) : (s.prototype.am = s.prototype.am3, 28), s.prototype.DB = i, s.prototype.DM = (1 << i) - 1, s.prototype.DV = 1 << i; s.prototype.FV = Math.pow(2, 52), s.prototype.F1 = 52 - i, s.prototype.F2 = 2 * i - 52; }, 379: function _(t, e, r) { "use strict"; Object.defineProperty(e, "__esModule", { value: !0 }); var i = (y.hash = function (t) { t = y.utf8Encode(t || ""); for (var e = [1116352408, 1899447441, 3049323471, 3921009573, 961987163, 1508970993, 2453635748, 2870763221, 3624381080, 310598401, 607225278, 1426881987, 1925078388, 2162078206, 2614888103, 3248222580, 3835390401, 4022224774, 264347078, 604807628, 770255983, 1249150122, 1555081692, 1996064986, 2554220882, 2821834349, 2952996808, 3210313671, 3336571891, 3584528711, 113926993, 338241895, 666307205, 773529912, 1294757372, 1396182291, 1695183700, 1986661051, 2177026350, 2456956037, 2730485921, 2820302411, 3259730800, 3345764771, 3516065817, 3600352804, 4094571909, 275423344, 430227734, 506948616, 659060556, 883997877, 958139571, 1322822218, 1537002063, 1747873779, 1955562222, 2024104815, 2227730452, 2361852424, 2428436474, 2756734187, 3204031479, 3329325298], r = [1779033703, 3144134277, 1013904242, 2773480762, 1359893119, 2600822924, 528734635, 1541459225], i = (t += String.fromCharCode(128)).length / 4 + 2, s = Math.ceil(i / 16), o = new Array(s), _ = 0; _ < s; _++) { o[_] = new Array(16); for (var a = 0; a < 16; a++) { o[_][a] = t.charCodeAt(64 * _ + 4 * a) << 24 | t.charCodeAt(64 * _ + 4 * a + 1) << 16 | t.charCodeAt(64 * _ + 4 * a + 2) << 8 | t.charCodeAt(64 * _ + 4 * a + 3) << 0; } } var n = 8 * (t.length - 1) / Math.pow(2, 32), p = 8 * (t.length - 1) >>> 0;
for (o[s - 1][14] = Math.floor(n), o[s - 1][15] = p, _ = 0; _ < s; _++) { for (var c = new Array(64), d = 0; d < 16; d++) { c[d] = o[_][d]; } for (d = 16; d < 64; d++) { c[d] = y.q1(c[d - 2]) + c[d - 7] + y.q0(c[d - 15]) + c[d - 16] >>> 0;
}
for (var u = r[0], h = r[1], l = r[2], f = r[3], E = r[4], v = r[5], m = r[6], T = r[7], d = 0; d < 64; d++) { var b = T + y.z1(E) + y.Ch(E, v, m) + e[d] + c[d], D = y.z0(u) + y.Maj(u, h, l); T = m, m = v, v = E, E = f + b >>> 0, f = l, l = h, h = u, u = b + D >>> 0;
}
r[0] = r[0] + u >>> 0, r[1] = r[1] + h >>> 0, r[2] = r[2] + l >>> 0, r[3] = r[3] + f >>> 0, r[4] = r[4] + E >>> 0, r[5] = r[5] + v >>> 0, r[6] = r[6] + m >>> 0, r[7] = r[7] + T >>> 0;
}
for (var P = new Array(r.length), T = 0; T < r.length; T++) { P[T] = ("00000000" + r[T].toString(16)).slice(-8); } return P.join(""); }, y.utf8Encode = function (e) { try { return new TextEncoder().encode(e).reduce(function (t, e) { return t + String.fromCharCode(e); }, ""); } catch (t) { return unescape(encodeURIComponent(e)); } }, y.ROTR = function (t, e) { return e >>> t | e << 32 - t; }, y.z0 = function (t) { return y.ROTR(2, t) ^ y.ROTR(13, t) ^ y.ROTR(22, t); }, y.z1 = function (t) { return y.ROTR(6, t) ^ y.ROTR(11, t) ^ y.ROTR(25, t); }, y.q0 = function (t) { return y.ROTR(7, t) ^ y.ROTR(18, t) ^ t >>> 3;
}, y.q1 = function (t) {
return y.ROTR(17, t) ^ y.ROTR(19, t) ^ t >>> 10;
}, y.Ch = function (t, e, r) {
return t & e ^ ~t & r;
}, y.Maj = function (t, e, r) {
return t & e ^ t & r ^ e & r;
}, y);
function y() {}
e.Sha256 = i;
}
}, [375]);
pbjsChunk([214], {
496: function _(e, r, i) {
e.exports = i(497);
},
497: function _(e, r, i) {
"use strict";
Object.defineProperty(r, "__esModule", {
value: !0
}), i.d(r, "spec", function () {
return p;
});
var T = i(0),
S = i(2),
v = i(3),
t = i(10),
l = i.n(t),
a = i(498),
n = i.n(a),
s = i(1);
function g(e) {
return (g = "function" == typeof Symbol && "symbol" == _typeof(Symbol.iterator) ? function (e) {
return _typeof(e);
} : function (e) {
return e && "function" == typeof Symbol && e.constructor === Symbol && e !== Symbol.prototype ? "symbol" : _typeof(e);
})(e);
}
var o = [S.b, S.d],
y = 100,
b = 300,
h = 3600,
w = !0,
x = {
JPY: 1
};
function C(e) {
var r = {};
return r.id = e.bidId, r.ext = {}, r.ext.siteID = e.params.siteId, !e.params.hasOwnProperty("id") || "string" != typeof e.params.id && "number" != typeof e.params.id ? r.ext.sid = "".concat(e.params.size[0], "x").concat(e.params.size[1]) : r.ext.sid = String(e.params.id), e.params.hasOwnProperty("bidFloor") && e.params.hasOwnProperty("bidFloorCur") && (r.bidfloor = e.params.bidFloor, r.bidfloorcur = e.params.bidFloorCur), r;
}
function d(e) {
return Array.isArray(e) && 2 === e.length && n()(e[0]) && n()(e[1]);
}
function A(e, r) {
if (d(e)) return e[0] === r[0] && e[1] === r[1];
for (var i = 0; i < e.length; i++) { if (e[i][0] === r[0] && e[i][1] === r[1]) return 1; } } function j(e, r, i, t) { var a = [], n = {}, s = e[0].userId; if (s && "object" === g(s) && s.idl_env && function (e, r, i, t, a, n) { if (i) return r[a] = 1, e.push({ source: t, uids: [{ id: i, ext: { rtiPartner: n } }] }); T.logWarn("Tried to add a user ID from Prebid, the ID received was null"); }(a, n, s.idl_env, "liveramp.com"https://r.search.yahoo.com/,"LiveRampIp"https://r.search.yahoo.com/,"idl"), window.headertag && "function" == typeof window.headertag.getIdentityInfo) { var o, d = window.headertag.getIdentityInfo(); if (d && "object" === g(d)) for (var p in d) { d.hasOwnProperty(p) && (n.hasOwnProperty(p) || !(o = d[p]).responsePending && o.data && "object" === g(o.data) && Object.keys(o.data).length && a.push(o.data)); } } var m, c = {}; c.id = e[0].bidderRequestId, c.imp = i, c.site = {}, c.ext = {}, c.ext.source = "prebid", e[0].schain && (c.source = { ext: { schain: e[0].schain } }), 0 < a.length && (c.user = {}, c.user.eids = a), document.referrer && "" !== document.referrer && (c.site.ref = document.referrer), r && (r.gdprConsent && ((m = r.gdprConsent).hasOwnProperty("gdprApplies") && (c.regs = { ext: { gdpr: m.gdprApplies ? 1 : 0 } }), m.hasOwnProperty("consentString") && (c.user = c.user || {}, c.user.ext = { consent: m.consentString || "" })), r.uspConsent && T.deepSetValue(c, "regs.ext.us_privacy", r.uspConsent), r.refererInfo && (c.site.page = r.refererInfo.referer)); var u = {}, f = r && r.bidderCode || "ix", l = v.b.getConfig(f); if (l) { if ("object" === g(l.firstPartyData)) { var y = l.firstPartyData, b = "?"; for (var h in y) { y.hasOwnProperty(h) && (b += "".concat(encodeURIComponent(h), "=").concat(encodeURIComponent(y[h]), "&")); } b = b.slice(0, -1), c.site.page += b; } "number" == typeof l.timeout && (u.t = l.timeout); } return u.s = e[0].params.siteId, u.v = t, u.r = JSON.stringify(c), u.ac = "j", u.sd = 1, 8.1 === t && (u.nf = 1), { method: "GET", url: "https://htlb.casalemedia.com/cygnus", data: u }; } function F(e, r) { for (var i = 0; i < e.length; i++) { if (r[0] == e[i][0] && r[1] == e[i][1]) return e.splice(i, 1), 1; } } var p = { code: "ix", gvlid: 10, supportedMediaTypes: o, isBidRequestValid: function isBidRequestValid(e) { if (!d(e.params.size)) return T.logError("ix bidder params: bid size has invalid format."), !1; if (!A(e.sizes, e.params.size)) return T.logError("ix bidder params: bid size is not included in ad unit sizes."), !1; if (e.hasOwnProperty("mediaType") && !T.contains(o, e.mediaType)) return !1; if (e.hasOwnProperty("mediaTypes") && !T.deepAccess(e, "mediaTypes.banner.sizes") && !T.deepAccess(e, "mediaTypes.video.playerSize")) return !1; if ("string" != typeof e.params.siteId && "number" != typeof e.params.siteId) return T.logError("ix bidder params: siteId must be string or number value."), !1; var r, i, t = e.params.hasOwnProperty("bidFloor"), a = e.params.hasOwnProperty("bidFloorCur"); return !!(!t && !a || t && a && (r = e.params.bidFloor, i = e.params.bidFloorCur, Boolean("number" == typeof r && "string" == typeof i && i.match(/^[A-Z]{3}$/)))) || (T.logError("ix bidder params: bidFloor / bidFloorCur parameter has invalid format."), !1); }, buildRequests: function buildRequests(e, r) { for (var i, t, a, n, s, o, d, p, m, c, u, f, l, y = [], b = [], h = [], v = null, g = {}, w = 0; w < e.length; w++) { (v = e[w]).mediaType !== S.d && !T.deepAccess(v, "mediaTypes.video") || (v.mediaType === S.d || A(v.mediaTypes.video.playerSize, v.params.size) ? h.push(function (e) { var r = C(e); r.video = T.deepClone(e.params.video), r.video.w = e.params.size[0], r.video.h = e.params.size[1]; var i = T.deepAccess(e, "mediaTypes.video.context"); return i && ("instream" === i ? r.video.placement = 1 : "outstream" === i ? r.video.placement = 4 : T.logWarn("ix bidder params: video context '".concat(i, "' is not supported"))), r; }(v)) : T.logError("Bid size is not included in video playerSize")), v.mediaType !== S.b && !T.deepAccess(v, "mediaTypes.banner") && (v.mediaType || v.mediaTypes) || (c = void 0, (c = C(m = v)).banner = {}, c.banner.w = m.params.size[0], c.banner.h = m.params.size[1], c.banner.topframe = T.inIframe() ? 0 : 1, i = c, b.push(i), a = g, n = i, p = d = o = s = void 0, p = (t = v).transactionId, a.hasOwnProperty(p) ? (s = [], a[p].hasOwnProperty("missingSizes") && (s = a[p].missingSizes), F(s, t.params.size), a[p].missingSizes = s) : T.deepAccess(t, "mediaTypes.banner.sizes") && (F(o = T.deepClone(t.mediaTypes.banner.sizes), t.params.size), d = { missingSizes: o, impression: n }, a[p] = d)); } for (var x in g) { if (g.hasOwnProperty(x)) for (var I = g[x].missingSizes, P = 0; P < I.length; P++) { var z = g[x].impression, O = (u = z, f = I[P], l = void 0, (l = T.deepClone(u)).ext.sid = "".concat(f[0], "x").concat(f[1]), l.banner.w = f[0], l.banner.h = f[1], l); b.push(O); } } return 0 < b.length && y.push(j(e, r, b, 7.2)), 0 < h.length && y.push(j(e, r, h, 8.1)), y; }, interpretResponse: function interpretResponse(e, r) { var i = []; if (!e.hasOwnProperty("body") || !e.body.hasOwnProperty("seatbid")) return i; for (var t, a, n, s, o = e.body, d = o.seatbid, p = 0; p < d.length; p++) { if (d[p].hasOwnProperty("bid")) for (var m = d[p].bid, c = JSON.parse(r.data.r), u = 0; u < m.length; u++) { var f = function (r, e) { if (r) return l()(e, function (e) { return e.id === r; }); }(m[u].impid, c.imp); t = m[u], a = o.cur, n = f, s = void 0, s = {}, x.hasOwnProperty(a) ? s.cpm = t.price / x[a] : s.cpm = t.price / y, s.requestId = t.impid, s.dealId = T.deepAccess(t, "ext.dealid"), s.netRevenue = w, s.currency = a, s.creativeId = t.hasOwnProperty("crid") ? t.crid : "-", T.deepAccess(t, "ext.vasturl") ? (s.vastUrl = t.ext.vasturl, s.width = n.video.w, s.height = n.video.h, s.mediaType = S.d, s.ttl = h) : (s.ad = t.adm, s.width = t.w, s.height = t.h, s.mediaType = S.b, s.ttl = b), s.meta = {}, s.meta.networkId = T.deepAccess(t, "ext.dspid"), s.meta.brandId = T.deepAccess(t, "ext.advbrandid"), s.meta.brandName = T.deepAccess(t, "ext.advbrand"), t.adomain && 0 < t.adomain.length && (s.meta.advertiserDomains = t.adomain), i.push(s); } } return i; }, transformBidParams: function transformBidParams(e) { return T.convertTypes({ siteID: "number" }, e); }, getUserSyncs: function getUserSyncs(e) { return e.iframeEnabled ? [{ type: "iframe", url: "https://js-sec.indexww.com/um/ixmatch.html" }] : []; } }; Object(s.registerBidder)(p); } }, [496]); pbjsChunk([209], { 512: function _(e, t, r) { e.exports = r(513); }, 513: function _(e, t, r) { "use strict"; Object.defineProperty(t, "__esModule", { value: !0 }), r.d(t, "spec", function () { return l; }); var s = r(0), d = r(3), n = r(1), a = r(7); function g() { return (g = Object.assign || function (e) { for (var t = 1; t < arguments.length; t++) { var r = arguments[t]; for (var n in r) { Object.prototype.hasOwnProperty.call(r, n) && (e[n] = r[n]); } } return e; }).apply(this, arguments); } var o, i, c, u = Object(a.b)(), l = { code: "kargo", isBidRequestValid: function isBidRequestValid(e) { return !(!e || !e.params) && !!e.params.placementId; }, buildRequests: function buildRequests(e, t) { var r, n = d.b.getConfig("currency"), a = n && n.adServerCurrency || "USD", o = {}, i = {}; s._each(e, function (e) { o[e.bidId] = e.params.placementId, i[e.bidId] = e.sizes; }), 0 < e.length && e[0].userId && e[0].userId.tdid && (r = e[0].userId.tdid); var c = g({}, { sessionId: l._getSessionId(), requestCount: l._getRequestCount(), timeout: t.timeout, currency: a, cpmGranularity: 1, timestamp: new Date().getTime(), cpmRange: { floor: 0, ceil: 20 }, bidIDs: o, bidSizes: i, prebidRawBidRequests: e }, l._getAllMetadata(r, t.uspConsent)), u = encodeURIComponent(JSON.stringify(c)); return g({}, t, { method: "GET", url: "".concat("https://krk.kargo.com"https://r.search.yahoo.com/,"/api/v2/bid"), data: "json=".concat(u), currency: a }); }, interpretResponse: function interpretResponse(e, t) { var r = e.body, n = []; for (var a in r) { var o = r[a], i = void 0; o.metadata && o.metadata.landingPageDomain && (i = { clickUrl: o.metadata.landingPageDomain, advertiserDomains: [o.metadata.landingPageDomain] }), n.push({ requestId: a, cpm: Number(o.cpm), width: o.width, height: o.height, ad: o.adm, ttl: 300, creativeId: o.id, dealId: o.targetingCustom, netRevenue: !0, currency: t.currency, meta: i }); } return n; }, getUserSyncs: function getUserSyncs(e) { var t = [], r = l._generateRandomUuid(), n = l._getClientId(); if (e.iframeEnabled && r && n) for (var a = 0; a < 5; a++) { t.push({ type: "iframe", url: "https://crb.kargo.com/api/v1/initsyncrnd/{UUID}?seed={SEED}&idx={INDEX}".replace("{UUID}", n).replace("{SEED}", r).replace("{INDEX}", a) }); } return t; }, _readCookie: function _readCookie(e) { if (!u.cookiesAreEnabled()) return null; for (var t = "".concat(e, "="), r = document.cookie.split(";"), n = 0; n < r.length; n++) { for (var a = r[n]; " " === a.charAt(0);) { a = a.substring(1, a.length); } if (0 === a.indexOf(t)) return a.substring(t.length, a.length); } return null; }, _getCrbFromCookie: function _getCrbFromCookie() { try { var e = JSON.parse(decodeURIComponent(l._readCookie("krg_crb"))); if (e && e.v) { var t = JSON.parse(atob(e.v)); if (t) return t; } return {}; } catch (e) { return {}; } }, _getCrbFromLocalStorage: function _getCrbFromLocalStorage() { try { return JSON.parse(atob(l._getLocalStorageSafely("krg_crb"))); } catch (e) { return {}; } }, _getCrb: function _getCrb() { var e = l._getCrbFromLocalStorage(); return Object.keys(e).length ? e : l._getCrbFromCookie(); }, _getKruxUserId: function _getKruxUserId() { return l._getLocalStorageSafely("kxkar_user"); }, _getKruxSegments: function _getKruxSegments() { return l._getLocalStorageSafely("kxkar_segs"); }, _getKrux: function _getKrux() { var e = l._getKruxSegments(), t = []; return e && (t = e.split(",")), { userID: l._getKruxUserId(), segments: t }; }, _getLocalStorageSafely: function _getLocalStorageSafely(e) { try { return u.getDataFromLocalStorage(e); } catch (e) { return null; } }, _getUserIds: function _getUserIds(e, t) { var r = l._getCrb(), n = { kargoID: r.userId, clientID: r.clientId, crbIDs: r.syncIds || {}, optOut: r.optOut, usp: t }; return e && (n.tdID = e), n; }, _getClientId: function _getClientId() { return l._getCrb().clientId; }, _getAllMetadata: function _getAllMetadata(e, t) { return { userIDs: l._getUserIds(e, t), krux: l._getKrux(), pageURL: window.location.href, rawCRB: l._readCookie("krg_crb"), rawCRBLocalStorage: l._getLocalStorageSafely("krg_crb") }; }, _getSessionId: function _getSessionId() { return o = o || l._generateRandomUuid(); }, _getRequestCount: function _getRequestCount() { return i === window.location.pathname ? ++c : (i = window.location.pathname, c = 0); }, _generateRandomUuid: function _generateRandomUuid() { try { var e = new Uint8Array(16); crypto.getRandomValues(e), e[6] = -177 & e[6] | 64, e[8] = -65 & e[8] | 128; var t = Array.prototype.map.call(new Uint8Array(e), function (e) { return ("00" + e.toString(16)).slice(-2); }).join(""); return t.slice(0, 8) + "-" + t.slice(8, 12) + "-" + t.slice(12, 16) + "-" + t.slice(16, 20) + "-" + t.slice(20); } catch (e) { return ""; } } }; Object(n.registerBidder)(l); } }, [512]); pbjsChunk([125], { 720: function _(e, r, t) { e.exports = t(721); }, 721: function _(e, r, t) { "use strict"; Object.defineProperty(r, "__esModule", { value: !0 }), t.d(r, "spec", function () { return z; }), r.hasVideoMediaType = s, t.d(r, "resetRubiConf", function () { return c; }), r.masSizeOrdering = d, r.determineRubiconVideoSizeId = g, r.getPriceGranularity = v, r.hasValidVideoParams = l, r.hasValidSupplyChainParams = T, r.encodeParam = b, r.resetUserSync = function () { y = !1; }; var S = t(0), i = t(1), I = t(3), u = t(2), n = t(10), C = t.n(n); function j(e, r) { return function (e) { if (Array.isArray(e)) return e; }(e) || function (e, r) { if ("undefined" == typeof Symbol || !(Symbol.iterator in Object(e))) return; var t = [], i = !0, n = !1, o = void 0; try { for (var a, s = e[Symbol.iterator](); !(i = (a = s.next()).done) && (t.push(a.value), !r || t.length !== r); i = !0) { ; } } catch (e) { n = !0, o = e; } finally { try { i || null == s.return || s.return(); } finally { if (n) throw o; } } return t; }(e, r) || function (e, r) { if (!e) return; if ("string" == typeof e) return o(e, r); var t = Object.prototype.toString.call(e).slice(8, -1); "Object" === t && e.constructor && (t = e.constructor.name); if ("Map" === t || "Set" === t) return Array.from(e); if ("Arguments" === t || /^(?:Ui|I)nt(?:8|16|32)(?:Clamped)?Array$/.test(t)) return o(e, r); }(e, r) || function () { throw new TypeError("Invalid attempt to destructure non-iterable instance.nIn order to be iterable, non-array objects must have a [Symbol.iterator]() method."); }(); } function o(e, r) { (null == r || r > e.length) && (r = e.length);
for (var t = 0, i = new Array(r); t < r; t++) { i[t] = e[t]; } return i; } function k() { return (k = Object.assign || function (e) { for (var r = 1; r < arguments.length; r++) { var t = arguments[r]; for (var i in t) { Object.prototype.hasOwnProperty.call(t, i) && (e[i] = t[i]); } } return e; }).apply(this, arguments); } function f(e, r, t) { return r in e ? Object.defineProperty(e, r, { value: t, enumerable: !0, configurable: !0, writable: !0 }) : e[r] = t, e; } function E(e) { return (E = "function" == typeof Symbol && "symbol" == _typeof(Symbol.iterator) ? function (e) { return _typeof(e); } : function (e) { return e && "function" == typeof Symbol && e.constructor === Symbol && e !== Symbol.prototype ? "symbol" : _typeof(e); })(e); } var w = {}; I.b.getConfig("rubicon", function (e) { S.mergeDeep(w, e.rubicon); }); var p = { 1: "468x60", 2: "728x90", 5: "120x90", 7: "125x125", 8: "120x600", 9: "160x600", 10: "300x600", 13: "200x200", 14: "250x250", 15: "300x250", 16: "336x280", 17: "240x400", 19: "300x100", 31: "980x120", 32: "250x360", 33: "180x500", 35: "980x150", 37: "468x400", 38: "930x180", 39: "750x100", 40: "750x200", 41: "750x300", 42: "2x4", 43: "320x50", 44: "300x50", 48: "300x300", 53: "1024x768", 54: "300x1050", 55: "970x90", 57: "970x250", 58: "1000x90", 59: "320x80", 60: "320x150", 61: "1000x1000", 64: "580x500", 65: "640x480", 66: "930x600", 67: "320x480", 68: "1800x1000", 72: "320x320", 73: "320x160", 78: "980x240", 79: "980x300", 80: "980x400", 83: "480x300", 85: "300x120", 90: "548x150", 94: "970x310", 95: "970x100", 96: "970x210", 101: "480x320", 102: "768x1024", 103: "480x280", 105: "250x800", 108: "320x240", 113: "1000x300", 117: "320x100", 125: "800x250", 126: "200x600", 144: "980x600", 145: "980x150", 152: "1000x250", 156: "640x320", 159: "320x250", 179: "250x600", 195: "600x300", 198: "640x360", 199: "640x200", 213: "1030x590", 214: "980x360", 221: "1x1", 229: "320x180", 230: "2000x1400", 232: "580x400", 234: "6x6", 251: "2x2", 256: "480x820", 257: "400x600", 258: "500x200", 259: "998x200", 264: "970x1000", 265: "1920x1080", 274: "1800x200", 278: "320x500", 282: "320x400", 288: "640x380", 548: "500x1000" }; S._each(p, function (e, r) { return p[e] = r; }); var z = { code: "rubicon", gvlid: 52, supportedMediaTypes: [u.b, u.d], isBidRequestValid: function isBidRequestValid(e) { if ("object" !== E(e.params)) return !1; for (var r = 0, t = ["accountId"https://r.search.yahoo.com/,"siteId"https://r.search.yahoo.com/,"zoneId"]; r < t.length; r++) { if (e.params[t[r]] = parseInt(e.params[t[r]]), isNaN(e.params[t[r]])) return S.logError("Rubicon: wrong format of accountId or siteId or zoneId."), !1; } var i = m(e, !0); return !!i && ("video" !== i || l(e)); }, buildRequests: function buildRequests(e, l) { var n, r = e.filter(function (e) { return "video" === m(e); }).map(function (t) { t.startTime = new Date().getTime(); var e, r, i, n = { id: t.transactionId, test: I.b.getConfig("debug") ? 1 : 0, cur: ["USD"], source: { tid: t.transactionId }, tmax: l.timeout, imp: [{ exp: I.b.getConfig("s2sConfig.defaultTtl"), id: t.adUnitCode, secure: 1, ext: f({}, t.bidder, t.params), video: S.deepAccess(t, "mediaTypes.video") || {} }], ext: { prebid: { cache: { vastxml: { returnCreative: !0 === w.returnVast } }, targeting: { includewinners: !0, includebidderkeys: !1, pricegranularity: v(I.b) }, bidders: { rubicon: { integration: w.int_type || "pbjs" } } } } }; if ("rubicon" !== t.bidder && (n.ext.prebid.aliases = f({}, t.bidder, "rubicon")), "function" != typeof t.getFloor || w.disableFloors) e = parseFloat(S.deepAccess(t, "params.floor"));else { try { r = t.getFloor({ currency: "USD", mediaType: "video", size: O(t, "video") }); } catch (e) { S.logError("Rubicon: getFloor threw an error: ", e); } e = "object" !== E(r) || "USD" !== r.currency || isNaN(parseInt(r.floor)) ? void 0 : parseFloat(r.floor); } isNaN(e) || (n.imp[0].bidfloor = e), n.imp[0].ext[t.bidder].video.size_id = g(t), function (r, t, e) { if (!r) return; "object" === E(I.b.getConfig("app")) ? r.app = I.b.getConfig("app") : r.site = { page: R(t, e) }; "object" === E(I.b.getConfig("device")) && (r.device = I.b.getConfig("device")); t.params.video.language && ["site"https://r.search.yahoo.com/,"device"].forEach(function (e) { r[e] && (r[e].content = k({ language: t.params.video.language }, r[e].content)); }); }(n, t, l), function (e, r) { "object" === E(e.imp[0].video) && void 0 === e.imp[0].video.skip && (e.imp[0].video.skip = r.params.video.skip); "object" === E(e.imp[0].video) && void 0 === e.imp[0].video.skipafter && (e.imp[0].video.skipafter = r.params.video.skipdelay); "object" === E(e.imp[0].video) && void 0 === e.imp[0].video.pos && ("atf" === r.params.position ? e.imp[0].video.pos = 1 : "btf" === r.params.position && (e.imp[0].video.pos = 3)); var t = O(r, "video"); e.imp[0].video.w = t[0], e.imp[0].video.h = t[1]; }(n, t), l.gdprConsent && ("boolean" == typeof l.gdprConsent.gdprApplies && (i = l.gdprConsent.gdprApplies ? 1 : 0), S.deepSetValue(n, "regs.ext.gdpr", i), S.deepSetValue(n, "user.ext.consent", l.gdprConsent.consentString)), l.uspConsent && S.deepSetValue(n, "regs.ext.us_privacy", l.uspConsent); var o, a = S.deepAccess(l, "bids.0.userIdAsEids"); a && a.length && (S.deepSetValue(n, "user.ext.eids", a), (o = C()(n.user.ext.eids, function (e) { return "liveintent.com" === e.source; })) && (S.deepSetValue(n, "user.ext.tpid", { source: o.source, uid: o.uids[0].id }), o.ext && o.ext.segments && S.deepSetValue(n, "rp.target.LIseg", o.ext.segments))); var s = I.b.getConfig("user.id"); s && S.deepSetValue(n, "user.id", s), !0 === I.b.getConfig("coppa") && S.deepSetValue(n, "regs.coppa", 1), t.schain && T(t.schain) && S.deepSetValue(n, "source.ext.schain", t.schain); var c, d = k({}, t.params.inventory, I.b.getConfig("fpd.context")), u = k({}, t.params.visitor, I.b.getConfig("fpd.user")); S.isEmpty(d) && S.isEmpty(u) || (c = { bidders: [l.bidderCode], config: { fpd: {} } }, S.isEmpty(d) || (c.config.fpd.site = d), S.isEmpty(u) || (c.config.fpd.user = u), S.deepSetValue(n, "ext.prebid.bidderconfig.0", c)); var p = S.deepAccess(t, "fpd.context.pbAdSlot"); return "string" == typeof p && p && S.deepSetValue(n.imp[0].ext, "context.data.pbadslot", p), ["name"https://r.search.yahoo.com/,"adSlot"].forEach(function (e) { var r = S.deepAccess(t, "fpd.context.adserver.".concat(e)); "string" == typeof r && r && S.deepSetValue(n.imp[0].ext, "context.data.adserver.".concat(e.toLowerCase()), r); }), t.storedAuctionResponse && S.deepSetValue(n.imp[0], "ext.prebid.storedauctionresponse.id", t.storedAuctionResponse.toString()), S.deepSetValue(n.imp[0], "ext.prebid.auctiontimestamp", l.auctionStart), { method: "POST", url: "https://".concat(w.videoHost || "prebid-server"https://r.search.yahoo.com/,".rubiconproject.com/openrtb2/auction"), data: n, bidRequest: t }; }); return !0 !== w.singleRequest ? r.concat(e.filter(function (e) { return "banner" === m(e); }).map(function (e) { var i = z.createSlotParams(e, l); return { method: "GET", url: "https://".concat(w.bannerHost || "fastlane"https://r.search.yahoo.com/,".rubiconproject.com/a/api/fastlane.json"), data: z.getOrderedParams(i).reduce(function (e, r) { var t = i[r]; return S.isStr(t) && "" !== t || S.isNumber(t) ? "".concat(e).concat(b(r, t), "&") : e; }, "") + "slots=1&rand=".concat(Math.random()), bidRequest: e }; })) : (n = e.filter(function (e) { return "banner" === m(e); }).reduce(function (e, r) { return (e[r.params.siteId] = e[r.params.siteId] || []).push(r), e; }, {}), r.concat(Object.keys(n).reduce(function (r, e) { var t, i; return t = n[e], i = 10, t.map(function (e, r) { return r % i == 0 ? t.slice(r, r + i) : null; }).filter(function (e) { return e; }).forEach(function (e) { var i = z.combineSlotUrlParams(e.map(function (e) { return z.createSlotParams(e, l); })); r.push({ method: "GET", url: "https://".concat(w.bannerHost || "fastlane"https://r.search.yahoo.com/,".rubiconproject.com/a/api/fastlane.json"), data: z.getOrderedParams(i).reduce(function (e, r) { var t = i[r]; return S.isStr(t) && "" !== t || S.isNumber(t) ? "".concat(e).concat(b(r, t), "&") : e; }, "") + "slots=".concat(e.length, "&rand=").concat(Math.random()), bidRequest: e }); }), r; }, []))); }, getOrderedParams: function getOrderedParams(e) { var r = /^tg_v/, t = /^tg_i/, i = ["account_id"https://r.search.yahoo.com/,"site_id"https://r.search.yahoo.com/,"zone_id"https://r.search.yahoo.com/,"size_id"https://r.search.yahoo.com/,"alt_size_ids"https://r.search.yahoo.com/,"p_pos"https://r.search.yahoo.com/,"gdpr"https://r.search.yahoo.com/,"gdpr_consent"https://r.search.yahoo.com/,"us_privacy"https://r.search.yahoo.com/,"rp_schain"https://r.search.yahoo.com/,"tpid_tdid"https://r.search.yahoo.com/,"tpid_liveintent.com"https://r.search.yahoo.com/,"tg_v.LIseg"https://r.search.yahoo.com/,"ppuid"https://r.search.yahoo.com/,"eid_pubcid.org"https://r.search.yahoo.com/,"eid_sharedid.org"https://r.search.yahoo.com/,"eid_criteo.com"https://r.search.yahoo.com/,"rf"https://r.search.yahoo.com/,"p_geo.latitude"https://r.search.yahoo.com/,"p_geo.longitude"https://r.search.yahoo.com/,"kw"].concat(Object.keys(e).filter(function (e) { return r.test(e); })).concat(Object.keys(e).filter(function (e) { return t.test(e); })).concat(["tk_flint"https://r.search.yahoo.com/,"x_source.tid"https://r.search.yahoo.com/,"x_source.pchain"https://r.search.yahoo.com/,"p_screen_res"https://r.search.yahoo.com/,"rp_floor"https://r.search.yahoo.com/,"rp_secure"https://r.search.yahoo.com/,"tk_user_key"]); return i.concat(Object.keys(e).filter(function (e) { return -1 === i.indexOf(e); })); }, combineSlotUrlParams: function combineSlotUrlParams(n) { if (1 === n.length) return n[0]; var i = n.reduce(function (r, t, i) { return Object.keys(t).forEach(function (e) { r.hasOwnProperty(e) || (r[e] = new Array(n.length)), r[e].splice(i, 1, t[e]); }), r; }, {}), o = new RegExp("^([^;]*)(;\1)+$"); return Object.keys(i).forEach(function (e) { var r = i[e].join(";"), t = r.match(o); i[e] = t ? t[1] : r; }), i; }, createSlotParams: function createSlotParams(e, r) { e.startTime = new Date().getTime(); var t, i, n, o, a, s, c, d = e.params, u = O(e, "banner"), p = j(d.latLong || [], 2), l = p[0], f = p[1], m = { account_id: d.accountId, site_id: d.siteId, zone_id: d.zoneId, size_id: u[0], alt_size_ids: u.slice(1).join(",") || void 0, rp_floor: .01 < (d.floor = parseFloat(d.floor)) ? d.floor : .01, rp_secure: "1", tk_flint: "".concat(w.int_type || "pbjs_lite"https://r.search.yahoo.com/,"_v4.13.0"), "x_source.tid": e.transactionId, "x_source.pchain": d.pchain, p_screen_res: [window.screen.width, window.screen.height].join("x"), tk_user_key: d.userId, "p_geo.latitude": isNaN(parseFloat(l)) ? void 0 : parseFloat(l).toFixed(4), "p_geo.longitude": isNaN(parseFloat(f)) ? void 0 : parseFloat(f).toFixed(4), "tg_fl.eid": e.code, rf: R(e, r) }; if ("function" == typeof e.getFloor && !w.disableFloors) { try { t = e.getFloor({ currency: "USD", mediaType: "banner", size: "*" }); } catch (e) { S.logError("Rubicon: getFloor threw an error: ", e); } m.rp_hard_floor = "object" !== E(t) || "USD" !== t.currency || isNaN(parseInt(t.floor)) ? void 0 : t.floor; } m.p_pos = "atf" === d.position || "btf" === d.position ? d.position : "", e.userIdAsEids && e.userIdAsEids.length && ((i = C()(e.userIdAsEids, function (e) { return "adserver.org" === e.source; })) && (m.tpid_tdid = i.uids[0].id), (n = C()(e.userIdAsEids, function (e) { return "liveintent.com" === e.source; })) && (m["tpid_liveintent.com"] = n.uids[0].id, n.ext && Array.isArray(n.ext.segments) && n.ext.segments.length && (m["tg_v.LIseg"] = n.ext.segments.join(","))), (o = C()(e.userIdAsEids, function (e) { return "liveramp.com" === e.source; })) && (m.x_liverampidl = o.uids[0].id), (a = C()(e.userIdAsEids, function (e) { return "sharedid.org" === e.source; })) && (m["eid_sharedid.org"] = "".concat(a.uids[0].id, "^").concat(a.uids[0].atype, "^").concat(a.uids[0].ext.third)), (s = C()(e.userIdAsEids, function (e) { return "pubcid.org" === e.source; })) && (m["eid_pubcid.org"] = "".concat(s.uids[0].id, "^").concat(s.uids[0].atype)), (c = C()(e.userIdAsEids, function (e) { return "criteo.com" === e.source; })) && (m["eid_criteo.com"] = "".concat(c.uids[0].id, "^").concat(c.uids[0].atype))); var g = I.b.getConfig("user.id"); if (g) m.ppuid = g;else for (var v = 0; e.userIdAsEids && v < e.userIdAsEids.length; v++) { if (e.userIdAsEids[v].uids) { var b = C()(e.userIdAsEids[v].uids, function (e) { return e.ext && "ppuid" === e.ext.stype; }); if (b && b.id) { m.ppuid = b.id; break; } } } r.gdprConsent && ("boolean" == typeof r.gdprConsent.gdprApplies && (m.gdpr = Number(r.gdprConsent.gdprApplies)), m.gdpr_consent = r.gdprConsent.consentString), r.uspConsent && (m.us_privacy = encodeURIComponent(r.uspConsent)); var y = k({}, d.visitor, I.b.getConfig("fpd.user")); Object.keys(y).forEach(function (e) { null != y[e] && "keywords" !== e && (m["tg_v.".concat(e)] = "object" !== E(y[e]) || Array.isArray(y[e]) ? y[e].toString() : JSON.stringify(y[e])); }); var x = k({}, d.inventory, I.b.getConfig("fpd.context")); Object.keys(x).forEach(function (e) { null != x[e] && "keywords" !== e && (m["tg_i.".concat(e)] = "object" !== E(x[e]) || Array.isArray(x[e]) ? x[e].toString() : JSON.stringify(x[e])); }); var h = (d.keywords || []).concat(S.deepAccess(I.b.getConfig("fpd.user"), "keywords") || [], S.deepAccess(I.b.getConfig("fpd.context"), "keywords") || []); m.kw = Array.isArray(h) && h.length ? h.join(",") : ""; var _ = S.deepAccess(e, "fpd.context.pbAdSlot"); "string" == typeof _ && _ && (m["tg_i.pbadslot"] = _.replace(/^/+/, "")); var A = S.deepAccess(e, "fpd.context.adServer.adSlot"); return "string" == typeof A && A && (m["tg_i.dfp_ad_unit_code"] = A.replace(/^/+/, "")), !0 === I.b.getConfig("coppa") && (m.coppa = 1), e.schain && T(e.schain) && (m.rp_schain = z.serializeSupplyChain(e.schain)), m; }, serializeSupplyChain: function serializeSupplyChain(e) { if (!T(e)) return ""; var r = e.ver, t = e.complete, i = e.nodes; return "".concat(r, ",").concat(t, "!").concat(z.serializeSupplyChainNodes(i)); }, serializeSupplyChainNodes: function serializeSupplyChainNodes(e) { var t = ["asi"https://r.search.yahoo.com/,"sid"https://r.search.yahoo.com/,"hp"https://r.search.yahoo.com/,"rid"https://r.search.yahoo.com/,"name"https://r.search.yahoo.com/,"domain"]; return e.map(function (r) { return t.map(function (e) { return encodeURIComponent(r[e] || ""); }).join(","); }).join("!"); }, interpretResponse: function interpretResponse(c, e) { var d = e.bidRequest; if (!(c = c.body) || "object" !== E(c)) return []; if (c.seatbid) { var r = S.deepAccess(c, "ext.errors.rubicon"); Array.isArray(r) && 0 < r.length && S.logWarn("Rubicon: Error in video response"); var o = []; return c.seatbid.forEach(function (n) { (n.bid || []).forEach(function (e) { var r = { requestId: d.bidId, currency: c.cur || "USD", creativeId: e.crid, cpm: e.price || 0, bidderCode: n.seat, ttl: 300, netRevenue: !1 !== w.netRevenue, width: e.w || S.deepAccess(d, "mediaTypes.video.w") || S.deepAccess(d, "params.video.playerWidth"), height: e.h || S.deepAccess(d, "mediaTypes.video.h") || S.deepAccess(d, "params.video.playerHeight") }; e.id && (r.seatBidId = e.id), e.dealid && (r.dealId = e.dealid); var t, i = S.deepAccess(c, "ext.responsetimemillis.rubicon"); d && i && (d.serverResponseTimeMs = i), S.deepAccess(e, "ext.prebid.type") === u.d ? (r.mediaType = u.d, (t = S.deepAccess(e, "ext.prebid.targeting")) && "object" === E(t) && (r.adserverTargeting = t), e.ext.prebid.cache && "object" === E(e.ext.prebid.cache.vastXml) && e.ext.prebid.cache.vastXml.cacheId && e.ext.prebid.cache.vastXml.url ? (r.videoCacheKey = e.ext.prebid.cache.vastXml.cacheId, r.vastUrl = e.ext.prebid.cache.vastXml.url) : t && t.hb_uuid && t.hb_cache_host && t.hb_cache_path && (r.videoCacheKey = t.hb_uuid, r.vastUrl = "https://".concat(t.hb_cache_host).concat(t.hb_cache_path, "?uuid=").concat(t.hb_uuid)), e.adm && (r.vastXml = e.adm), e.nurl && (r.vastUrl = e.nurl), !r.vastUrl && e.nurl && (r.vastUrl = e.nurl)) : S.logWarn("Rubicon: video response received non-video media type"), o.push(r); }); }), o; } var t = c.ads; return "object" !== E(d) || Array.isArray(d) || "video" !== m(d) || "object" !== E(t) || (t = t[d.adUnitCode]), !Array.isArray(t) || t.length < 1 ? [] : t.reduce(function (e, r, t) { if ("ok" !== r.status) return e; var i, n, o, a, s = Array.isArray(d) ? d[t] : d; return s && "object" === E(s) ? (i = { requestId: s.bidId, currency: "USD", creativeId: r.creative_id || "".concat(r.network || ""https://r.search.yahoo.com/,"-").concat(r.advertiser || ""), cpm: r.cpm || 0, dealId: r.deal, ttl: 300, netRevenue: !1 !== w.netRevenue, rubicon: { advertiserId: r.advertiser, networkId: r.network }, meta: { advertiserId: r.advertiser, networkId: r.network } }, r.creative_type && (i.mediaType = r.creative_type), r.creative_type === u.d ? (i.width = s.params.video.playerWidth, i.height = s.params.video.playerHeight, i.vastUrl = r.creative_depot_url, i.impression_id = r.impression_id, i.videoCacheKey = r.impression_id) : (i.ad = (o = r.script, a = r.impression_id, "n
nnx3c!-- Rubicon Project Ad Tag --x3en
nn
nn")), n = j(p[r.size_id].split("x").map(function (e) {
return Number(e);
}), 2), i.width = n[0], i.height = n[1]), i.rubiconTargeting = (Array.isArray(r.targeting) ? r.targeting : []).reduce(function (e, r) {
return e[r.key] = r.values[0], e;
}, {
rpfl_elemid: s.adUnitCode
}), e.push(i)) : S.logError("Rubicon: bidRequest undefined at index position:".concat(t), d, c), e;
}, []).sort(function (e, r) {
return (r.cpm || 0) - (e.cpm || 0);
});
},
getUserSyncs: function getUserSyncs(e, r, t, i) {
if (!y && e.iframeEnabled) {
var n = "";
return t && "string" == typeof t.consentString && ("boolean" == typeof t.gdprApplies ? n += "?gdpr=".concat(Number(t.gdprApplies), "&gdpr_consent=").concat(t.consentString) : n += "?gdpr_consent=".concat(t.consentString)), i && (n += "".concat(n ? "&" : "?"https://r.search.yahoo.com/,"us_privacy=").concat(encodeURIComponent(i))), y = !0, {
type: "iframe",
url: "https://".concat(w.syncHost || "eus"https://r.search.yahoo.com/,".rubiconproject.com/usync.html") + n
};
}
},
transformBidParams: function transformBidParams(e) {
return S.convertTypes({
accountId: "number",
siteId: "number",
zoneId: "number"
}, e);
}
};
function R(e, r) {
var t = I.b.getConfig("pageUrl"),
t = e.params.referrer ? e.params.referrer : t || r.refererInfo.referer;
return e.params.secure ? t.replace(/^http:/i, "https:") : t;
}
function O(e, r) {
var t = e.params;
if ("video" === r) {
var i = [];
return t.video && t.video.playerWidth && t.video.playerHeight ? i = [t.video.playerWidth, t.video.playerHeight] : Array.isArray(S.deepAccess(e, "mediaTypes.video.playerSize")) && 1 === e.mediaTypes.video.playerSize.length ? i = e.mediaTypes.video.playerSize[0] : Array.isArray(e.sizes) && 0 < e.sizes.length && Array.isArray(e.sizes[0]) && 1 < e.sizes[0].length && (i = e.sizes[0]), i; } var n = []; return Array.isArray(t.sizes) ? n = t.sizes : void 0 !== S.deepAccess(e, "mediaTypes.banner.sizes") ? n = a(e.mediaTypes.banner.sizes) : Array.isArray(e.sizes) && 0 < e.sizes.length ? n = a(e.sizes) : S.logWarn("Rubicon: no sizes are setup or found"), d(n); } function a(e) { return S.parseSizesInput(e).reduce(function (e, r) { var t = parseInt(p[r], 10); return t && e.push(t), e; }, []); } function s(e) { return "object" === E(S.deepAccess(e, "params.video")) && void 0 !== S.deepAccess(e, "mediaTypes.".concat(u.d)); } function m(e, r) { var t = 1 < arguments.length && void 0 !== r && r; return s(e) ? -1 === ["outstream"https://r.search.yahoo.com/,"instream"].indexOf(S.deepAccess(e, "mediaTypes.".concat(u.d, ".context"))) ? void (t && S.logError("Rubicon: mediaTypes.video.context must be outstream or instream")) : O(e, "video").length < 2 ? void (t && S.logError("Rubicon: could not determine the playerSize of the video")) : (t && S.logMessage("Rubicon: making video request for adUnit", e.adUnitCode), "video") : 0 === O(e, "banner").length ? void (t && S.logError("Rubicon: could not determine the sizes for banner request")) : (t && S.logMessage("Rubicon: making banner request for adUnit", e.adUnitCode), "banner"); } var c = function c() { return w = {}; }; function d(e) { var n = [15, 2, 9]; return e.sort(function (e, r) { var t = n.indexOf(e), i = n.indexOf(r); return -1 < t || -1 < i ? -1 === t ? 1 : -1 === i ? -1 : t - i : e - r; }); } function g(e) { var r = parseInt(S.deepAccess(e, "params.video.size_id")); return isNaN(r) ? "outstream" === S.deepAccess(e, "mediaTypes.".concat(u.d, ".context")) ? 203 : 201 : r; } function v(e) { return { ranges: { low: [{ max: 5, increment: .5 }], medium: [{ max: 20, increment: .1 }], high: [{ max: 20, increment: .01 }], auto: [{ max: 5, increment: .05 }, { min: 5, max: 10, increment: .1 }, { min: 10, max: 20, increment: .5 }], dense: [{ max: 3, increment: .01 }, { min: 3, max: 8, increment: .05 }, { min: 8, max: 20, increment: .5 }], custom: e.getConfig("customPriceBucket") && e.getConfig("customPriceBucket").buckets }[e.getConfig("priceGranularity")] }; } function l(r) { var t = !0, e = Object.prototype.toString.call([]), i = Object.prototype.toString.call(0), n = { mimes: e, protocols: e, maxduration: i, linearity: i, api: e }; return Object.keys(n).forEach(function (e) { Object.prototype.toString.call(S.deepAccess(r, "mediaTypes.video." + e)) !== n[e] && (t = !1, S.logError("Rubicon: mediaTypes.video." + e + " is required and must be of type: " + n[e])); }), t; } function T(e) { var r = !1, t = ["asi"https://r.search.yahoo.com/,"sid"https://r.search.yahoo.com/,"hp"]; return e.nodes && ((r = e.nodes.reduce(function (e, r) { return e ? t.every(function (e) { return r.hasOwnProperty(e); }) : e; }, !0)) || S.logError("Rubicon: required schain params missing")), r; } function b(e, r) { return "rp_schain" === e ? "rp_schain=".concat(r) : "".concat(e, "=").concat(encodeURIComponent(r)); } var y = !1; Object(i.registerBidder)(z); } }, [720]); pbjsChunk([105], { 770: function _(e, t, r) { e.exports = r(771); }, 771: function _(e, t, r) { "use strict"; Object.defineProperty(t, "__esModule", { value: !0 }), r.d(t, "spec", function () { return a; }), r.d(t, "_isInbounds", function () { return m; }), t._getPlatform = v; var n = r(1), y = r(0), i = r(2), o = r(3), g = r(11), c = r(43); function h(e, t) { return function (e) { if (Array.isArray(e)) return e; }(e) || function (e, t) { if ("undefined" == typeof Symbol || !(Symbol.iterator in Object(e))) return; var r = [], n = !0, i = !1, s = void 0; try { for (var a, o = e[Symbol.iterator](); !(n = (a = o.next()).done) && (r.push(a.value), !t || r.length !== t); n = !0) { ; } } catch (e) { i = !0, s = e; } finally { try { n || null == o.return || o.return(); } finally { if (i) throw s; } } return r; }(e, t) || function (e, t) { if (!e) return; if ("string" == typeof e) return s(e, t); var r = Object.prototype.toString.call(e).slice(8, -1); "Object" === r && e.constructor && (r = e.constructor.name); if ("Map" === r || "Set" === r) return Array.from(e); if ("Arguments" === r || /^(?:Ui|I)nt(?:8|16|32)(?:Clamped)?Array$/.test(r)) return s(e, t); }(e, t) || function () { throw new TypeError("Invalid attempt to destructure non-iterable instance.nIn order to be iterable, non-array objects must have a [Symbol.iterator]() method."); }(); } function s(e, t) { (null == t || t > e.length) && (t = e.length);
for (var r = 0, n = new Array(t); r < t; r++) { n[r] = e[r]; } return n; } function d() { return (d = Object.assign || function (e) { for (var t = 1; t < arguments.length; t++) { var r = arguments[t]; for (var n in r) { Object.prototype.hasOwnProperty.call(r, n) && (e[n] = r[n]); } } return e; }).apply(this, arguments); } function u(e, t, r) { return t in e ? Object.defineProperty(e, t, { value: r, enumerable: !0, configurable: !0, writable: !0 }) : e[t] = r, e; } var p = "sonobi", b = Object(y.generateUUID)(), a = { code: p, supportedMediaTypes: [i.b, i.d], isBidRequestValid: function isBidRequestValid(e) { if (!e.params) return !1; if (!e.params.ad_unit && !e.params.placement_id) return !1; if (!Object(y.deepAccess)(e, "mediaTypes.banner") && !Object(y.deepAccess)(e, "mediaTypes.video")) return !1; if (Object(y.deepAccess)(e, "mediaTypes.banner")) { if (!Object(y.deepAccess)(e, "mediaTypes.banner.sizes") && !e.params.sizes) return !1; } else if (Object(y.deepAccess)(e, "mediaTypes.video")) { if ("outstream" === Object(y.deepAccess)(e, "mediaTypes.video.context") && !e.params.sizes) return !1; if ("instream" === Object(y.deepAccess)(e, "mediaTypes.video.context") && !Object(y.deepAccess)(e, "mediaTypes.video.playerSize")) return !1; } return !0; }, buildRequests: function buildRequests(e, t) { var r = e.map(function (e) { var t = function (e) { if (e.params.ad_unit) return e.params.ad_unit; return e.params.placement_id; }(e); return /^[/]?[d]+[[/].+[/]?]?$/.test(t) ? (t = "/" === t.charAt(0) ? t : "/" + t, u({}, "".concat(t, "|").concat(e.bidId), "".concat(l(e)).concat(f(e)))) : /^[0-9a-fA-F]{20}$/.test(t) && 20 === t.length ? u({}, e.bidId, "".concat(t, "|").concat(l(e)).concat(f(e))) : void Object(y.logError)("The ad unit code or Sonobi Placement id for slot ".concat(e.bidId, " is invalid")); }), n = {}; r.forEach(function (e) { d(n, e); }); var i = { key_maker: JSON.stringify(n), ref: t.refererInfo.referer, s: Object(y.generateUUID)(), pv: b, vp: v(), lib_name: "prebid", lib_v: "4.13.0", us: 0 }; o.b.getConfig("userSync") && o.b.getConfig("userSync").syncsPerBidder && (i.us = o.b.getConfig("userSync").syncsPerBidder), c.a.canBidderRegisterSync("iframe", p) ? i.ius = 1 : i.ius = 0, Object(y.deepAccess)(e[0], "params.hfa") && (i.hfa = Object(y.deepAccess)(e[0], "params.hfa")), e[0].params.referrer && (i.ref = e[0].params.referrer), t && t.gdprConsent && (i.gdpr = t.gdprConsent.gdprApplies ? "true" : "false", t.gdprConsent.consentString && (i.consent_string = t.gdprConsent.consentString)), e[0].schain && (i.schain = JSON.stringify(e[0].schain)), Object(y.deepAccess)(e[0], "userId") && 0 < Object.keys(e[0].userId).length && (i.userid = JSON.stringify(e[0].userId)); var s = e[0].params.keywords; if (s && (i.kw = s), t && t.uspConsent && (i.us_privacy = t.uspConsent), Object(y.isEmpty)(n)) return null; var a = "https://apex.go.sonobi.com/trinity.json"; return Object(y.deepAccess)(e[0], "params.bid_request_url") && (a = Object(y.deepAccess)(e[0], "params.bid_request_url")), { method: "GET", url: a, withCredentials: !0, data: i, bidderRequests: e }; }, interpretResponse: function interpretResponse(e, l) { var f = e.body, m = [], v = l.data.ref; return 0 === Object.keys(f.slots).length || Object.keys(f.slots).forEach(function (e) { var t = f.slots[e], r = e.split("|").slice(-1)[0], n = function (e, t) { for (var r = 0; r < e.length; r++) { if (e[r].bidId === t) return e[r]; } }(l.bidderRequests, r), i = null; "video" === t.sbi_ct && (i = "video"https://r.search.yahoo.com/,"outstream" === Object(y.deepAccess)(n, "mediaTypes.video.context") && (i = "outstream")); var s, a, o, c, d, u, p, b = j(i, v); t.sbi_aid && t.sbi_mouse && t.sbi_size && (o = void 0 === (a = (s = h(t.sbi_size.split("x"), 2))[0]) ? 1 : a, d = void 0 === (c = s[1]) ? 1 : c, u = { requestId: r, cpm: Number(t.sbi_mouse), width: Number(o), height: Number(d), ad: b(f.sbi_dc, t.sbi_aid), ttl: 500, creativeId: t.sbi_crid || t.sbi_aid, aid: t.sbi_aid, netRevenue: !0, currency: "USD" }, t.sbi_dozer && (u.dealId = t.sbi_dozer), "video" === i ? (u.mediaType = "video", u.vastUrl = b(f.sbi_dc, t.sbi_aid), delete u.ad, delete u.width, delete u.height) : "outstream" === i && n && (u.mediaType = "video", u.vastUrl = b(f.sbi_dc, t.sbi_aid), u.renderer = function (e, t) { var r = 2 < arguments.length && void 0 !== arguments[2] ? arguments[2] : {}, n = g.a.install({ id: t.aid, url: "https://mtrx.go.sonobi.com/sbi_outstream_renderer.js", config: r, loaded: !1, adUnitCode: e }); try { n.setRender(O); } catch (e) { Object(y.logWarn)("Prebid Error calling setRender on renderer", e); } return n.setEventHandlers({ impression: function impression() { return Object(y.logMessage)("Sonobi outstream video impression event"); }, loaded: function loaded() { return Object(y.logMessage)("Sonobi outstream video loaded event"); }, ended: function ended() { Object(y.logMessage)("Sonobi outstream renderer video event"); } }), n; }(n.adUnitCode, u, Object(y.deepAccess)(n, "renderer.options")), p = Object(y.deepAccess)(n, "params.sizes"), Array.isArray(p) && Array.isArray(p[0]) && (p = p[0]), p && (u.width = p[0], u.height = p[1])), m.push(u)); }), m; }, getUserSyncs: function getUserSyncs(e, t) { var r = []; try { e.pixelEnabled && t[0].body.sbi_px.forEach(function (e) { r.push({ type: e.type, url: e.url }); }); } catch (e) {} return r; } }; function l(e) { return Object(y.deepAccess)(e, "mediaTypes.video") ? "" : e.params.sizes ? Object(y.parseSizesInput)(e.params.sizes).join(",") : Object(y.deepAccess)(e, "mediaTypes.banner.sizes") ? Object(y.parseSizesInput)(Object(y.deepAccess)(e, "mediaTypes.banner.sizes")).join(",") : e.sizes ? Object(y.parseSizesInput)(e.sizes).join(",") : void 0; } function f(e) { return e.params.floor ? "|f=".concat(e.params.floor) : ""; } var j = function j(i, s) { return function (e, t) { return "video" === i || "outstream" === i ? (r = t, n = s, "https://".concat(e, "apex.go.sonobi.com/vast.xml?vid=").concat(r, "&ref=").concat(encodeURIComponent(n))) : '';
var r, n;
};
};
var m = function m(e) {
var r = 0 < arguments.length && void 0 !== e ? e : window; return function () { var e = 0 < arguments.length && void 0 !== arguments[0] ? arguments[0] : 0, t = 1 < arguments.length && void 0 !== arguments[1] ? arguments[1] : Number.MAX_SAFE_INTEGER; return r.innerWidth >= e && r.innerWidth < t; }; }; function v() { var e = 0 < arguments.length && void 0 !== arguments[0] ? arguments[0] : window, t = m(e), r = 992, n = 768; return t(0, 768) ? "mobile" : t(n, r) ? "tablet" : "desktop"; } function O(i) { i.renderer.push(function () { var e = h(i.getSize().split("x"), 2), t = e[0], r = e[1], n = new window.SbiOutstreamRenderer(); n.init({ vastUrl: i.vastUrl, height: r, width: t }), n.setRootElement(i.adUnitCode); }); } Object(n.registerBidder)(a); } }, [770]); pbjsChunk([103], { 780: function _(e, t, r) { e.exports = r(781); }, 781: function _(e, t, r) { "use strict"; Object.defineProperty(t, "__esModule", { value: !0 }), r.d(t, "GOOGLE_CONSENT", function () { return B; }), r.d(t, "spec", function () { return n; }); var I = r(0), P = r(3), u = r(11), a = r(1), c = r(2); function d(e) { return (d = "function" == typeof Symbol && "symbol" == _typeof(Symbol.iterator) ? function (e) { return _typeof(e); } : function (e) { return e && "function" == typeof Symbol && e.constructor === Symbol && e !== Symbol.prototype ? "symbol" : _typeof(e); })(e); } var i = "spotx", B = { consented_providers: ["3"https://r.search.yahoo.com/,"7"https://r.search.yahoo.com/,"11"https://r.search.yahoo.com/,"12"https://r.search.yahoo.com/,"15"https://r.search.yahoo.com/,"20"https://r.search.yahoo.com/,"22"https://r.search.yahoo.com/,"35"https://r.search.yahoo.com/,"43"https://r.search.yahoo.com/,"46"https://r.search.yahoo.com/,"48"https://r.search.yahoo.com/,"55"https://r.search.yahoo.com/,"57"https://r.search.yahoo.com/,"61"https://r.search.yahoo.com/,"62"https://r.search.yahoo.com/,"66"https://r.search.yahoo.com/,"70"https://r.search.yahoo.com/,"80"https://r.search.yahoo.com/,"83"https://r.search.yahoo.com/,"85"https://r.search.yahoo.com/,"86"https://r.search.yahoo.com/,"89"https://r.search.yahoo.com/,"93"https://r.search.yahoo.com/,"108"https://r.search.yahoo.com/,"122"https://r.search.yahoo.com/,"124"https://r.search.yahoo.com/,"125"https://r.search.yahoo.com/,"126"https://r.search.yahoo.com/,"131"https://r.search.yahoo.com/,"134"https://r.search.yahoo.com/,"135"https://r.search.yahoo.com/,"136"https://r.search.yahoo.com/,"143"https://r.search.yahoo.com/,"144"https://r.search.yahoo.com/,"147"https://r.search.yahoo.com/,"149"https://r.search.yahoo.com/,"153"https://r.search.yahoo.com/,"154"https://r.search.yahoo.com/,"159"https://r.search.yahoo.com/,"161"https://r.search.yahoo.com/,"162"https://r.search.yahoo.com/,"165"https://r.search.yahoo.com/,"167"https://r.search.yahoo.com/,"171"https://r.search.yahoo.com/,"178"https://r.search.yahoo.com/,"184"https://r.search.yahoo.com/,"188"https://r.search.yahoo.com/,"192"https://r.search.yahoo.com/,"195"https://r.search.yahoo.com/,"196"https://r.search.yahoo.com/,"202"https://r.search.yahoo.com/,"209"https://r.search.yahoo.com/,"211"https://r.search.yahoo.com/,"218"https://r.search.yahoo.com/,"221"https://r.search.yahoo.com/,"228"https://r.search.yahoo.com/,"229"https://r.search.yahoo.com/,"230"https://r.search.yahoo.com/,"236"https://r.search.yahoo.com/,"239"https://r.search.yahoo.com/,"241"https://r.search.yahoo.com/,"253"https://r.search.yahoo.com/,"255"https://r.search.yahoo.com/,"259"https://r.search.yahoo.com/,"266"https://r.search.yahoo.com/,"271"https://r.search.yahoo.com/,"272"https://r.search.yahoo.com/,"274"https://r.search.yahoo.com/,"286"https://r.search.yahoo.com/,"291"https://r.search.yahoo.com/,"294"https://r.search.yahoo.com/,"303"https://r.search.yahoo.com/,"308"https://r.search.yahoo.com/,"310"https://r.search.yahoo.com/,"311"https://r.search.yahoo.com/,"313"https://r.search.yahoo.com/,"314"https://r.search.yahoo.com/,"316"https://r.search.yahoo.com/,"317"https://r.search.yahoo.com/,"322"https://r.search.yahoo.com/,"323"https://r.search.yahoo.com/,"327"https://r.search.yahoo.com/,"336"https://r.search.yahoo.com/,"338"https://r.search.yahoo.com/,"340"https://r.search.yahoo.com/,"348"https://r.search.yahoo.com/,"350"https://r.search.yahoo.com/,"358"https://r.search.yahoo.com/,"359"https://r.search.yahoo.com/,"363"https://r.search.yahoo.com/,"367"https://r.search.yahoo.com/,"370"https://r.search.yahoo.com/,"371"https://r.search.yahoo.com/,"384"https://r.search.yahoo.com/,"385"https://r.search.yahoo.com/,"389"https://r.search.yahoo.com/,"393"https://r.search.yahoo.com/,"394"https://r.search.yahoo.com/,"397"https://r.search.yahoo.com/,"398"https://r.search.yahoo.com/,"407"https://r.search.yahoo.com/,"414"https://r.search.yahoo.com/,"415"https://r.search.yahoo.com/,"424"https://r.search.yahoo.com/,"429"https://r.search.yahoo.com/,"430"https://r.search.yahoo.com/,"432"https://r.search.yahoo.com/,"436"https://r.search.yahoo.com/,"438"https://r.search.yahoo.com/,"440"https://r.search.yahoo.com/,"442"https://r.search.yahoo.com/,"443"https://r.search.yahoo.com/,"445"https://r.search.yahoo.com/,"448"https://r.search.yahoo.com/,"449"https://r.search.yahoo.com/,"453"https://r.search.yahoo.com/,"459"https://r.search.yahoo.com/,"479"https://r.search.yahoo.com/,"482"https://r.search.yahoo.com/,"486"https://r.search.yahoo.com/,"491"https://r.search.yahoo.com/,"492"https://r.search.yahoo.com/,"494"https://r.search.yahoo.com/,"495"https://r.search.yahoo.com/,"503"https://r.search.yahoo.com/,"505"https://r.search.yahoo.com/,"510"https://r.search.yahoo.com/,"522"https://r.search.yahoo.com/,"523"https://r.search.yahoo.com/,"528"https://r.search.yahoo.com/,"537"https://r.search.yahoo.com/,"540"https://r.search.yahoo.com/,"550"https://r.search.yahoo.com/,"559"https://r.search.yahoo.com/,"560"https://r.search.yahoo.com/,"568"https://r.search.yahoo.com/,"571"https://r.search.yahoo.com/,"574"https://r.search.yahoo.com/,"575"https://r.search.yahoo.com/,"576"https://r.search.yahoo.com/,"584"https://r.search.yahoo.com/,"585"https://r.search.yahoo.com/,"587"https://r.search.yahoo.com/,"588"https://r.search.yahoo.com/,"590"https://r.search.yahoo.com/,"591"https://r.search.yahoo.com/,"592"https://r.search.yahoo.com/,"595"https://r.search.yahoo.com/,"609"https://r.search.yahoo.com/,"621"https://r.search.yahoo.com/,"624"https://r.search.yahoo.com/,"723"https://r.search.yahoo.com/,"725"https://r.search.yahoo.com/,"733"https://r.search.yahoo.com/,"737"https://r.search.yahoo.com/,"776"https://r.search.yahoo.com/,"780"https://r.search.yahoo.com/,"782"https://r.search.yahoo.com/,"787"https://r.search.yahoo.com/,"797"https://r.search.yahoo.com/,"798"https://r.search.yahoo.com/,"802"https://r.search.yahoo.com/,"803"https://r.search.yahoo.com/,"814"https://r.search.yahoo.com/,"817"https://r.search.yahoo.com/,"820"https://r.search.yahoo.com/,"821"https://r.search.yahoo.com/,"827"https://r.search.yahoo.com/,"829"https://r.search.yahoo.com/,"839"https://r.search.yahoo.com/,"853"https://r.search.yahoo.com/,"864"https://r.search.yahoo.com/,"867"https://r.search.yahoo.com/,"874"https://r.search.yahoo.com/,"899"https://r.search.yahoo.com/,"904"https://r.search.yahoo.com/,"922"https://r.search.yahoo.com/,"926"https://r.search.yahoo.com/,"931"https://r.search.yahoo.com/,"932"https://r.search.yahoo.com/,"933"https://r.search.yahoo.com/,"938"https://r.search.yahoo.com/,"955"https://r.search.yahoo.com/,"973"https://r.search.yahoo.com/,"976"https://r.search.yahoo.com/,"979"https://r.search.yahoo.com/,"981"https://r.search.yahoo.com/,"985"https://r.search.yahoo.com/,"987"https://r.search.yahoo.com/,"991"https://r.search.yahoo.com/,"1003"https://r.search.yahoo.com/,"1024"https://r.search.yahoo.com/,"1025"https://r.search.yahoo.com/,"1027"https://r.search.yahoo.com/,"1028"https://r.search.yahoo.com/,"1029"https://r.search.yahoo.com/,"1033"https://r.search.yahoo.com/,"1034"https://r.search.yahoo.com/,"1040"https://r.search.yahoo.com/,"1047"https://r.search.yahoo.com/,"1048"https://r.search.yahoo.com/,"1051"https://r.search.yahoo.com/,"1052"https://r.search.yahoo.com/,"1053"https://r.search.yahoo.com/,"1054"https://r.search.yahoo.com/,"1062"https://r.search.yahoo.com/,"1063"https://r.search.yahoo.com/,"1067"https://r.search.yahoo.com/,"1072"https://r.search.yahoo.com/,"1085"https://r.search.yahoo.com/,"1092"https://r.search.yahoo.com/,"1095"https://r.search.yahoo.com/,"1097"https://r.search.yahoo.com/,"1099"https://r.search.yahoo.com/,"1100"https://r.search.yahoo.com/,"1107"https://r.search.yahoo.com/,"1126"https://r.search.yahoo.com/,"1127"https://r.search.yahoo.com/,"1143"https://r.search.yahoo.com/,"1149"https://r.search.yahoo.com/,"1152"https://r.search.yahoo.com/,"1162"https://r.search.yahoo.com/,"1166"https://r.search.yahoo.com/,"1167"https://r.search.yahoo.com/,"1170"https://r.search.yahoo.com/,"1171"https://r.search.yahoo.com/,"1172"https://r.search.yahoo.com/,"1188"https://r.search.yahoo.com/,"1192"https://r.search.yahoo.com/,"1199"https://r.search.yahoo.com/,"1201"https://r.search.yahoo.com/,"1204"https://r.search.yahoo.com/,"1205"https://r.search.yahoo.com/,"1211"https://r.search.yahoo.com/,"1212"https://r.search.yahoo.com/,"1215"https://r.search.yahoo.com/,"1220"https://r.search.yahoo.com/,"1225"https://r.search.yahoo.com/,"1226"https://r.search.yahoo.com/,"1227"https://r.search.yahoo.com/,"1230"https://r.search.yahoo.com/,"1232"https://r.search.yahoo.com/,"1236"https://r.search.yahoo.com/,"1241"https://r.search.yahoo.com/,"1248"https://r.search.yahoo.com/,"1250"https://r.search.yahoo.com/,"1252"https://r.search.yahoo.com/,"1268"https://r.search.yahoo.com/,"1275"https://r.search.yahoo.com/,"1276"https://r.search.yahoo.com/,"1284"https://r.search.yahoo.com/,"1286"https://r.search.yahoo.com/,"1298"https://r.search.yahoo.com/,"1301"https://r.search.yahoo.com/,"1307"https://r.search.yahoo.com/,"1312"https://r.search.yahoo.com/,"1313"https://r.search.yahoo.com/,"1317"https://r.search.yahoo.com/,"1329"https://r.search.yahoo.com/,"1336"https://r.search.yahoo.com/,"1344"https://r.search.yahoo.com/,"1345"https://r.search.yahoo.com/,"1356"https://r.search.yahoo.com/,"1362"https://r.search.yahoo.com/,"1365"https://r.search.yahoo.com/,"1375"https://r.search.yahoo.com/,"1403"https://r.search.yahoo.com/,"1409"https://r.search.yahoo.com/,"1411"https://r.search.yahoo.com/,"1415"https://r.search.yahoo.com/,"1416"https://r.search.yahoo.com/,"1419"https://r.search.yahoo.com/,"1423"https://r.search.yahoo.com/,"1440"https://r.search.yahoo.com/,"1442"https://r.search.yahoo.com/,"1449"https://r.search.yahoo.com/,"1451"https://r.search.yahoo.com/,"1455"https://r.search.yahoo.com/,"1456"https://r.search.yahoo.com/,"1468"https://r.search.yahoo.com/,"1496"https://r.search.yahoo.com/,"1503"https://r.search.yahoo.com/,"1509"https://r.search.yahoo.com/,"1512"https://r.search.yahoo.com/,"1514"https://r.search.yahoo.com/,"1517"https://r.search.yahoo.com/,"1520"https://r.search.yahoo.com/,"1525"https://r.search.yahoo.com/,"1540"https://r.search.yahoo.com/,"1547"https://r.search.yahoo.com/,"1548"https://r.search.yahoo.com/,"1555"https://r.search.yahoo.com/,"1558"https://r.search.yahoo.com/,"1570"https://r.search.yahoo.com/,"1575"https://r.search.yahoo.com/,"1577"https://r.search.yahoo.com/,"1579"https://r.search.yahoo.com/,"1583"https://r.search.yahoo.com/,"1584"https://r.search.yahoo.com/,"1591"https://r.search.yahoo.com/,"1598"https://r.search.yahoo.com/,"1603"https://r.search.yahoo.com/,"1608"https://r.search.yahoo.com/,"1613"https://r.search.yahoo.com/,"1616"https://r.search.yahoo.com/,"1626"https://r.search.yahoo.com/,"1631"https://r.search.yahoo.com/,"1633"https://r.search.yahoo.com/,"1638"https://r.search.yahoo.com/,"1642"https://r.search.yahoo.com/,"1648"https://r.search.yahoo.com/,"1651"https://r.search.yahoo.com/,"1652"https://r.search.yahoo.com/,"1653"https://r.search.yahoo.com/,"1660"https://r.search.yahoo.com/,"1665"https://r.search.yahoo.com/,"1667"https://r.search.yahoo.com/,"1669"https://r.search.yahoo.com/,"1671"https://r.search.yahoo.com/,"1674"https://r.search.yahoo.com/,"1677"https://r.search.yahoo.com/,"1678"https://r.search.yahoo.com/,"1682"https://r.search.yahoo.com/,"1684"https://r.search.yahoo.com/,"1697"https://r.search.yahoo.com/,"1703"https://r.search.yahoo.com/,"1705"https://r.search.yahoo.com/,"1716"https://r.search.yahoo.com/,"1720"https://r.search.yahoo.com/,"1721"https://r.search.yahoo.com/,"1722"https://r.search.yahoo.com/,"1725"https://r.search.yahoo.com/,"1732"https://r.search.yahoo.com/,"1733"https://r.search.yahoo.com/,"1735"https://r.search.yahoo.com/,"1739"https://r.search.yahoo.com/,"1741"https://r.search.yahoo.com/,"1745"https://r.search.yahoo.com/,"1750"https://r.search.yahoo.com/,"1753"https://r.search.yahoo.com/,"1760"https://r.search.yahoo.com/,"1765"https://r.search.yahoo.com/,"1769"https://r.search.yahoo.com/,"1776"https://r.search.yahoo.com/,"1780"https://r.search.yahoo.com/,"1782"https://r.search.yahoo.com/,"1786"https://r.search.yahoo.com/,"1791"https://r.search.yahoo.com/,"1794"https://r.search.yahoo.com/,"1799"https://r.search.yahoo.com/,"1800"https://r.search.yahoo.com/,"1801"https://r.search.yahoo.com/,"1810"https://r.search.yahoo.com/,"1827"https://r.search.yahoo.com/,"1831"https://r.search.yahoo.com/,"1832"https://r.search.yahoo.com/,"1834"https://r.search.yahoo.com/,"1837"https://r.search.yahoo.com/,"1840"https://r.search.yahoo.com/,"1843"https://r.search.yahoo.com/,"1844"https://r.search.yahoo.com/,"1845"https://r.search.yahoo.com/,"1858"https://r.search.yahoo.com/,"1859"https://r.search.yahoo.com/,"1863"https://r.search.yahoo.com/,"1866"https://r.search.yahoo.com/,"1870"https://r.search.yahoo.com/,"1872"https://r.search.yahoo.com/,"1875"https://r.search.yahoo.com/,"1878"https://r.search.yahoo.com/,"1880"https://r.search.yahoo.com/,"1882"https://r.search.yahoo.com/,"1883"https://r.search.yahoo.com/,"1889"https://r.search.yahoo.com/,"1892"https://r.search.yahoo.com/,"1896"https://r.search.yahoo.com/,"1898"https://r.search.yahoo.com/,"1899"https://r.search.yahoo.com/,"1902"https://r.search.yahoo.com/,"1905"https://r.search.yahoo.com/,"1911"https://r.search.yahoo.com/,"1922"https://r.search.yahoo.com/,"1928"https://r.search.yahoo.com/,"1929"https://r.search.yahoo.com/,"1934"https://r.search.yahoo.com/,"1942"https://r.search.yahoo.com/,"1943"https://r.search.yahoo.com/,"1944"https://r.search.yahoo.com/,"1945"https://r.search.yahoo.com/,"1958"https://r.search.yahoo.com/,"1960"https://r.search.yahoo.com/,"1962"https://r.search.yahoo.com/,"1963"https://r.search.yahoo.com/,"1964"https://r.search.yahoo.com/,"1967"https://r.search.yahoo.com/,"1968"https://r.search.yahoo.com/,"1978"https://r.search.yahoo.com/,"1985"https://r.search.yahoo.com/,"1986"https://r.search.yahoo.com/,"1987"https://r.search.yahoo.com/,"1998"https://r.search.yahoo.com/,"2003"https://r.search.yahoo.com/,"2007"https://r.search.yahoo.com/,"2012"https://r.search.yahoo.com/,"2013"https://r.search.yahoo.com/,"2027"https://r.search.yahoo.com/,"2035"https://r.search.yahoo.com/,"2038"https://r.search.yahoo.com/,"2039"https://r.search.yahoo.com/,"2044"https://r.search.yahoo.com/,"2047"https://r.search.yahoo.com/,"2052"https://r.search.yahoo.com/,"2056"https://r.search.yahoo.com/,"2059"https://r.search.yahoo.com/,"2062"https://r.search.yahoo.com/,"2064"https://r.search.yahoo.com/,"2068"https://r.search.yahoo.com/,"2070"https://r.search.yahoo.com/,"2072"https://r.search.yahoo.com/,"2078"https://r.search.yahoo.com/,"2079"https://r.search.yahoo.com/,"2084"https://r.search.yahoo.com/,"2088"https://r.search.yahoo.com/,"2090"https://r.search.yahoo.com/,"2095"https://r.search.yahoo.com/,"2100"https://r.search.yahoo.com/,"2103"https://r.search.yahoo.com/,"2107"https://r.search.yahoo.com/,"2109"https://r.search.yahoo.com/,"2113"https://r.search.yahoo.com/,"2115"https://r.search.yahoo.com/,"2121"https://r.search.yahoo.com/,"2127"https://r.search.yahoo.com/,"2130"https://r.search.yahoo.com/,"2133"https://r.search.yahoo.com/,"2137"https://r.search.yahoo.com/,"2140"https://r.search.yahoo.com/,"2141"https://r.search.yahoo.com/,"2145"https://r.search.yahoo.com/,"2147"https://r.search.yahoo.com/,"2150"https://r.search.yahoo.com/,"2156"https://r.search.yahoo.com/,"2166"https://r.search.yahoo.com/,"2170"https://r.search.yahoo.com/,"2171"https://r.search.yahoo.com/,"2176"https://r.search.yahoo.com/,"2177"https://r.search.yahoo.com/,"2179"https://r.search.yahoo.com/,"2183"https://r.search.yahoo.com/,"2186"https://r.search.yahoo.com/,"2192"https://r.search.yahoo.com/,"2198"https://r.search.yahoo.com/,"2202"https://r.search.yahoo.com/,"2205"https://r.search.yahoo.com/,"2214"https://r.search.yahoo.com/,"2216"https://r.search.yahoo.com/,"2219"https://r.search.yahoo.com/,"2220"https://r.search.yahoo.com/,"2222"https://r.search.yahoo.com/,"2223"https://r.search.yahoo.com/,"2224"https://r.search.yahoo.com/,"2225"https://r.search.yahoo.com/,"2227"https://r.search.yahoo.com/,"2228"https://r.search.yahoo.com/,"2234"https://r.search.yahoo.com/,"2238"https://r.search.yahoo.com/,"2247"https://r.search.yahoo.com/,"2251"https://r.search.yahoo.com/,"2253"https://r.search.yahoo.com/,"2262"https://r.search.yahoo.com/,"2264"https://r.search.yahoo.com/,"2271"https://r.search.yahoo.com/,"2276"https://r.search.yahoo.com/,"2278"https://r.search.yahoo.com/,"2279"https://r.search.yahoo.com/,"2282"https://r.search.yahoo.com/,"2290"https://r.search.yahoo.com/,"2292"https://r.search.yahoo.com/,"2295"https://r.search.yahoo.com/,"2299"https://r.search.yahoo.com/,"2305"https://r.search.yahoo.com/,"2306"https://r.search.yahoo.com/,"2310"https://r.search.yahoo.com/,"2311"https://r.search.yahoo.com/,"2312"https://r.search.yahoo.com/,"2315"https://r.search.yahoo.com/,"2320"https://r.search.yahoo.com/,"2325"https://r.search.yahoo.com/,"2328"https://r.search.yahoo.com/,"2331"https://r.search.yahoo.com/,"2334"https://r.search.yahoo.com/,"2335"https://r.search.yahoo.com/,"2336"https://r.search.yahoo.com/,"2337"https://r.search.yahoo.com/,"2343"https://r.search.yahoo.com/,"2346"https://r.search.yahoo.com/,"2354"https://r.search.yahoo.com/,"2357"https://r.search.yahoo.com/,"2358"https://r.search.yahoo.com/,"2359"https://r.search.yahoo.com/,"2366"https://r.search.yahoo.com/,"2370"https://r.search.yahoo.com/,"2373"https://r.search.yahoo.com/,"2376"https://r.search.yahoo.com/,"2377"https://r.search.yahoo.com/,"2380"https://r.search.yahoo.com/,"2382"https://r.search.yahoo.com/,"2387"https://r.search.yahoo.com/,"2389"https://r.search.yahoo.com/,"2392"https://r.search.yahoo.com/,"2394"https://r.search.yahoo.com/,"2400"https://r.search.yahoo.com/,"2403"https://r.search.yahoo.com/,"2405"https://r.search.yahoo.com/,"2406"https://r.search.yahoo.com/,"2407"https://r.search.yahoo.com/,"2410"https://r.search.yahoo.com/,"2411"https://r.search.yahoo.com/,"2413"https://r.search.yahoo.com/,"2414"https://r.search.yahoo.com/,"2415"https://r.search.yahoo.com/,"2416"https://r.search.yahoo.com/,"2418"https://r.search.yahoo.com/,"2422"https://r.search.yahoo.com/,"2425"https://r.search.yahoo.com/,"2427"https://r.search.yahoo.com/,"2435"https://r.search.yahoo.com/,"2437"https://r.search.yahoo.com/,"2440"https://r.search.yahoo.com/,"2441"https://r.search.yahoo.com/,"2447"https://r.search.yahoo.com/,"2453"https://r.search.yahoo.com/,"2459"https://r.search.yahoo.com/,"2461"https://r.search.yahoo.com/,"2462"https://r.search.yahoo.com/,"2464"https://r.search.yahoo.com/,"2467"https://r.search.yahoo.com/,"2468"https://r.search.yahoo.com/,"2472"https://r.search.yahoo.com/,"2477"https://r.search.yahoo.com/,"2481"https://r.search.yahoo.com/,"2484"https://r.search.yahoo.com/,"2486"https://r.search.yahoo.com/,"2492"https://r.search.yahoo.com/,"2493"https://r.search.yahoo.com/,"2496"https://r.search.yahoo.com/,"2497"https://r.search.yahoo.com/,"2498"https://r.search.yahoo.com/,"2499"https://r.search.yahoo.com/,"2504"https://r.search.yahoo.com/,"2506"https://r.search.yahoo.com/,"2510"https://r.search.yahoo.com/,"2511"https://r.search.yahoo.com/,"2512"https://r.search.yahoo.com/,"2517"https://r.search.yahoo.com/,"2526"https://r.search.yahoo.com/,"2527"https://r.search.yahoo.com/,"2531"https://r.search.yahoo.com/,"2532"https://r.search.yahoo.com/,"2534"https://r.search.yahoo.com/,"2542"https://r.search.yahoo.com/,"2544"https://r.search.yahoo.com/,"2552"https://r.search.yahoo.com/,"2555"https://r.search.yahoo.com/,"2559"https://r.search.yahoo.com/,"2563"https://r.search.yahoo.com/,"2564"https://r.search.yahoo.com/,"2567"https://r.search.yahoo.com/,"2568"https://r.search.yahoo.com/,"2569"https://r.search.yahoo.com/,"2571"https://r.search.yahoo.com/,"2572"https://r.search.yahoo.com/,"2573"https://r.search.yahoo.com/,"2575"https://r.search.yahoo.com/,"2577"https://r.search.yahoo.com/,"2579"https://r.search.yahoo.com/,"2583"https://r.search.yahoo.com/,"2584"https://r.search.yahoo.com/,"2586"https://r.search.yahoo.com/,"2589"https://r.search.yahoo.com/,"2595"https://r.search.yahoo.com/,"2596"https://r.search.yahoo.com/,"2597"https://r.search.yahoo.com/,"2601"https://r.search.yahoo.com/,"2604"https://r.search.yahoo.com/,"2605"https://r.search.yahoo.com/,"2609"https://r.search.yahoo.com/,"2610"https://r.search.yahoo.com/,"2612"https://r.search.yahoo.com/,"2614"https://r.search.yahoo.com/,"2621"https://r.search.yahoo.com/,"2622"https://r.search.yahoo.com/,"2624"https://r.search.yahoo.com/,"2628"https://r.search.yahoo.com/,"2629"https://r.search.yahoo.com/,"2632"https://r.search.yahoo.com/,"2634"https://r.search.yahoo.com/,"2636"https://r.search.yahoo.com/,"2639"https://r.search.yahoo.com/,"2643"https://r.search.yahoo.com/,"2645"https://r.search.yahoo.com/,"2646"https://r.search.yahoo.com/,"2647"https://r.search.yahoo.com/,"2649"https://r.search.yahoo.com/,"2650"https://r.search.yahoo.com/,"2651"https://r.search.yahoo.com/,"2652"https://r.search.yahoo.com/,"2656"https://r.search.yahoo.com/,"2657"https://r.search.yahoo.com/,"2658"https://r.search.yahoo.com/,"2660"https://r.search.yahoo.com/,"2661"https://r.search.yahoo.com/,"2662"https://r.search.yahoo.com/,"2663"https://r.search.yahoo.com/,"2664"https://r.search.yahoo.com/,"2669"https://r.search.yahoo.com/,"2670"https://r.search.yahoo.com/,"2673"https://r.search.yahoo.com/,"2676"https://r.search.yahoo.com/,"2677"https://r.search.yahoo.com/,"2678"https://r.search.yahoo.com/,"2681"https://r.search.yahoo.com/,"2682"https://r.search.yahoo.com/,"2684"https://r.search.yahoo.com/,"2685"https://r.search.yahoo.com/,"2686"https://r.search.yahoo.com/,"2689"https://r.search.yahoo.com/,"2690"https://r.search.yahoo.com/,"2691"https://r.search.yahoo.com/,"2695"https://r.search.yahoo.com/,"2698"https://r.search.yahoo.com/,"2699"https://r.search.yahoo.com/,"2702"https://r.search.yahoo.com/,"2704"https://r.search.yahoo.com/,"2705"https://r.search.yahoo.com/,"2706"https://r.search.yahoo.com/,"2707"https://r.search.yahoo.com/,"2709"https://r.search.yahoo.com/,"2710"https://r.search.yahoo.com/,"2713"https://r.search.yahoo.com/,"2714"https://r.search.yahoo.com/,"2727"https://r.search.yahoo.com/,"2729"https://r.search.yahoo.com/,"2739"https://r.search.yahoo.com/,"2758"https://r.search.yahoo.com/,"2765"https://r.search.yahoo.com/,"2766"https://r.search.yahoo.com/,"2767"https://r.search.yahoo.com/,"2768"https://r.search.yahoo.com/,"2770"https://r.search.yahoo.com/,"2771"https://r.search.yahoo.com/,"2772"https://r.search.yahoo.com/,"2776"https://r.search.yahoo.com/,"2777"https://r.search.yahoo.com/,"2778"https://r.search.yahoo.com/,"2779"https://r.search.yahoo.com/,"2780"https://r.search.yahoo.com/,"2783"https://r.search.yahoo.com/,"2784"https://r.search.yahoo.com/,"2786"https://r.search.yahoo.com/,"2787"https://r.search.yahoo.com/,"2791"https://r.search.yahoo.com/,"2792"https://r.search.yahoo.com/,"2793"https://r.search.yahoo.com/,"2797"https://r.search.yahoo.com/,"2798"https://r.search.yahoo.com/,"2801"https://r.search.yahoo.com/,"2802"https://r.search.yahoo.com/,"2803"https://r.search.yahoo.com/,"2805"https://r.search.yahoo.com/,"2808"https://r.search.yahoo.com/,"2809"https://r.search.yahoo.com/,"2810"https://r.search.yahoo.com/,"2811"https://r.search.yahoo.com/,"2812"https://r.search.yahoo.com/,"2813"https://r.search.yahoo.com/,"2814"https://r.search.yahoo.com/,"2817"https://r.search.yahoo.com/,"2818"https://r.search.yahoo.com/,"2824"https://r.search.yahoo.com/,"2826"https://r.search.yahoo.com/,"2827"https://r.search.yahoo.com/,"2829"https://r.search.yahoo.com/,"2830"https://r.search.yahoo.com/,"2831"https://r.search.yahoo.com/,"2832"https://r.search.yahoo.com/,"2834"https://r.search.yahoo.com/,"2836"https://r.search.yahoo.com/,"2838"https://r.search.yahoo.com/,"2840"https://r.search.yahoo.com/,"2842"https://r.search.yahoo.com/,"2843"https://r.search.yahoo.com/,"2844"https://r.search.yahoo.com/,"2850"https://r.search.yahoo.com/,"2851"https://r.search.yahoo.com/,"2852"https://r.search.yahoo.com/,"2854"https://r.search.yahoo.com/,"2858"https://r.search.yahoo.com/,"2860"https://r.search.yahoo.com/,"2862"https://r.search.yahoo.com/,"2864"https://r.search.yahoo.com/,"2865"https://r.search.yahoo.com/,"2866"https://r.search.yahoo.com/,"2867"https://r.search.yahoo.com/,"2868"https://r.search.yahoo.com/,"2869"https://r.search.yahoo.com/,"2871"] }, n = { code: i, gvlid: 165, aliases: ["spotx"], supportedMediaTypes: [c.d], isBidRequestValid: function isBidRequestValid(e) { if (e && "object" !== d(e.params)) return I.logError(i + ": params is not defined or is incorrect in the bidder settings."), !1; if (!I.deepAccess(e, "mediaTypes.video")) return I.logError(i + ": mediaTypes.video is not present in the bidder settings."), !1; var t = I.deepAccess(e, "mediaTypes.video.playerSize"); if (!t || !I.isArray(t)) return I.logError(i + ": mediaTypes.video.playerSize is not defined in the bidder settings."), !1; if (!I.getBidIdParameter("channel_id", e.params)) return I.logError(i + ": channel_id is not present in bidder params"), !1; if (("outstream" == I.deepAccess(e, "mediaTypes.video.context") || "outstream" == I.deepAccess(e, "params.ad_unit")) && !I.getBidIdParameter("outstream_function", e.params)) { if (!I.getBidIdParameter("outstream_options", e.params)) return I.logError(i + ": please define outstream_options parameter or override the default SpotX outstream rendering by defining your own Outstream function using field outstream_function."), !1; if (!I.getBidIdParameter("slot", e.params.outstream_options)) return I.logError(i + ": please define parameters slot outstream_options object in the configuration."), !1; } return !0; }, buildRequests: function buildRequests(e, h) { var y = h.refererInfo.referer, b = !!y.match(/^https:/); return e.map(function (e) { var t = I.getBidIdParameter("page", e.params) ? I.getBidIdParameter("page", e.params) : P.b.getConfig("pageUrl") ? P.b.getConfig("pageUrl") : y, r = I.getBidIdParameter("channel_id", e.params), a = null, d = I.deepAccess(e, "mediaTypes.video.playerSize"), i = d[0][0], n = d[0][1], o = b || (I.getBidIdParameter("secure", e.params) ? 1 : 0), s = { sdk_name: "Prebid 1+", versionOrtb: "2.3" }; if ("" != I.getBidIdParameter("hide_skin", e.params) && (s.hide_skin = +!!I.getBidIdParameter("hide_skin", e.params)), "" != I.getBidIdParameter("ad_volume", e.params) && (s.ad_volume = I.getBidIdParameter("ad_volume", e.params)), "" != I.getBidIdParameter("ad_unit", e.params) && (s.ad_unit = I.getBidIdParameter("ad_unit", e.params)), "" != I.getBidIdParameter("outstream_options", e.params) && (s.outstream_options = I.getBidIdParameter("outstream_options", e.params)), "" != I.getBidIdParameter("outstream_function", e.params) && (s.outstream_function = I.getBidIdParameter("outstream_function", e.params)), "" != I.getBidIdParameter("custom", e.params) && (s.custom = I.getBidIdParameter("custom", e.params)), "" != I.getBidIdParameter("pre_market_bids", e.params) && I.isArray(I.getBidIdParameter("pre_market_bids", e.params))) { var p = I.getBidIdParameter("pre_market_bids", e.params); for (var m in (s.pre_market_bids = [], p)) { var u = p[m], c = ""; u.vast_url ? c = '' + u.vast_url + "" : u.vast_string && (c = u.vast_string), s.pre_market_bids.push({
id: u.deal_id,
seatbid: [{
bid: [{
impid: Date.now(),
dealid: u.deal_id,
price: u.price,
adm: c
}]
}],
cur: u.currency,
ext: {
event_log: [{}]
}
});
}
}
var g = I.getBidIdParameter("mimes", e.params) || ["application/javascript"https://r.search.yahoo.com/,"video/mp4″https://r.search.yahoo.com/,"video/webm"],
_ = {
id: e.bidId,
secure: o,
video: {
w: i,
h: n,
ext: s,
mimes: g
}
};
"" != I.getBidIdParameter("price_floor", e.params) && (_.bidfloor = I.getBidIdParameter("price_floor", e.params)), "" != I.getBidIdParameter("start_delay", e.params) && (_.video.startdelay = 0 + Boolean(I.getBidIdParameter("start_delay", e.params))), "" != I.getBidIdParameter("min_duration", e.params) && (_.video.minduration = I.getBidIdParameter("min_duration", e.params)), "" != I.getBidIdParameter("max_duration", e.params) && (_.video.maxduration = I.getBidIdParameter("max_duration", e.params)), "" != I.getBidIdParameter("placement_type", e.params) && (_.video.ext.placement = I.getBidIdParameter("placement_type", e.params)), "" != I.getBidIdParameter("position", e.params) && (_.video.ext.pos = I.getBidIdParameter("position", e.params)), e.crumbs && e.crumbs.pubcid && (a = e.crumbs.pubcid);
var l = navigator.language ? "language" : "userLanguage",
v = {
id: r,
imp: _,
site: {
id: "",
page: t,
content: "content"
},
device: {
h: screen.height,
w: screen.width,
dnt: I.getDNT() ? 1 : 0,
language: navigator[l].split("-")[0],
make: navigator.vendor ? navigator.vendor : "",
ua: navigator.userAgent
},
ext: {
wrap_response: 1
}
};
I.getBidIdParameter("number_of_ads", e.params) && (v.ext.number_of_ads = I.getBidIdParameter("number_of_ads", e.params));
var f = {};
return 1 == I.getBidIdParameter("spotx_all_google_consent", e.params) && (f.consented_providers_settings = B), h && h.gdprConsent && (f.consent = h.gdprConsent.consentString, void 0 !== h.gdprConsent.gdprApplies && I.deepSetValue(v, "regs.ext.gdpr", h.gdprConsent.gdprApplies ? 1 : 0)), h && h.uspConsent && I.deepSetValue(v, "regs.ext.us_privacy", h.uspConsent), I.deepAccess(e, "userId.id5id.uid") && (f.eids = f.eids || [], f.eids.push({
source: "id5-sync.com",
uids: [{
id: e.userId.id5id.uid
}],
ext: e.userId.id5id.ext || {}
})), a && (f.fpc = a), e && e.schain && (v.source = {
ext: {
schain: e.schain
}
}), e && e.userId && e.userId.tdid && (f.eids = f.eids || [], f.eids.push({
source: "adserver.org",
uids: [{
id: e.userId.tdid,
ext: {
rtiPartner: "TDID"
}
}]
})), I.isEmpty(f) || (v.user = {
ext: f
}), {
method: "POST",
url: "https://search.spotxchange.com/openrtb/2.3/dados/" + r,
data: v,
bidRequest: h
};
});
},
interpretResponse: function interpretResponse(e, s) {
var p = [],
m = e.body;
return m && I.isArray(m.seatbid) && I._each(m.seatbid, function (e) {
I._each(e.bid, function (t) {
var e = {};
for (var r in s.bidRequest.bids) {
t.impid == s.bidRequest.bids[r].bidId && (e = s.bidRequest.bids[r]);
}
I._each(e.params.pre_market_bids, function (e) {
e.deal_id == t.id && (t.price = e.price, m.cur = e.currency);
});
var a = {
requestId: e.bidId,
currency: m.cur || "USD",
cpm: t.price,
creativeId: t.crid || "",
dealId: t.dealid || "",
ttl: 360,
netRevenue: !0,
channel_id: m.id,
cache_key: t.ext.cache_key,
vastUrl: "https://search.spotxchange.com/ad/vast.html?key=" + t.ext.cache_key,
videoCacheKey: t.ext.cache_key,
mediaType: c.d,
width: t.w,
height: t.h
};
a.meta = a.meta || {}, t && t.adomain && 0 < t.adomain.length && (a.meta.advertiserDomains = t.adomain); var d = I.deepAccess(e, "mediaTypes.video.context"), i = I.deepAccess(e, "params.ad_unit"); if ("outstream" == d || "outstream" == i) { var n = I.deepAccess(e, "mediaTypes.video.playerSize"), o = u.a.install({ id: 0, url: "//", config: { adText: "SpotX Outstream Video Ad via Prebid.js", player_width: n[0][0], player_height: n[0][1], content_page_url: I.deepAccess(s, "data.site.page"), ad_mute: +!!I.deepAccess(e, "params.ad_mute"), hide_skin: +!!I.deepAccess(e, "params.hide_skin"), outstream_options: I.deepAccess(e, "params.outstream_options"), outstream_function: I.deepAccess(e, "params.outstream_function") } }); try { o.setRender(g), o.setEventHandlers({ impression: function impression() { return I.logMessage("SpotX outstream video impression event"); }, loaded: function loaded() { return I.logMessage("SpotX outstream video loaded event"); }, ended: function ended() { I.logMessage("SpotX outstream renderer video event"); } }); } catch (e) { I.logWarn("Prebid Error calling setRender or setEve,tHandlers on renderer", e); } a.renderer = o; } p.push(a); }); }), p; } }; function g(e) { var t = function (e) { var t = I.getBidIdParameter("slot", e.renderer.config.outstream_options); I.logMessage("[SPOTX][renderer] Handle SpotX outstream renderer"); var r = window.document.createElement("script"); r.type = "text/javascript", r.src = "https://js.spotx.tv/easi/v1/" + e.channel_id + ".js"; var a = {}; a["data-spotx_channel_id"] = "" + e.channel_id, a["data-spotx_vast_url"] = "" + e.vastUrl, a["data-spotx_content_page_url"] = e.renderer.config.content_page_url, a["data-spotx_ad_unit"] = "incontent", I.logMessage("[SPOTX][renderer] Default beahavior"), I.getBidIdParameter("ad_mute", e.renderer.config.outstream_options) && (a["data-spotx_ad_mute"] = "1"), a["data-spotx_collapse"] = "0", a["data-spotx_autoplay"] = "1", a["data-spotx_blocked_autoplay_override_mode"] = "1", a["data-spotx_video_slot_can_autoplay"] = "1"; var d, i, n, o, s, p, m = I.getBidIdParameter("playersize_auto_adapt", e.renderer.config.outstream_options); m && I.isBoolean(m) && !0 === m && (e.width && I.isNumber(e.width) && e.height && I.isNumber(e.height) ? (d = e.width / e.height, i = window.document.getElementById(t).clientWidth, n = e.renderer.config.player_width, o = e.renderer.config.player_height, p = s = 0, i < n && (o = (n = i) / d), p = d <= 1 ? (s = Math.round(o * d), o) : (s = n, Math.round(n / d)), a["data-spotx_content_width"] = "" + s, a["data-spotx_content_height"] = "" + p) : I.logWarn("[SPOTX][renderer] PlayerSize auto adapt: bid.width and bid.height are incorrect")); var u = I.getBidIdParameter("custom_override", e.renderer.config.outstream_options); if (u && I.isPlainObject(u)) for (var c in (I.logMessage("[SPOTX][renderer] Custom behavior."), u)) { u.hasOwnProperty(c) && ("channel_id" === c || "vast_url" === c || "content_page_url" === c || "ad_unit" === c ? I.logWarn("[SPOTX][renderer] Custom behavior: following option cannot be overridden: " + c) : a["data-spotx_" + c] = u[c]); } for (var g in a) { a.hasOwnProperty(g) && r.setAttribute(g, a[g]); } return r; }(e); if (null != e.renderer.config.outstream_function && "function" == typeof e.renderer.config.outstream_function) e.renderer.config.outstream_function(e, t);else try { var r, a, d, i = I.getBidIdParameter("in_iframe", e.renderer.config.outstream_options); i && "IFRAME" == window.document.getElementById(i).nodeName ? (!(a = (r = window.document.getElementById(i)).contentDocument) && r.contentWindow && (a = r.contentWindow.document), a.body.appendChild(t)) : (d = I.getBidIdParameter("slot", e.renderer.config.outstream_options)) && window.document.getElementById(d) ? window.document.getElementById(d).appendChild(t) : window.document.getElementsByTagName("head")[0].appendChild(t); } catch (e) { I.logError("[SPOTX][renderer] Error:" + e.message); } } Object(a.registerBidder)(n); } }, [780]); pbjsChunk([96], { 796: function _(e, t, r) { e.exports = r(797); }, 797: function _(e, t, r) { "use strict"; Object.defineProperty(t, "__esModule", { value: !0 }), r.d(t, "spec", function () { return i; }); var n = r(1), a = r(0), p = 12, c = 11, u = 0, g = 22, i = { code: "teads", supportedMediaTypes: ["video"https://r.search.yahoo.com/,"banner"], isBidRequestValid: function isBidRequestValid(e) { var t, r, n = !1; return void 0 !== e.params && (t = s(a.getValue(e.params, "placementId")), r = s(a.getValue(e.params, "pageId")), n = t && r), n || a.logError("Teads placementId and pageId parameters are required. Bid aborted."), n; }, buildRequests: function buildRequests(e, t) { var r, n = e.map(f), i = { referrer: function (e) { var t = ""; e && e.refererInfo && e.refererInfo.referer && (t = e.refererInfo.referer); return t; }(t), pageReferrer: document.referrer, networkBandwidth: (r = window.navigator) && r.connection && 0 <= r.connection.downlink ? r.connection.downlink.toString() : "", timeToFirstByte: function (e) { var t = e.performance || e.webkitPerformance || e.msPerformance || e.mozPerformance, r = t && "function" == typeof t.getEntriesByType && "[object Function]" === Object.prototype.toString.call(t.getEntriesByType) && t.getEntriesByType("navigation")[0] && t.getEntriesByType("navigation")[0].responseStart && t.getEntriesByType("navigation")[0].requestStart && 0 < t.getEntriesByType("navigation")[0].responseStart && 0 < t.getEntriesByType("navigation")[0].requestStart && Math.round(t.getEntriesByType("navigation")[0].responseStart - t.getEntriesByType("navigation")[0].requestStart); if (r) return r.toString(); var n = t && t.timing.responseStart && t.timing.requestStart && 0 < t.timing.responseStart && 0 < t.timing.requestStart && t.timing.responseStart - t.timing.requestStart; return n ? n.toString() : ""; }(window), data: n, deviceWidth: screen.width, hb_version: "4.13.0" }; e[0].schain && (i.schain = e[0].schain); var a, s, o, d = t.gdprConsent; return t && d && (a = "boolean" == typeof d.gdprApplies, s = "string" == typeof d.consentString, o = a ? function (e, t, r) { var n = p; e ? function (e, t) { return e && 1 === t ? e.hasGlobalScope || e.hasGlobalConsent : !(!e || 2 !== t) && !e.isServiceSpecific; }(t, r) && (n = c) : n = u; return n; }(d.gdprApplies, d.vendorData, d.apiVersion) : g, i.gdpr_iab = { consent: s ? d.consentString : "", status: o, apiVersion: d.apiVersion }), t && t.uspConsent && (i.us_privacy = t.uspConsent), { method: "POST", url: "https://a.teads.tv/hb/bid-request", data: JSON.stringify(i) }; }, interpretResponse: function interpretResponse(e) { var r = []; return (e = e.body).responses && e.responses.forEach(function (e) { var t = { cpm: e.cpm, width: e.width, height: e.height, currency: e.currency, netRevenue: !0, ttl: e.ttl, ad: e.ad, requestId: e.bidId, creativeId: e.creativeId, placementId: e.placementId }; e.dealId && (t.dealId = e.dealId), r.push(t); }), r; } }; function f(e) { var t, r = {}, n = a.getValue(e.params, "placementId"), i = a.getValue(e.params, "pageId"); return r.sizes = (t = e, a.parseSizesInput(function (e) { var t = a.deepAccess(e, "mediaTypes.video.playerSize"), r = a.deepAccess(e, "mediaTypes.video.sizes"), n = a.deepAccess(e, "mediaTypes.banner.sizes"); return a.isArray(n) || a.isArray(t) || a.isArray(r) ? [n, r, t].reduce(function (t, e) { return a.isArray(e) && (a.isArray(e[0]) ? e.forEach(function (e) { t.push(e); }) : t.push(e)), t; }, []) : e.sizes; }(t))), r.bidId = a.getBidIdParameter("bidId", e), r.bidderRequestId = a.getBidIdParameter("bidderRequestId", e), r.placementId = parseInt(n, 10), r.pageId = parseInt(i, 10), r.adUnitCode = a.getBidIdParameter("adUnitCode", e), r.auctionId = a.getBidIdParameter("auctionId", e), r.transactionId = a.getBidIdParameter("transactionId", e), r; } function s(e) { return 0 < parseInt(e); } Object(n.registerBidder)(i); } }, [796]); pbjsChunk([87], { 816: function _(e, r, t) { e.exports = t(817); }, 817: function _(e, r, t) { "use strict"; Object.defineProperty(r, "__esModule", { value: !0 }), t.d(r, "tripleliftAdapterSpec", function () { return m; }); var n = t(2), i = t(1), u = t(0), a = t(3); function p() { return (p = Object.assign || function (e) { for (var r = 1; r < arguments.length; r++) { var t = arguments[r]; for (var n in t) { Object.prototype.hasOwnProperty.call(t, n) && (e[n] = t[n]); } } return e; }).apply(this, arguments); } function c(e) { return (c = "function" == typeof Symbol && "symbol" == _typeof(Symbol.iterator) ? function (e) { return _typeof(e); } : function (e) { return e && "function" == typeof Symbol && e.constructor === Symbol && e !== Symbol.prototype ? "symbol" : _typeof(e); })(e); } function d(r, e) { var t, n = Object.keys(r); return Object.getOwnPropertySymbols && (t = Object.getOwnPropertySymbols(r), e && (t = t.filter(function (e) { return Object.getOwnPropertyDescriptor(r, e).enumerable; })), n.push.apply(n, t)), n; } function s(i) { for (var e = 1; e < arguments.length; e++) { var o = null != arguments[e] ? arguments[e] : {}; e % 2 ? d(Object(o), !0).forEach(function (e) { var r, t, n; r = i, n = o[t = e], t in r ? Object.defineProperty(r, t, { value: n, enumerable: !0, configurable: !0, writable: !0 }) : r[t] = n; }) : Object.getOwnPropertyDescriptors ? Object.defineProperties(i, Object.getOwnPropertyDescriptors(o)) : d(Object(o)).forEach(function (e) { Object.defineProperty(i, e, Object.getOwnPropertyDescriptor(o, e)); }); } return i; } function f(e) { return function (e) { if (Array.isArray(e)) return o(e); }(e) || function (e) { if ("undefined" != typeof Symbol && Symbol.iterator in Object(e)) return Array.from(e); }(e) || function (e, r) { if (!e) return; if ("string" == typeof e) return o(e, r); var t = Object.prototype.toString.call(e).slice(8, -1); "Object" === t && e.constructor && (t = e.constructor.name); if ("Map" === t || "Set" === t) return Array.from(e); if ("Arguments" === t || /^(?:Ui|I)nt(?:8|16|32)(?:Clamped)?Array$/.test(t)) return o(e, r); }(e) || function () { throw new TypeError("Invalid attempt to spread non-iterable instance.nIn order to be iterable, non-array objects must have a [Symbol.iterator]() method."); }(); } function o(e, r) { (null == r || r > e.length) && (r = e.length);
for (var t = 0, n = new Array(r); t < r; t++) { n[t] = e[t]; } return n; } var y = !0, l = null, m = { code: "triplelift", supportedMediaTypes: [n.b, n.d], isBidRequestValid: function isBidRequestValid(e) { if (e.mediaTypes.video) { var r = b(e); if (!r.w || !r.h) return !1; } return void 0 !== e.params.inventoryCode; }, buildRequests: function buildRequests(e, r) { var t, n = "https://tlx.3lift.com/header/auction?", i = function (e) { var r = {}, t = e[0].schain, n = function () { var e = {}, r = p({}, a.b.getConfig("fpd.context")), t = p({}, a.b.getConfig("fpd.user")); return g(e, r), g(e, t), e; }(); r.imp = e.map(function (e, r) { var t = { id: r, tagid: e.params.inventoryCode, floor: function (e) { var r = null; { var t; "function" == typeof e.getFloor && ("object" !== c(t = e.getFloor({ currency: "USD", mediaType: "banner", size: S(e.sizes) })) || "USD" !== t.currency || isNaN(parseFloat(t.floor)) || (r = parseFloat(t.floor))); } return null !== r ? r : e.params.floor; }(e) }; return !function (e) { if (!e.mediaTypes.video) return !1; if (!e.mediaTypes.video.context) return !1; return "instream" === e.mediaTypes.video.context.toLowerCase(); }(e) ? e.mediaTypes.banner && (t.banner = { format: S(e.sizes) }) : t.video = b(e), t; }); var i = [].concat(f(function (e) { return v(e, "tdid"https://r.search.yahoo.com/,"adserver.org"https://r.search.yahoo.com/,"TDID"); }(e)), f(function (e) { return v(e, "idl_env"https://r.search.yahoo.com/,"liveramp.com"https://r.search.yahoo.com/,"idl"); }(e)), f(function (e) { return v(e, "criteoId"https://r.search.yahoo.com/,"criteo.com"https://r.search.yahoo.com/,"criteoId"); }(e))); 0 < i.length && (r.user = { ext: { eids: i } }); var o = function (e, r) { var t = {}; u.isEmpty(e) || (t.schain = s({}, e)); u.isEmpty(r) || (t.fpd = s({}, r)); return t; }(t, n); u.isEmpty(o) || (r.ext = o); return r; }(e); return n = u.tryAppendQueryString(n, "lib"https://r.search.yahoo.com/,"prebid"), n = u.tryAppendQueryString(n, "v"https://r.search.yahoo.com/,"4.13.0"), r && r.refererInfo && (t = r.refererInfo.referer, n = u.tryAppendQueryString(n, "referrer", t)), r && r.timeout && (n = u.tryAppendQueryString(n, "tmax", r.timeout)), r && r.gdprConsent && (void 0 !== r.gdprConsent.gdprApplies && (y = r.gdprConsent.gdprApplies, n = u.tryAppendQueryString(n, "gdpr", y.toString())), void 0 !== r.gdprConsent.consentString && (l = r.gdprConsent.consentString, n = u.tryAppendQueryString(n, "cmp_cs", l))), r && r.uspConsent && (n = u.tryAppendQueryString(n, "us_privacy", r.uspConsent)), !0 === a.b.getConfig("coppa") && (n = u.tryAppendQueryString(n, "coppa", !0)), n.lastIndexOf("&") === n.length - 1 && (n = n.substring(0, n.length - 1)), u.logMessage("tlCall request built: " + n), { method: "POST", url: n, data: i, bidderRequest: r }; }, interpretResponse: function interpretResponse(e, r) { var t = r.bidderRequest; return (e.body.bids || []).map(function (e) { return function (e, r) { var t = {}, n = r.width || 1, i = r.height || 1, o = r.deal_id || "", u = r.crid || "", a = e.bids[r.imp_id]; 0 != r.cpm && r.ad && (t = { requestId: a.bidId, cpm: r.cpm, width: n, height: i, netRevenue: !0, ad: r.ad, creativeId: u, dealId: o, currency: "USD", ttl: 300, tl_source: r.tl_source, meta: {} }, a.mediaTypes.video && (t.vastXml = r.ad, t.mediaType = "video"), r.advertiser_name && (t.meta.advertiserName = r.advertiser_name)); return t; }(t, e); }); }, getUserSyncs: function getUserSyncs(e, r, t, n) { var i = function (e) { if (!e) return; if (e.iframeEnabled) return "iframe"; if (e.pixelEnabled) return "image"; }(e); if (i) { var o = "https://eb2.3lift.com/sync?"; return "image" === i && (o = u.tryAppendQueryString(o, "px", 1), o = u.tryAppendQueryString(o, "src"https://r.search.yahoo.com/,"prebid")), null !== l && (o = u.tryAppendQueryString(o, "gdpr", y), o = u.tryAppendQueryString(o, "cmp_cs", l)), n && (o = u.tryAppendQueryString(o, "us_privacy", n)), [{ type: i, url: o }]; } } }; function b(e) { var r = s(s({}, e.params.video), e.mediaTypes.video); return r.w || (r.w = r.playerSize[0][0]), r.h || (r.h = r.playerSize[0][1]), "instream" === r.context && (r.placement = 1), delete r.playerSize, r; } function g(r, t) { u.isEmpty(t) || Object.keys(t).forEach(function (e) { null != t[e] && (r[e] = t[e]); }); } function v(e, r, t, n) { return e.map((u = r, function (e) { return e && e.userId && e.userId[u]; })).filter(function (e) { return !!e; }).map((i = t, o = n, function (e) { return { source: i, uids: [{ id: e, ext: { rtiPartner: o } }] }; })); var i, o, u; } function S(e) { return e.filter(h).map(function (e) { return { w: e[0], h: e[1] }; }); } function h(e) { return 2 === e.length && "number" == typeof e[0] && "number" == typeof e[1]; } Object(i.registerBidder)(m); } }, [816]); pbjs.processQueue(); }, {}]; window.modules["via.legacy"] = [function(require,module,exports){"use strict"; DS.service("via", function () { "use strict"; // remove `via` from url, to be used after amplitude logs it to prevent users from sharing such urls function removeFromLocation() { var url = new URL(location.href); url.searchParams.delete("via"); history.replaceState(null, "", url.toString()); } // and add `via` param to any outbound links function addViaToUrl(href, via) { if (!href || href.substr(0, 1) === "#") { return href; // don't add to jumps on the current page, e.g. "Skip to main content" } var url = new URL(href); var apexDomain = new URL(location.href).hostname.split(".").slice(-2).join("."); if (url.hostname.indexOf(apexDomain) === -1) { return href; // don't add it to external links } url.searchParams.set("via", via); return url.toString(); } // keys correspond to "page_types" in editable_components.yml var PREFIXES = { article: "article", homepage: "homepage", "vertical front": "section", "rubric front": "rubric" }; var pageType; function setPageType(amplitudePageType) { pageType = PREFIXES[amplitudePageType]; } var DELIMITER = "_"; function concatVia(node, via) { var tag = node.dataset && node.dataset.via; if (tag) { via = (via.length ? tag + DELIMITER : tag) + via; } return via; } function addToClickedLinks() { document.documentElement.addEventListener("click", function (e) { var a; var via = ""; // detect link nodes and collect via directives to append to the href var node = e.target; // the element where this event originated may have been removed from the dom, e.g. in the case of the OIL CMP which disappears after you interact with it while (node && node !== e.currentTarget) { if (node.tagName === "A") { a = node; } via = concatVia(node, via); node = node.parentNode; } if (a && via) { if (pageType) { via = pageType + DELIMITER + via; } a.href = addViaToUrl(a.href, via); } }); } function addToSubmittedForms() { document.documentElement.addEventListener("submit", function (e) { var form = e.target; // collect via directives var via = ""; var node = e.target; while (node !== e.currentTarget) { via = concatVia(node, via); node = node.parentNode; } if (via) { if (pageType) { via = pageType + DELIMITER + via; } // dynamically create a hidden input for the form url var input = document.createElement("input"); input.type = "hidden"; input.name = "via"; input.value = via; form.appendChild(input); } }); } // start listening only once, when first injected addToClickedLinks(); addToSubmittedForms(); return { setPageType: setPageType, removeFromLocation: removeFromLocation }; }); }, {}]; window.modules["visibility.legacy"] = [function(require,module,exports){"use strict"; DS.service("$visibility", ["$document"https://r.search.yahoo.com/,"$window"https://r.search.yahoo.com/,"_throttle"https://r.search.yahoo.com/,"Eventify", function ($document, $window, _throttle, Eventify) { var list = [], Visible, VisibleEvent; /** * @param {number} a * @param {number} b * @returns {*} * @see http://jsperf.com/math-min-vs-if-condition-vs/8 */ function min(a, b) { return a < b ? a : b; } /** * @param {number} a * @param {number} b * @returns {*} * @see http://jsperf.com/math-min-vs-if-condition-vs/8 */ function max(a, b) { return a > b ? a : b;
}
/**
* Fast loop through watched elements
*/
function onScroll() {
list.forEach(updateVisibility);
}
/**
* updates seen property
* @param {Visble} item
* @param {{}} evt
* @fires Visible#shown
* @fires Visible#hidden
*/
function updateSeen(item, evt) {
var px = evt.visiblePx,
percent = evt.visiblePercent; // if some pixels are visible and we're greater/equal to threshold
if (px && percent >= item.shownThreshold && !item.seen) {
item.seen = true;
setTimeout(function () {
item.trigger("shown", new VisibleEvent("shown", evt));
}, 15); // if no pixels or percent is less than threshold
} else if ((!px || percent < item.hiddenThreshold) && item.seen) { item.seen = false; setTimeout(function () { item.trigger("hidden", new VisibleEvent("hidden", evt)); }, 15); } } /** * sets preload property * @param {Visible} item * @param {{}} evt * @param {Number} innerHeight * @fires Visible#preload */ function updatePreload(item, evt, innerHeight) { if (!item.preload && item.preloadThreshhold && shouldBePreloaded(evt.target, evt.rect, item.preloadThreshhold, innerHeight)) { item.preload = true; setTimeout(function () { item.trigger("preload", new VisibleEvent("preload", evt)); }, 15); } } /** * Trigger events * @param {Visible} item */ function updateVisibility(item) { var rect = item.el.getBoundingClientRect(), innerHeight = $window.innerHeight || $document.documentElement.clientHeight, px = getVerticallyVisiblePixels(rect, innerHeight), percent = px / (rect.height || innerHeight), evt = { target: item.el, rect: rect, visiblePx: px, visiblePercent: percent }; updateSeen(item, evt); updatePreload(item, evt, innerHeight); } /** * Return normalized viewport height * @return {number} */ function getViewportHeight() { return $window.innerHeight || $document.documentElement.clientHeight || $document.body.clientHeight; } /** * Return normalized viewport width * @return {number} */ function getViewportWidth() { return $window.innerWidth || $document.documentElement.clientWidth || $document.body.clientWidth; } /** * make sure an element isn't hidden by styles or etc * @param {Element} el * @return {Boolean} */ function isElementNotHidden(el) { return el && el.offsetParent !== null && !el.getAttribute("hidden") && getComputedStyle(el).display !== "none" && getComputedStyle(el).visibility !== "hidden"; } /** * Apparently the fastest way... * @param {Element} el * @returns {boolean} * @example if (!$visibility.isElementInViewport(el)) { ... } */ function isElementInViewport(el) { var rect = el.getBoundingClientRect(); return rect.top >= 0 && rect.left >= 0 && rect.bottom <= ($window.innerHeight || $document.documentElement.clientHeight) && rect.right <= ($window.innerWidth || $document.documentElement.clientWidth); } /** * @param {Element} el * @param {ClientRect} rect * @param {Number} preloadThreshhold * @param {Number} innerHeight * @return {Boolean} */ function shouldBePreloaded(el, rect, preloadThreshhold, innerHeight) { return rect.top <= innerHeight + preloadThreshhold && isElementNotHidden(el); } /** * Create a one-dimensional spacial hash of x * @param {number} x * @param {number} stepSize * @param {number} optimalK * @param {number} base * @return {number} */ function getLinearSpacialHash(x, stepSize, optimalK, base) { var index = Math.floor(x / (stepSize || 1)), remainder = x % stepSize, result = index.toString(base); if (optimalK > 1) {
result += getLinearSpacialHash(remainder, Math.floor(stepSize / base), optimalK – 1, base);
}
return result;
}
/**
* @param {ClientRect} rect
* @param {number} innerHeight
* @returns {number}
*/
function getVerticallyVisiblePixels(rect, innerHeight) {
return min(innerHeight, max(rect.bottom, 0)) – min(max(rect.top, 0), innerHeight);
}
/**
* Get offset of element relative to entire page
*
* @param {Element} el
* @returns {{left: number, top: number}}
* @see http://jsperf.com/offset-vs-getboundingclientrect/7
*/
function getPageOffset(el) {
var offsetLeft = el.offsetLeft,
offsetTop = el.offsetTop;
while (el = el.offsetParent) {
offsetLeft += el.offsetLeft;
offsetTop += el.offsetTop;
}
return {
left: offsetLeft,
top: offsetTop
};
}
/**
* Create a new Visible class to observe when elements enter and leave the viewport
*
* Call destroy function to stop listening (this is until we have better support for watching for Node Removal)
* @param {Element} el
* @param {{shownThreshold: number, hiddenThreshold: number}} [options]
* @class
* @example this.visible = new $visibility.Visible(el);
*/
Visible = function Visible(el, options) {
options = options || {};
this.el = el;
this.seen = false;
this.preload = false;
this.preloadThreshhold = options && options.preloadThreshhold || 0;
this.shownThreshold = options && options.shownThreshold || 0;
this.hiddenThreshold = options && min(options.shownThreshold, options.hiddenThreshold) || 0;
list.push(this);
updateVisibility(this); // set immediately to visible or not
};
Visible.prototype = {
/**
* Stop triggering.
*/
destroy: function destroy() {
// remove from list
list.splice(list.indexOf(this), 1);
}
/**
* @name Visible#on
* @function
* @param {'shown'|'hidden'} e EventName
* @param {function} cb Callback
*/
/**
* @name Visible#trigger
* @function
* @param {'shown'|'hidden'} e
* @param {{}}
*/
};
Eventify.enable(Visible.prototype);
VisibleEvent = function VisibleEvent(type, options) {
var _this = this;
this.type = type;
Object.keys(options).forEach(function (key) {
_this[key] = options[key];
});
}; // listen for scroll events (throttled)
$document.addEventListener("scroll", _throttle(onScroll, 200)); // public
this.getPageOffset = getPageOffset;
this.getLinearSpacialHash = getLinearSpacialHash;
this.getVerticallyVisiblePixels = getVerticallyVisiblePixels;
this.getViewportHeight = getViewportHeight;
this.getViewportWidth = getViewportWidth;
this.isElementNotHidden = isElementNotHidden;
this.isElementInViewport = isElementInViewport;
this.Visible = Visible;
}]);
}, {}];
require=(function e(t,n,r){function s(o,u){if(!n[o]){if(!t[o]){var a=typeof require=="function"&&require;if(!u&&a)return a(o,!0);if(i)return i(o,!0);var f=new Error("Cannot find module '"+o+"'");throw f.code="MODULE_NOT_FOUND",f}var l=n[o]={exports:{}};t[o][0].call(l.exports,function(e){var n=t[o][1][e];return s(n?n:e)},l,l.exports,e,t,n,r)}return n[o].exports}var i=typeof require=="function"&&require;for(var o=0;o