It was a hard year for the arts. After the coronavirus pandemic surged into the United States, touring shows stopped dead, theaters went dark and live performance just about anywhere ground to a screeching halt.
This was true of Charleston, too. It has been a difficult year for musicians, artists, dancers — and yes, writers.
Despite the hardships and the difficulties in rehearsing or performing, some people and groups managed to keep the fires lit for artistic expression in the area. They found ways to keep going, to keep making new work or to celebrate the work of others.
In keeping with the spirit of gratitude during this holiday season, the Charleston Gazette-Mail would like to recognize some of the people who have worked hard to keep the arts alive. There are so many more.
We thank you for all that you've done and continue to do to make Charleston a better place to live.
Charleston Ballet
With artistic director/CEO Kim Pauley
American Academy Ballet, affiliated school for dancers ages 4 through professional.
How were you affected by the pandemic?
Like most performing arts groups, we have had to cancel all of our performances, fundraising and collaborative events.
Our company hasn't been on stage since last year's "Nutcracker."
The impact of the COVID-19 pandemic started two days before our "move in" for our spring 2020 show "Giselle."
We lost our October show, the "Nutcracker" and many other smaller performances and collaborations that take place later in the spring and summer, including the West Virginia Dance Festival, FestivALL and Bollywood.
Our school spring recital was canceled twice, once in May and then our rescheduled August recital.
Early in the pandemic, I began teaching via Zoom to the older dance classes and the company dancers. I did that several times a week for seven weeks.
The downside of that was the dancers did not have quality space to work in and were doing what they could from recreation rooms, kitchens, and bedrooms.
That was really difficult, but better than nothing at all.
Occasionally, several dancers that lived out of state would join us. It was nice to see and talk to them. I tried to create some time after each class for the dancers to chat with each other since they really have strong bonds and were not interacting with each other like normal.
In late May, we reinstituted in-person classes with limited numbers, mask wearing, strict hygiene protocols and obsessive cleaning.
The dancers were so happy to be back in the studio.
They laugh at people complaining about wearing a mask. Try dancing in one for four hours!
I spent weeks applying for various funding sources to allow us to keep our staff working, first from home and then later back in the offices.
Since we opened back up, we have done things like change to specialized air filters, combined our two studios into one for more social distancing, and we brought additional barres from our warehouse to use.
Working with Deborah Novak, we created a short COVID-19 film called "Stand Up and Dance" as we had labeled this 2020-21 season.
It has already won an award in a Toronto film festival!
We recorded the younger dancers' recital selections in the studio, allowing them to show off their dances and wear their costumes.
We are creating a full-length "Dracula" for October 2021. We filmed what would have been performed in our October show to preserve the choreography that's been created so far.
We also collaborated with the Huntington Museum of Art for their "Bauhaus" exhibit (running through Jan. 10), creating a short work inspired by a German choreographer.
It's currently playing on their YouTube channel.
I have tried to keep the dancers moving forward in a positive and productive way, not wasting the time that we have and can work together.
It is good for their spirits, for their artistic minds, and keeps them in good dancing shape for the future when we can do performances once again.
We will come out of this with plenty of pieces we can perform. We hope for the spring that our late March show will happen, perhaps with pandemic modifications for the dancers and the audience.
We have several more filming projects in the works and hopefully we can realize our premiere of "Dracula" in the fall of 2021.
Being creative extends to more than just creating dances for me. It means finding a way to take and use what you have in terms of time, talent and resources to make the best of your situation. We are grateful to our corporate and individual sponsors and contributors who have continued to be so supportive.
We have all been weathering this storm together. We have just tried to keep our dancers safe and involved in doing something that they love.
We hope for 2021 and the future that we can add extra performances to our schedule to make up for what we have missed.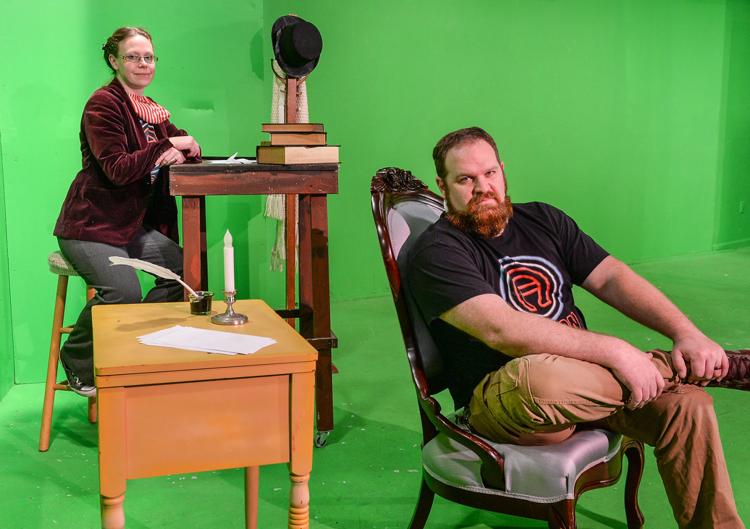 Alban Arts Center
With theater manager Adam Bryan and business manager Marlette Carter
Bryan: We are a small nonprofit arts organization, primarily focusing on the performing arts. We produce six or more plays every year that are comprised of local talent both on and off stage.
We also offer two semesters of classes in the performing arts with our Alban Arts Academy. We offer classes to students ages 3 to 93 in performance and behind the scenes type offerings.
How was this affected by the pandemic of 2020?
Bryan: The main way the pandemic affected things for us was the inability to have a live audience for any of our productions.
At the height of things being locked down we even had to cancel the remainder of our spring semester of the Alban Arts Academy. This forced us to offer refunds or transfer payments to a future semester for current students.
The majority of our income comes from ticket sales and student registration fees and our income virtually dried up overnight.
We had a big show with the one and only Ed Asner, that would have most likely sold out, that we had to cancel. Marlette and I were invited to perform with Ed in Hampton Virginia, as well. Not only was it an honor to be asked, but this was going to be one of the highlights of my acting career.
That show was also canceled.
The pandemic really hit the arts and entertainment industry hard, and we (the Alban Arts Center) had to make the choice of whether to close up and cross our fingers that we would survive the fallout or try to make some lemonade from the giant batch of lemons that COVID dropped on us.
Bryan: We rather quickly decided that closing up and crossing our fingers was not an option.
Not only was it risky financially, but it was risky on an artistic level, as well.
We didn't want to become stagnant, and in our industry, it is important to stay relative and to always be creating something. I sent myself to YouTube school, as I like to call it, and started learning everything I could about how to livestream video.
Once I learned the basics of how all the moving parts worked, then I began devising a plan to adapt all that knowledge to live theater, which is a much different animal than film or vlogging, which is what most of my YouTube education consisted of.
I talked with a friend that livestreams church services, chatted with a magician friend adapting to doing things virtually and participated in conference calls with theater producers across the country.
I did everything I could to make sure The Alban Arts Center had the best chance of making virtual theater a success.
Carter: It was decided that should the state cancel school classes, that we would also suspend the Alban Arts Academy classes. This came to pass on March 13, which also halted the attendance of students at the Scholarship Fundraiser Lock-In. Volunteer actors working on The O'Neill Project play became extremely reticent to meet in person, and rehearsals moved online to a video conferencing platform.
We cast the production of "A Wrinkle in Time" by conducting an online audition, 44 actors auditioned in this manner.
State guidelines are such that we are currently unable to host live audiences, thus we have pivoted to the use of livestreaming of productions: "The Eugene O'Neill Project," "A Wrinkle in Time," "Alice In Wonderland," "Vintage Hitchcock: A Live Radio Play" and "A Christmas Carol."
The last three used greenscreen technology with the filming, to create sets and effects that we are typically otherwise unable to stage.
"St. Albans Shakespeare in the Park: The Merry Wives of Windsor" was performed as drive-in theater, with the use of a radio broadcast device to allow the audiences to listen to the dialogue over their car radios.
Class sizes were reduced for the Alban Arts Academy, and protocols were put in place for temperature checks, masking, hygiene, and student and cast safety.
While box office receipts are down from our previous year, we are confident that our reliable audiences are learning new technologies to watch local theater and have high hopes for the remaining productions in the season. Some new audience members have watched from as far away as Texas and Massachusetts thanks to this online streaming of productions.
In all things, the show must go on.
Carter: The Alban is lining up a great spring season, including "The Diary of Anne Frank" and "Space Preachers," a new musical by Danny Boyd.
The Alban Arts Academy will be back in January, with new students, and new classes.
With the hope of a vaccine and the return of live audiences following the mitigation of the pandemic, we are working currently on a whole new season of excellent plays for our live audiences when they can return to the Alban.
Stuart Frazier has proposed "Fairview," a new work by Jackie Sibblies Drury.
Leah Turley has proposed either "James & the Giant Peach" or "Charlie & the Chocolate Factory," as a family show.
Jim-Bob Williams is working on a new production based on a Terry Pratchett novel, "The Wyrd Sisters."
Me, I'm proposing Clare Luce's delightfully catty comedy, "The Women."
I think we will all need some good feelings for next year, don't you?
Bryan: No matter what happens in 2021 with COVID, the Alban plans to continue creating and providing opportunities for local artists to keep creating and honing their crafts.
If the pandemic has taught us anything, it's that as artists we have an obligation to keep creating. The art we make not only inspires us and our communities, but it also provides those creating a much-needed outlet to escape and realize their artistic goals.
Tickets and registrations for all these events and classes can be found on our website albanartscenter.com.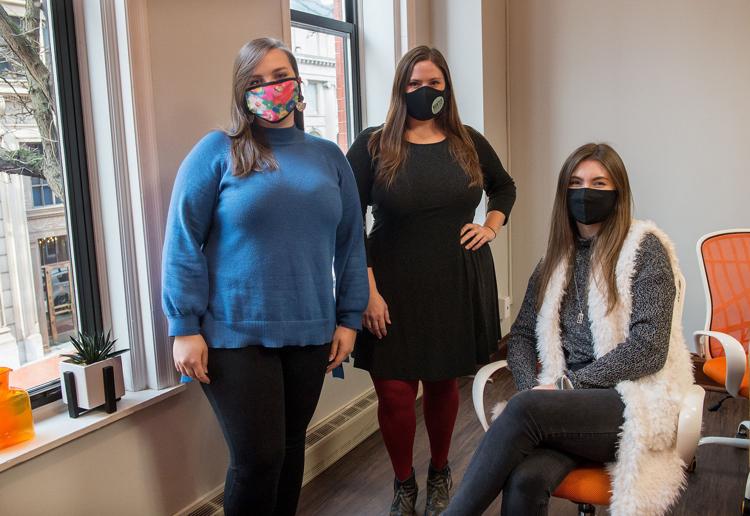 FestivALL
With executive director Maria Belcher, marketing and productions coordinator Mallory Richards and administration and neighborhood arts coordinator Mallory Burka
Belcher: FestivALL Charleston creates, produces and presents annual citywide and multi-arts festivals (FestivALL and FestivFALL), a monthly speaker series called Three Things, other annual events like Taste-of-ALL and FeastivALL (can you see a pattern developing here?), and the Neighborhood Arts Initiative that provides arts access and educational experiences to children and youth of our community.
For many, FestivALL is synonymous with our 15-day summer festival, but we are a not-for-profit organization that serves our mission year-round to provide accessible, quality arts and entertainment opportunities for all and contributes to Charleston's vibrancy as a thriving cultural destination.
The Neighborhood Arts Initiative is a youth arts program under FestivALL Charleston. This initiative aims to connect our community's children and youth with opportunities in the arts through education, engagement and exhibition.
How was this affected by the pandemic?
Belcher: Wow – where to start. FestivALL is a lot of things to a lot of different people.
For businesses, FestivALL means a lot of foot traffic.
For friends and families, FestivALL means a time to gather and share in the joys of the arts. For artists and arts presenters, FestivALL means performance halls and streets are packed with people who have come out to see them.
So what do you do when those things aren't possible?
We knew that we had to get creative.
We wanted to provide paying opportunities to performing and visual artists; give our audience opportunities to stay connected to each other and the arts; offer a platform for our partners and Art Fair artisans to stay engaged with the public; and highlight and encourage the support of local makers, restaurants, businesses and musicians.
We also wanted to showcase Charleston's arts scene to new audiences online so that — when it is safe to do so — we can host them in our great city.
Richards: The whole FestivALL team had to pivot in a big way.
We transformed an entire years' worth of events and planning in a matter of a few weeks. We made the final call to go totally virtual in May and then worked day and night to transform as many events as possible to contactless/virtual experiences for our June 2020 festival.
Both Art Fairs ended up being online, with participating artists listed on our virtual art fair page linking their online shops and Etsy pages.
In addition, we created two "Art Fair Experiences."
Each were one- to two-hour features with colorful FestivALL characters, behind-the-scenes looks at artists at work and sets from local musicians.
Mallory Burka, Maria, and I learned SO MUCH about video editing and the virtual world. We can definitely add some new skill sets to our resumes.
Belcher: This year taught me a lot.
Some days were spent learning how to edit video while others were consumed with applying for relief funds.
We learned what to livestream versus pre-record, and I learned that people are very forgiving when your dogs make a surprise appearance in a Zoom meeting. But the most important thing we learned this year is that FestivALL isn't just a certain time of year or a specific place, it's a feeling — and we hope you carry it with you all year long, just as our team does.
Together, with our partners, we offered more than 75 at-home and virtual events across our two festivals.
Thousands of homes across the country tuned in to enjoy music, art, theater and dance presented by national, regional and local talents. More than 80% of those events were free for our audience to enjoy, and the best part about online events is that you can still tune in and watch!
Many of the events from June's VirtuALL and October's FestivFALL are still up on our FestivALL Charleston YouTube channel.
Burka: Though we were pressed for options on what to do during our events, we were able to pull together versions of these events that were safe for the public to view and experience through YouTube and social media.
Art-for-ALL held a virtual exhibition on the FestivALL Neighborhood Arts Initiative Facebook page with an awards ceremony video via YouTube that was presented at the end of FestivALL to acknowledge every participant and the award winners, who were then mailed Michael's Gift Cards as their prizes.
The Children's Art Fair was also held via YouTube in the form of Make-&-Take Tutorial Videos from local artisans who compiled an art activity for kids to do with items that can be found at home.
As some local arts groups were able to adapt to the new virtual world of streaming live performances, we were able to share those and other take-home activities like Glow-at-Home with our Neighborhood Arts Initiative contacts in hopes of bringing learning, joy, and entertainment to them.
What comes next? What happens in 2021?
Burka: My goal for the Neighborhood Arts Initiative in 2021 is to continue adapting ways of reaching our youth through whatever means that is safest and most effective as well as creating new experiences for them, whether in-person or virtually.
Richards: In 2021 we hope to present an in-person FestivALL that follows proper guidelines, paying close attention to our artists' and attendees' safety.
It may not look like a typical FestivALL, but it will hopefully bring our community together in-person again for the first time in over a year!
The thought of it is exciting and scary, but we hope to have a better grasp on what we can do soon … given vaccines are well underway by then.
Belcher: Hosting online art fairs has provided us with the opportunity to join in on the #SupportSmallCWV campaign this holiday season. If you visit our website (festivallcharleston.com), you can shop an entire catalog of local artisans for gifts (for others or for yourself!).
That's what's happening now and in the immediate future.
Moving forward, we will continue to find innovative ways like these to support our local artists and businesses.
As for 2021, we're deep into planning scenarios A, B, C, D, E, F, etc., and look forward to sharing our plans with you!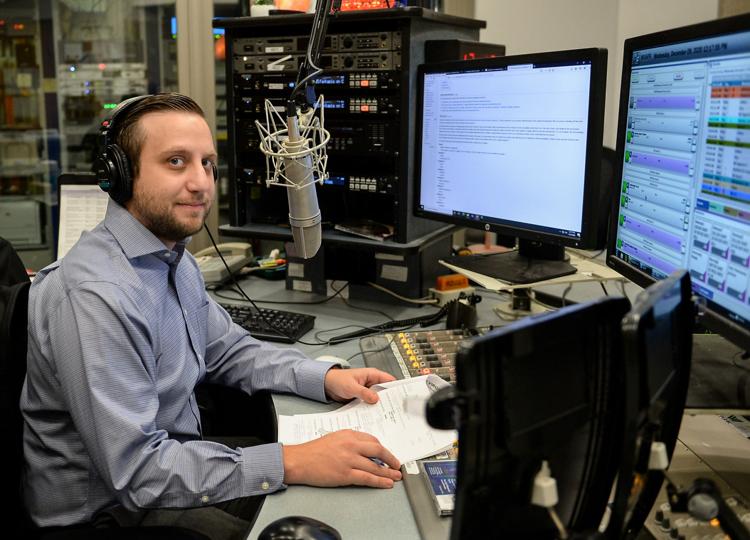 Matt Jackfert
Composer, musician, radio host
At West Virginia Public Broadcasting, I work as a radio host for the show "Classical Music," which airs weekdays from noon to 2 p.m.
Outside of WVPB, I'm a keyboard player and trombone player for the rock group, The Company Stores, and I write freelance music from symphonies to jingles for acoustic ensembles or by electronic means.
How was this affected by the pandemic?
In 2020, The Company Stores saw a cancellation of almost all of our gigs.
We generally have around 80-100 per year, but this year we've had a grand total of … five
As a composer, I've seen almost all of my live orchestra or chamber ensemble gigs get canceled.
I'm lucky to have a couple of holiday live-streams coming up, including a premiere with the Cleveland Orchestra, and I'm lucky to have been able to write music including a commission from the West Virginia Symphony Orchestra for when we're all able to be in the same room again.
Otherwise, it's been a tough year musically.
Fortunately, I have my hands in enough baskets that when one thing goes down, I have something else that stays steady.
That for me during this pandemic was WVPB. News and music broadcasting are incredibly important now as vital information needs to be disseminated. And since people are stuck in their homes, music and entertainment are even more essential.
Well, there wasn't too much that could be done in the way of replacing my own live gigs. However, I did see an opportunity to provide live gigs for others.
I noticed that fellow WVPB host Jim Lange had a guest DJ thing on his show, "Eclectopia," and decided that maybe I could do that with my own show for performers.
I figured our studios were spacious enough to be able to host ensembles of four or less safely, and the radio is a great way to transmit a socially distanced live concert (and not COVID).
So, I introduced a Call for Performers for our "Classical Music" show, and our WVPB Friends Board and our Program Director, Eddie Isom, generously allowed us to get the equipment needed to implement this.
Since then, we've had several great live performances already by area musicians.
I've been blown away by the talent our area has to offer. It's been great getting to meet so many performers and introduce them to our listeners, and I'm excited for more performances from area ensembles and soloists.
It's generated interest in "Classical Music," and it's allowed our audience to get familiar with our local talent.
And, for some musicians, this was their first real gig in half a year or more.
What comes next? What happens in 2021?
We have performances scheduled into March already, and we're working on increasing our capabilities for livestreaming the concerts.
Our call is still ongoing, so if anyone's interested, check out the link at wvpublic.org.
I want to continue to provide an avenue for local musicians to be featured on our airwaves. I'm hopeful for next year.
The Company Stores plan to record our next album in Asheville next spring, and I'm hoping for some exciting orchestral gigs in the coming year — including the premiere of my piece, "Social Dissonance," by the West Virginia Symphony Orchestra.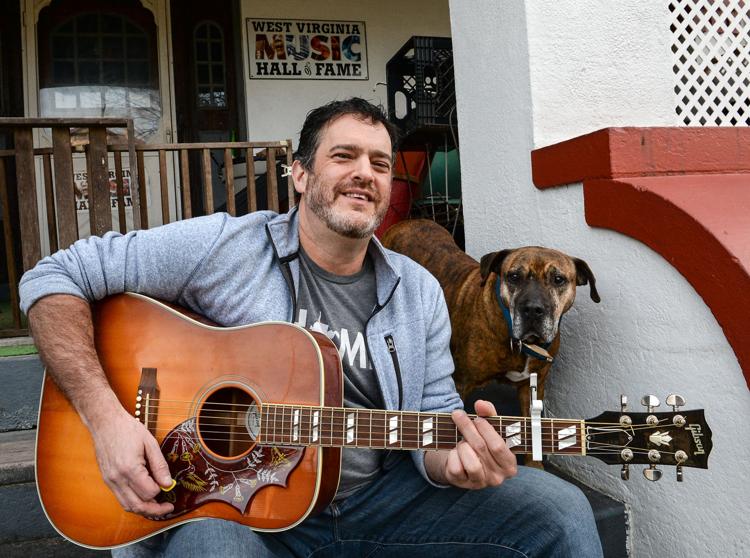 Mike Pushkin
Musician, activist and delegate
As well as being a member of the West Virginia House of Delegates from the 37th District, I am the President of the American Federation of Musicians Local 136.
How did the pandemic affect you and your organization?
Our members were the first ones to lose work due to this public health crisis, and we will be the last ones back.
And while we definitely support and urge others to practice social distancing, follow CDC guidelines and do all we can to keep each other safe, respecting the seriousness of the situation, our members are struggling.
Music is not a hobby to our members, it's their profession, and they need to be included in any potential new relief package.
Many of our members have to rely on several gigs (revenue streams) to stay afloat. Traditional Unemployment Insurance does not apply to them and PUA was poorly written and too many slipped through the cracks.
I organized a meeting with [state coronavirus czar] Dr. Clay Marsh, venue owners, promoters, musicians and the Division of Tourism.
We effectively came up with safe guidelines for limited outdoor performances.
Hopefully the light at the end of the tunnel is getting closer and we will soon be able to return to our lives. And all of our lives are enriched by live music. The Arts are essential
In the words of the late Robert Hunter, "Let there be songs to fill the air."