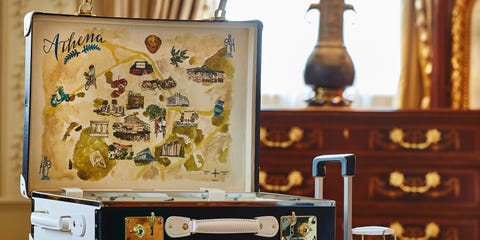 Courtesy the Luxury Collection
Shopping, for many of us, is a significant part of visiting a new destination—it's a form of tourism, after all, and encourages exploration. But we're often thwarted by the size of our luggage or, frankly, the lack of cool offerings at the hotels we've booked. Thankfully, this is starting to change. While, yes, you can still buy logoed caps, tees, and teddy bears, hotels are finally expanding their retail offerings to include products we'd actually want, whether on vacation or not. Many of these are exclusive designs not available anywhere else. We've rounded up 30 worth clicking through, delivered right to your door, with no overweight baggage fees.
Advertisement – Continue Reading Below
1
Lingua Franca X The Luxury Collection Travel Sets
The Luxury Collection hotels tapped Lingua Franca to design three limited-edition travel kits, each with an embroidered cashmere travel bag, eye mask, blanket, and knee socks featuring a choice of the brand's signature cheeky phrases.
2
El Cosmico Big Bend Robe
El Cosmico in Marfa, Texas, has one of the best gift shops of any property this writer has ever visited. It is very West Coast cool but with wide appeal. This robe, for example—cotton with serape-inspired stripes. Also available in other colors.
3
Ibiza x Alex Proba Studio Pillows
Colorful, textural throw pillows found in the Standard Hotel's rooms in Ibiza, designed by Brooklyn-based Alex Proba Studio. Five options, sold as case only with no insert.
4
The St. Regis Children's Polo Kit
This fully equipped kid-size polo set, available at the St. Regis, was created by world famous Argentinian polo player Nacho Figueras, with four wooden hobby horses, child-size wooden hand mallets, soft polo-style balls, and a custom illustrated guide, all in a carrying bag. Pony up!
5
Richard Brendon : Star Cut Coupe Glasses, Set of 2
While London's legendary hotel is known for its afternoon tea, and those accolades are absolutely deserved, they also make a mean cocktail. Nothing against tea, but we were more tempted by these crystal coupes with snazzy star motifs.
The Dewberry Hotel in Charleston, South Carolina, has a charming lobby gift shop where, among many other truly fabulous things, you can purchase an umbrella with a botanical lining, by artist Becca Barnet, that's also found on the armoires in each guest room.
7
The Fife Arms Egg Scissors
If you're someone who appreciates a boiled egg, in a cup, then specially designed scissors are a must-have to neatly slice the top off your perfectly boiled egg. Spotted at the Fife Arms Hotel in Scotland, where the shop features wooden fittings from the interior of a Swiss chemist's shop, transported in its entirety from Zurich.
8
Falling Leaves Headboard
Sculptural, quietly dramatic, and often whimsical upholstered headboards have become an archetype of Firmdale Hotels. These Kit Kemp designs are available in limited edition, upholstered with boiled wool and embroidered using a special Irish technique.
Designed in Stockholm but available at the Carpenter Hotel in Austin, Texas, these men's trunks are all about pockets: two front, one back, one hidden zip.
A 100 percent handwoven bag made from recycled plastic from beaches in Bali, but you only need head over to Austin's Hotel Magdelena to snatch one up.
These cheery cherry stud earrings by Tai come in gold plated brass and can be plucked from the Public Hotel. At a very cheery price as well.
A set of porcelain bowls with colorful patterns inspired by antique textiles and tile work, used at the Ritz-Carlton Lake Tahoe.
Channel the relaxation you'd experience at the Hamptons-based Shou Sugi Ban House with this mask, woven using 100 percent grade A Xuiyan jade and meant to be put on the face to soothe and relax facial muscles and skin. Can be chilled or used warm by soaking in hot water for a few moments.
14
Prêt-à-Portea China – Set for Two
Made exclusively for London's Berkeley Hotel this is the same Bernardaud china used in the property's iconic, fashion-themed Prêt-à-Portea service. The set includes two cups, saucers, a small milk jug, and a tea pot.
15
Kikkerland Elephant Corkscrew
Nantucket's White Elephant is a hotel with retail offerings that are very on-brand—pretty much everything they sell has an elephant motif, including this super-cute corkscrew.
Also from El Cosmico, a tote bag made of bandanas framed in suede, with suede handles. Designed by Rene Holguin, an El Paso native with a cult following in Los Angeles, the bag is very what-you-see-is-what-you-get, meaning no interior pockets. But this writer happens to own one and gets compliments every time she trots it out.
The Assouline Book Collection
This long sleeve surfer swimsuit was designed by Sofía Sanchez de Betak for Chufy and inspired by her experiences hiking the primitive countryside of Peru. You can ride the wave by heading to the Luxury Collection hotels online shop.
18
Cable-Knit Cashmere Hot Water Bottle Cover
Rosie Sugden's deliciously soft hot water bottle cover is knitted exclusively for the Fife Arms in the family-run mill in the Scottish Borders. In olive or burgundy.
This 11-inch sculpture by Celia Lindsell, available through Firmdale Hotels, is made from carved flax paper clay, gilded in 23-karat gold leaf, and set on an oak base.
20
Hotel Saint Cecilia x Sabah Slippers
Custom-made, limited-edition Sabah slippers, available from the Hotel St. Cecelia in Austin, are an ancient style of Turkish leather slipper, entirely handmade by craftsman in a distant bazaar.
New York ceramist Michele Quan has developed a cult following for her pieces, which range from bells to wall hangings, incense burners, and ashtrays made of hand-painted stoneware, like this one, available from the Hotel Magdalena store.
Foutas are soft, lightweight Turkish towels commonly used in the south of France and along the Mediterranean in areas like the beaches surrounding the Ritz-Carlton, Hotel Arts Barcelona. Super versatile, they can be used as a towel, sarong, or throw. Made of 100 percent cotton with hand-spun tassels, and available in four colors.
23
Earrings by Delfina Delettrez
From an exclusive and limited-edition collection by the designer for St. Regis, these 18-karat gold double hoop drop earrings were inspired by the hotel's historic Rome property. Encrusted with 12 white diamonds and two freshwater pearls, the double-hoop earring can be worn tucked up as a single piece earring or as a double-hoop drop earring.
A set of four acrylic mirror coasters by cool-kid brand Curves by Sean Brown look as great with a drink perched on them as without. Snatch them up at the Standard's store.
Get your buzz on courtesy of the Carpenter Hotel with this fully functional French press coffeemaker by Yield Design, realized in three different ceramic shades maintains a consistent temperature throughout the brewing process. Food safe, dishwasher safe.
Traditional bamboo veneer chimes, also from Shou Sugi Ban House, precisely tuned to create a play of clear tones. Each chime has its own magic timbre and can be played harmoniously with the others or suspended and allowed to sway in the wind.
Uxua Casa Hotel & Spa in Trancoso, Brazil, has become a bucket list boho chic destination, lauded as much for its casual vibe as its interiors. Founder Wilbert Das has created interiors for the likes of Anderson Cooper, as well as a furniture line and tightly edited but interesting shop that includes several caftans.
28
Large Woven Triangle Bag x Kamaro'an
Austin's Hotel San José offers an incredibly versatile canvas tote—the large size can fit a 13-inch laptop, both large and small sizes have hidden exterior pockets that fit a phone—with woven leather handles.
29
Balloon Silver Piggy Bank
This little piggy saves all your pennies, so you can travel to fun hotels (like the Public) and buy things IRL.
30
The Luxury Collection Luggage by Globe-Trotter
The perfect hotel souvenir? A suitcase collection designed by Sofa Sanchez de Betak in collaboration with Globe Trotter, a storied British travel brand. The interior of each is lined with cotton linen and features an illustrated scavenger map of one of four destinations: Mykonos, Athens, Santorini, or Messinia. The exterior is classic blue and white, accented with handmade leather trim and gold hardware. Start your bon voyage at the Luxury Collection hotels store.
This content is created and maintained by a third party, and imported onto this page to help users provide their email addresses. You may be able to find more information about this and similar content at piano.io
Advertisement – Continue Reading Below